Babies with their big ol' eyes and rolly, polly selves. It's kind of impossible for me to pass by a baby and not ohh and ahh.  Don't worry, Mom.  We're not having any more. 
As cute as my babies were, it's the babies of Disney films I'm obsessing over today.  It seems more and more common in Disney films to include a backstory and a pint-sized look at the main character.  These glimpses at the Disney characters I adore as infants add extra adorableness to the animated features.
This post may contain affiliate links. All thoughts and opinions are my own.
From four-legged members of the animal kingdom to the future dignitaries in diapers, the animators at Disney sure know how to pull on this mama's heart strings.  In no particular order, the 10 Cutest Babies in Disney Films!
Dory
When I first saw Finding Dory, I knew no one would forget Baby Dory.  Her ginormous eyes and flubbing of "short term remembery loss" was the sweetest thing in the sea.
Hercules
Maybe his extra adorableness comes from being a demigod.  Whatever the case, Hercules and Baby Pegasus are just too much.
Bambi
I have a very vivid memory of my dad being bitten by a deer at a national park.   Guess I wasn't too scarred since Baby Bambi is on the list of most ahh-inducing Disney babies. The wobbly legs and gentle spirit really make Bambi the prince of the forest and my heart.
Tiana
She grew up into a beautiful and industrious woman, but Tiana as a toddler was just adorable.  The pigtails and small crown she wears when wishing on the evening star sold me faster than any man-catching beignets.
Tarzan
It's no wonder Kala took Baby Tarzan home.  When he reaches out, I'd totally adopt him too.
Moana
The ocean calls to her, and Baby Moana calls to me.  Bonus points for a Baby Moana doll being the one thing that can get my 3-year-old in the bath time without argument!
Dumbo
Ears only a mother (and generations of viewers) could love.  Seeing Baby Dumbo all wrapped up in his oversized ears is just darn cute.
Rapunzel
Completely unaware of the magic held within her golden locks, baby Rapunzel is royally adorable. Thankfully she found her way back home to Corona with Flynn Rider. Maybe there will be sequels with more Disney babies!
Boo
What makes Boo from Monsters, Inc. so darn cute? Is it the pigtails or the voice? Probably both!
Groot
Groot (voiced by Vin Diesel) with his "I am Groot" was pretty perfect, even if he did get on Rocket's nerves.  But he's back and even more adorable in Guardians of the Galaxy Vol. 2.  The family's back together, Baby Groot in tow, as they search the cosmos for details of Peter Quill's paternity.
If you can't get enough of Baby Groot, check out the new special look at Guardians of the Galaxy Vol. 2.
Advance tickets are now on sale for Marvel Studios' Guardian of the Galaxy Vol. 2 which is set to hit theaters May 5, 2017.  I know you'll be seeing it. Obviously.
My own Disney babies adored their My First Disney Princess dolls. Lucky Poppy scored a whole collection by being the youngest.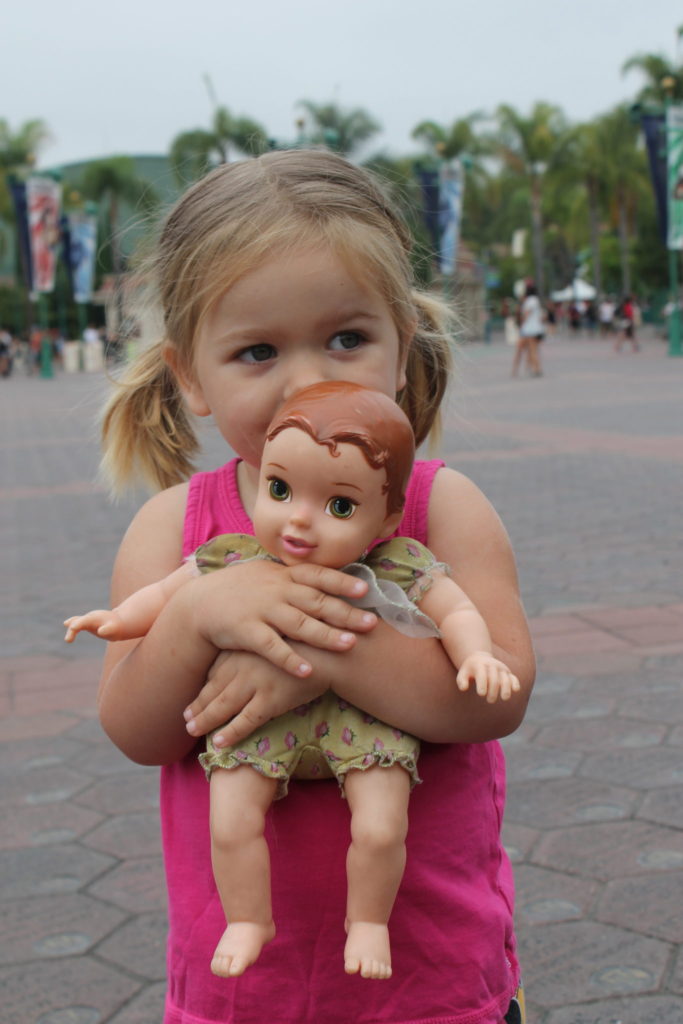 Nab your own favorite Disney Baby over on Amazon.
Disney does adorable so ridiculously well whether they be extraterrestrial tree or royalty. Which Disney Baby would you add to the list?
Save
Save
Save