I so desperately wanted to love it.  Everything I had seen leading up to Disney's new live-action Beauty and the Beast was so charming, so perfect.  I went in to the movie with such high expectations and an anxious heart.  I loved it more than I thought I could.
I'm sharing all the best changes, focusing on character development, to the original animated film.  There are some moderate spoilers, just so you know.
All thoughts and opinions are my own.
First of all, we saw the film as a family at our local drive-in.  It's the perfect way for my family to go to the movies.  I don't stress about my youngest disrupting other guests, and it happened to be a double feature so we could watch it twice.  My kids were all so darn excited.  It was a little scary for the younger two at points, but the excitement was greater than any fear of pretend wolves.
Much of the live-action film pays homage to the original.  Many scenes are shot-for-shot recreations of the 1991 classic.  While capturing the magic of the story we all adore, the 2017 release made some significant changes to characters.  Here are the 6 best changes to the original:
Gaston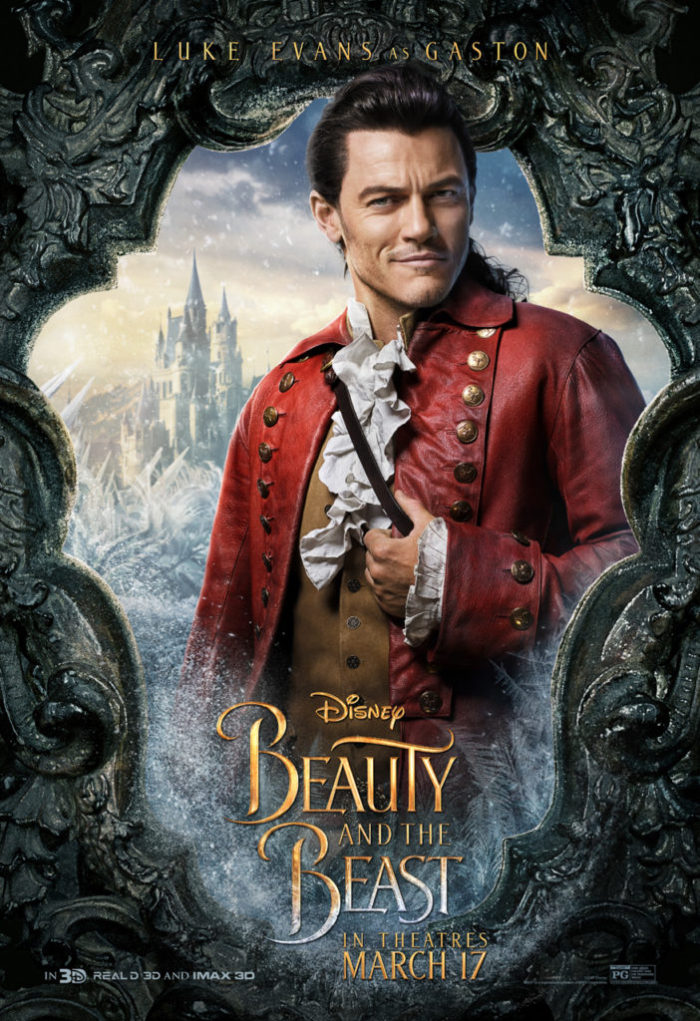 The boorish, brainless Gaston was down right primeval.  In the animated version, the character of Gaston is a pompous and egotistical jerk.  But ooooh, he's beyond bad in the live-action.  Luke Evans, I'm your new biggest fan.
Viewers get to know the man behind the pompadour through the introduction of a backstory.  We hear of his military victories and see his longing for the glory days.  But it's not just his lusting for Belle's hand in marriage.  The way he mistreats the triplets in the village, manipulates LeFou, and his monstrous attacks on the Beast make me loathe him so strongly.
Maurice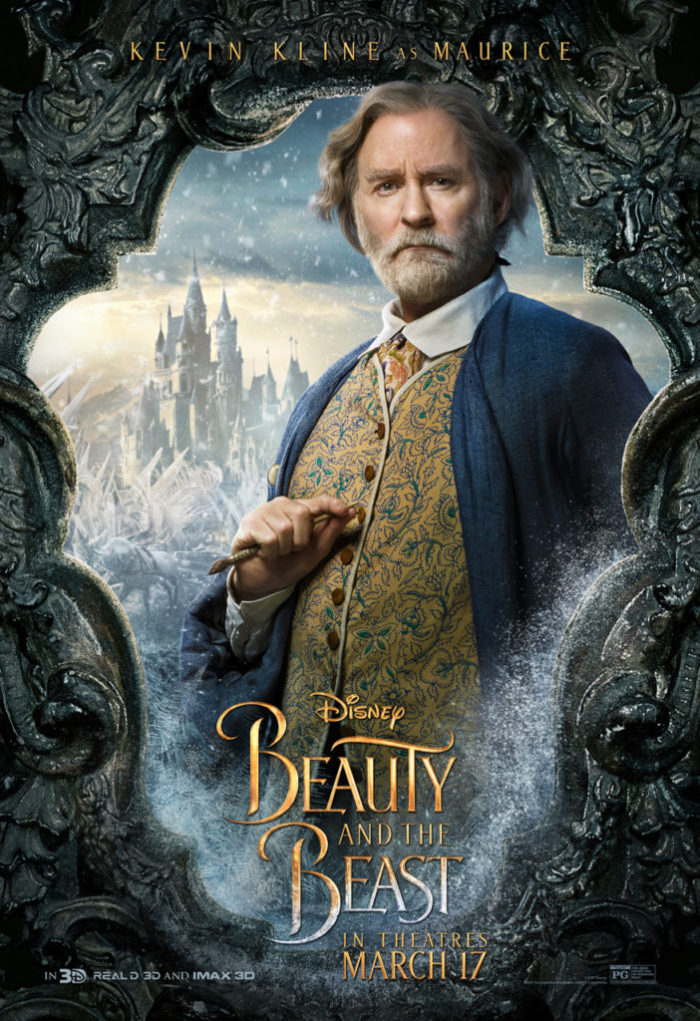 Belle's father is a widower and an outsider in the village.  In the new telling, Belle is the inventor while her father is an artist. I loved that despite Belle and Maurice being outsiders, he's not a crackpot.  Their relationship is strong, and mutually protective.  Maurice (played by Kevin Kline) still ends up a prisoner, just as in the original, but his release complements his redesigned character.
Making Maurice a strong character, rather than the village idiot, makes Belle's confidence more credible.
Le Fou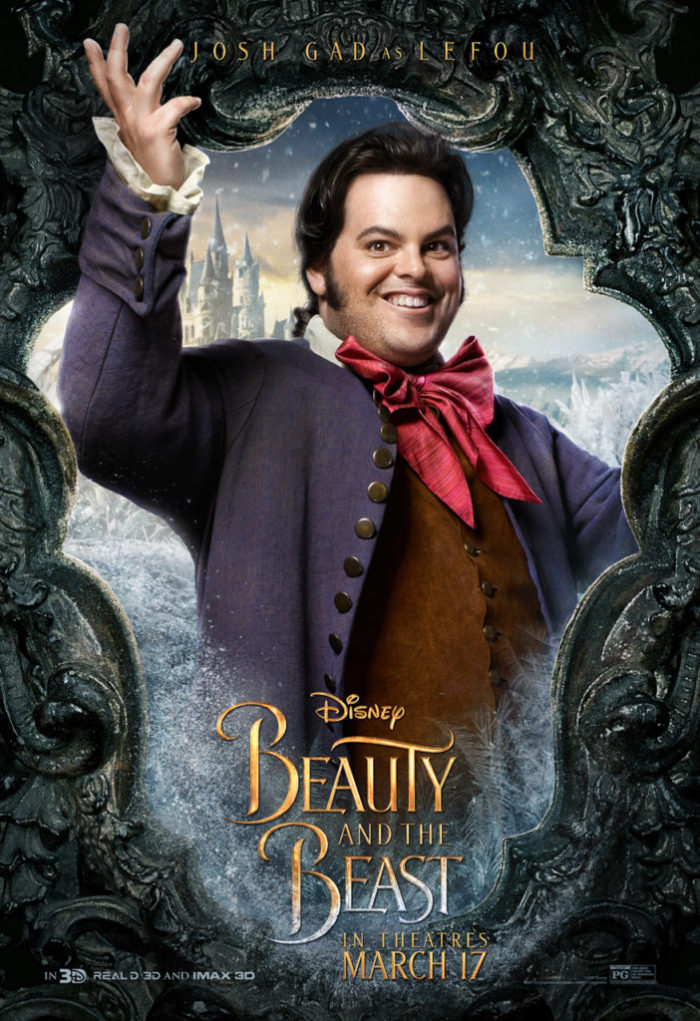 Floating around the internet was all this drama about Le Fou being Disny's first openly gay character.  If that's your reason for not seeing the movie, you're seriously missing out.  Any excuse you might have for not seeing it, you're seriously missing out.
Le Fou originally is the comedic sidekick to Gaston.  He's the one that lands in the mud, the snow, in between cymbals.  There's just not much there.  Gaston is the centerpiece, and Le Fou is there to puff his ego and sing his praises (literally).
But with the live-action we see a fuller character.  One who still greatly admires, perhaps longs for, Gaston.  But as the movie progresses and Gaston becomes more evil, Le Fou distances himself.  His role is still tied to the town hero, but by the end he's a man worth rooting for on his own accord.
And he's gay.  Representation is a good thing.
The Beast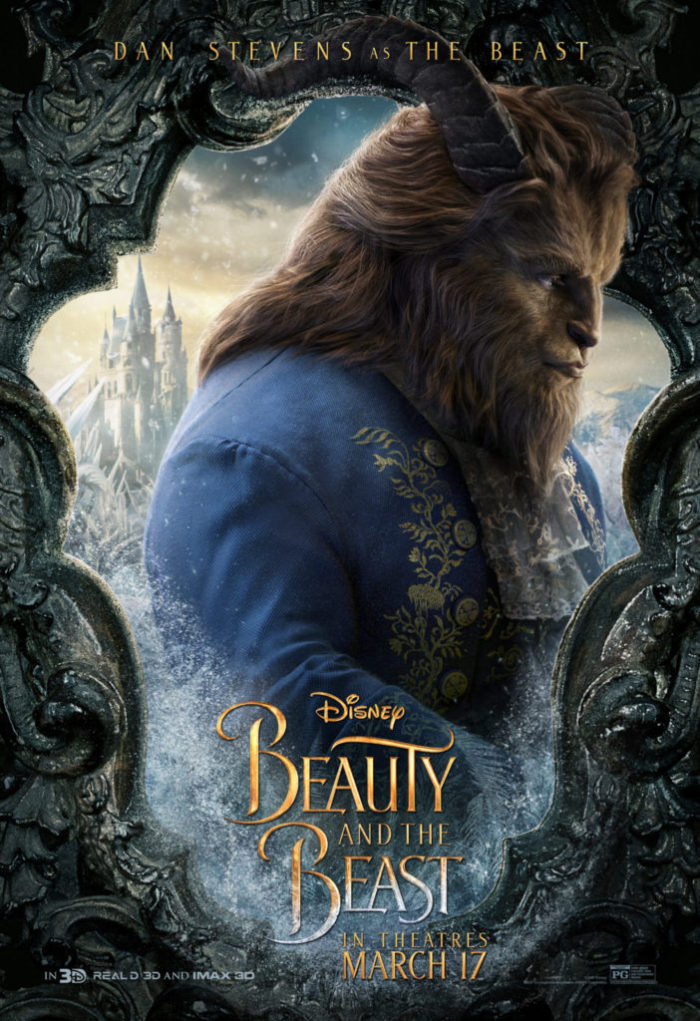 Maybe it's because I'm not 9 as I was when the original debuted, but man, oh man.  That beast.  When Belle asks him if he can grow back his beard, I'm shouting "same."  He's ruggedly handsome.  He's not horrible on the eyes as a prince, but let's just keep talking about the Beast (played by Dan Stevens) for a few minutes.
The drive-in is 45 minutes from our house, so my husband and I spent the drive home dissecting the film.  One of the best analogies we derived is the animated version is like the Cliff Notes version of the love story between Beauty and the Beast.  The 2017 live-action fills in the moments that help us to understand how the unconventional duo fell in love.
He's funny.  He's well-educated.  And did I mention he's handsome?
The Mother
Maurice and Belle are tightly united in both tales, but where's Belle's mother?  Disney has a lengthy history of killing off the mothers.  Disney theorists credit that to Walt Disney's guilt regarding his own mother's passing.  But that's slightly off-topic.
As we were granted access to more of Belle and the Beast's love story, we also get a larger look at Belle.  Throughout her village home are signs of the mother, but the lack of explanation gives viewers the idea that her absence is shrouded with grief.
Later, we do learn of her demise. The addition of the new character, allow a small role, gives richness to Belle and adds a shared experience between the couple.
Belle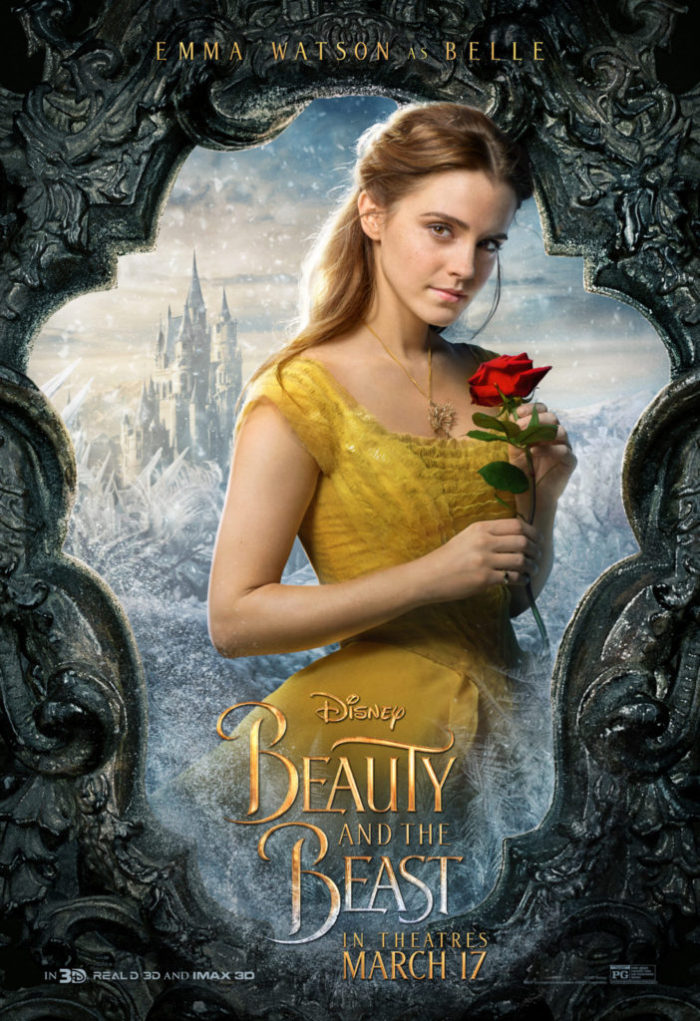 She's perfect in the original.  How could you make her any better?  Add Emma Watson.  Those who share a shelf with Watson will appreciate the additional touches of feminism she brings to the role.  Watson is known for her commitment to sharing empowering ideas with others through her "Our Shared Shelf" book club and also her literary scavenger hunt where she hides books of importance throughout public spaces.  Teaching a young girl to read gets Belle in a bit of trouble in the village, but I cheered to see snippets of Watson slipping through into Belle.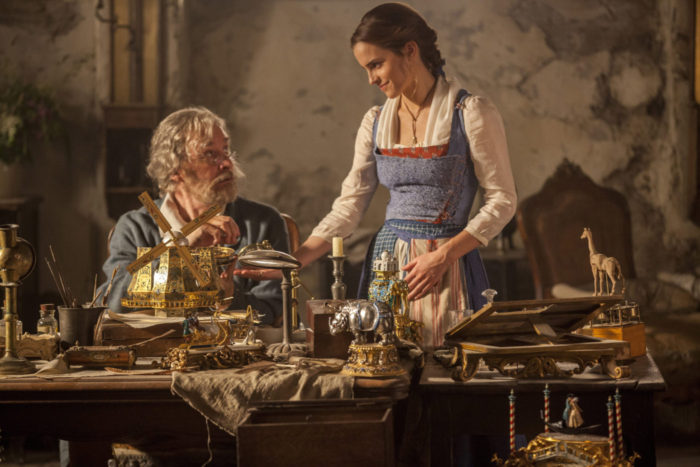 One question left unanswered in the animated version is why didn't Belle escape.  Watson's Belle is sitting around waiting to get rescued.
As a child, Belle was my favorite princess.  She's the one my eldest daughter most emulates.  The strong willpower, independence, and longing for adventure are qualities I cherish in Belle.  Watson's Belle is more–more intelligent, more capable, more tender.
Overall, I went in hoping for a gorgeous new look at a childhood favorite.  It is that, but it's also a fleshed out love story full of gorgeous scenes and deeper characters.  Beauty and the Beast is now playing in theaters everywhere.  Have you seen it yet?  Share your thoughts in the comments!
If you're looking for more Beauty and the Beast posts, check out these.
Beauty and the Beast Hula Hoop Wreath
Beauty and the Beast Activity Pages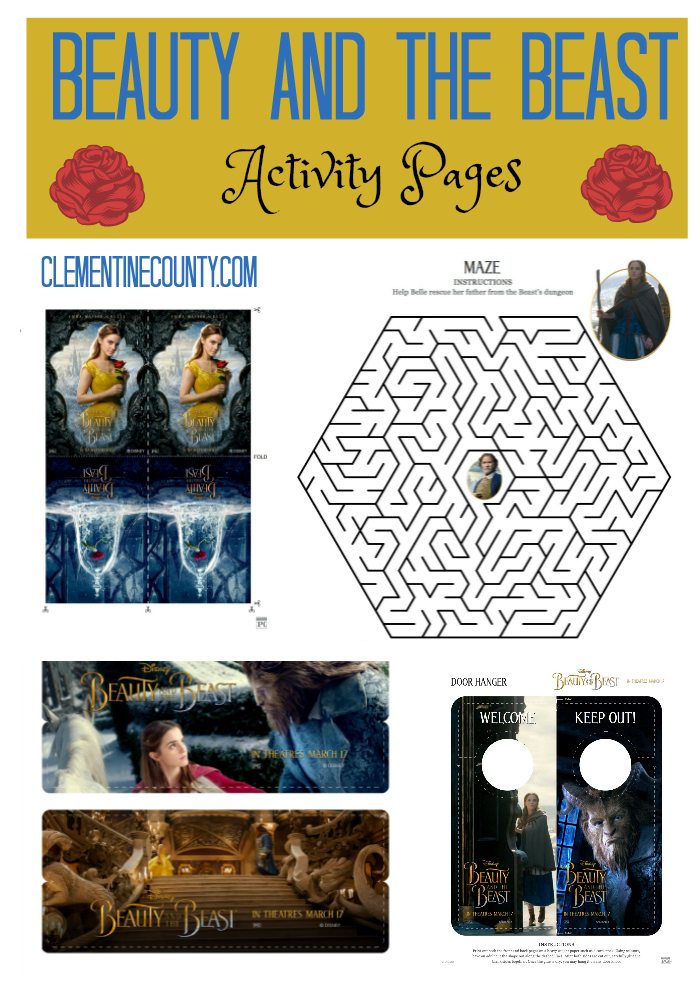 Beauty and the Beast Coloring Pages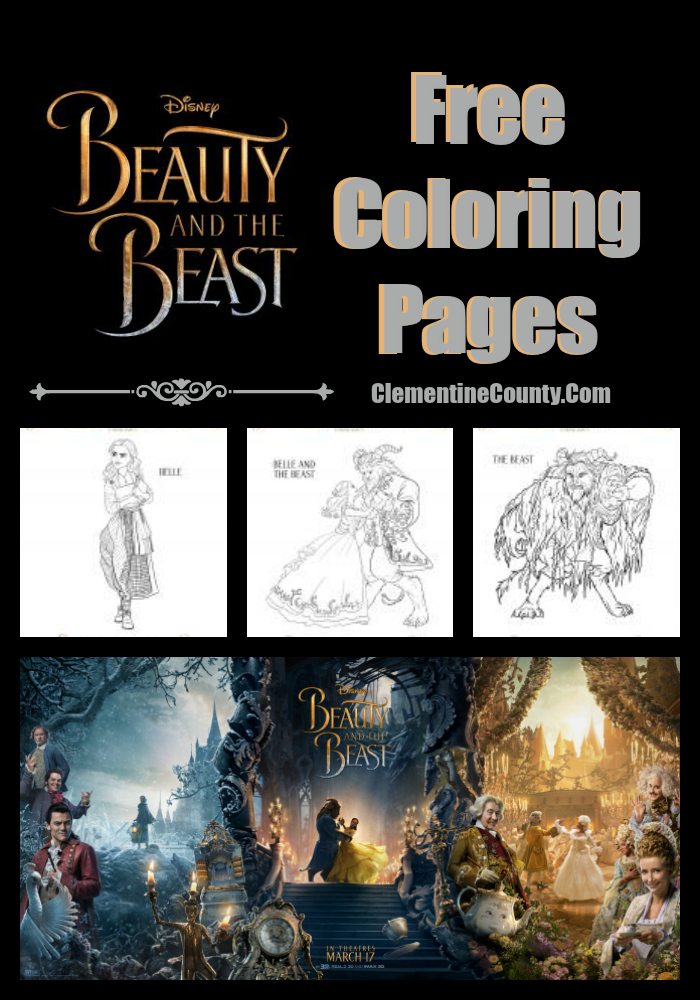 Save
Save
Save
Save
Save
Save
Save
Save
Save