I've been working on my "Chúc mừng năm mới" for thirteen years and can finally wish you a happy new year without embarrassing myself. It's almost time for Chinese New Year (also known as Lunar New Year), and we can't wait to celebrate.  My children have been fortunate to be exposed to a variety of celebrations throughout the years, and Chinese New Year is always a popular one in our house.  To ring in the new year, we're celebrating with Easy Chocolate-Covered Fortune Cookies.
This post may contain affiliate links.  Please read my Disclosure Policy for more information.
A few years back, my littles got all dressed up for New Year and were able to perform in a fashion show and dance presentation.  I just adore this photo of my sweet Harper.  You can barely see the rainbow tie dye cast from her broken elbow.  Roller skating is no joke, guys.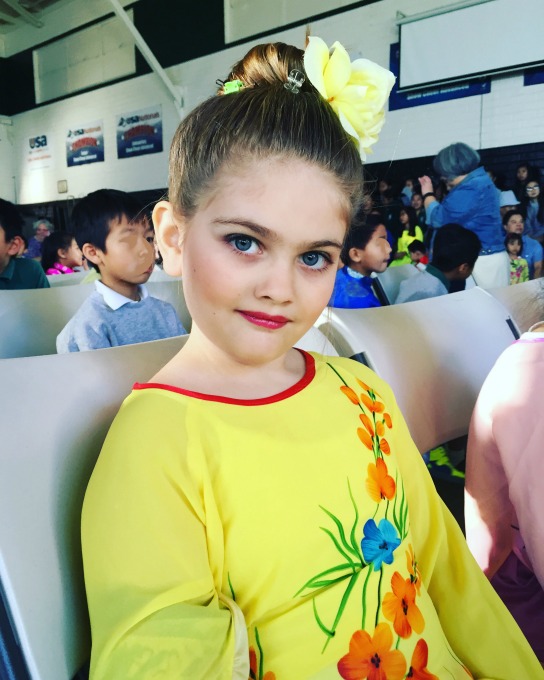 Growing up, my parents were really good about taking my siblings and me to various museums and events.  It fostered a love of learning in me that I hope to share with my girls.  Exposing them to different cultures is one way I'm doing that.  Holidays showcase values and what matters most to a people.  So by experiencing those holidays, the joy and celebrations, I think we learn a lot about others. Plus, it's fun!
But this year, we didn't have anything planned other than a few red envelopes for Chinese New Year.  I decided to take pre-made fortune cookies and fancy them up a little bit.  Because everything is better with chocolate, I dipped the fortune cookies in red chocolate and decorated with gold confetti sprinkles.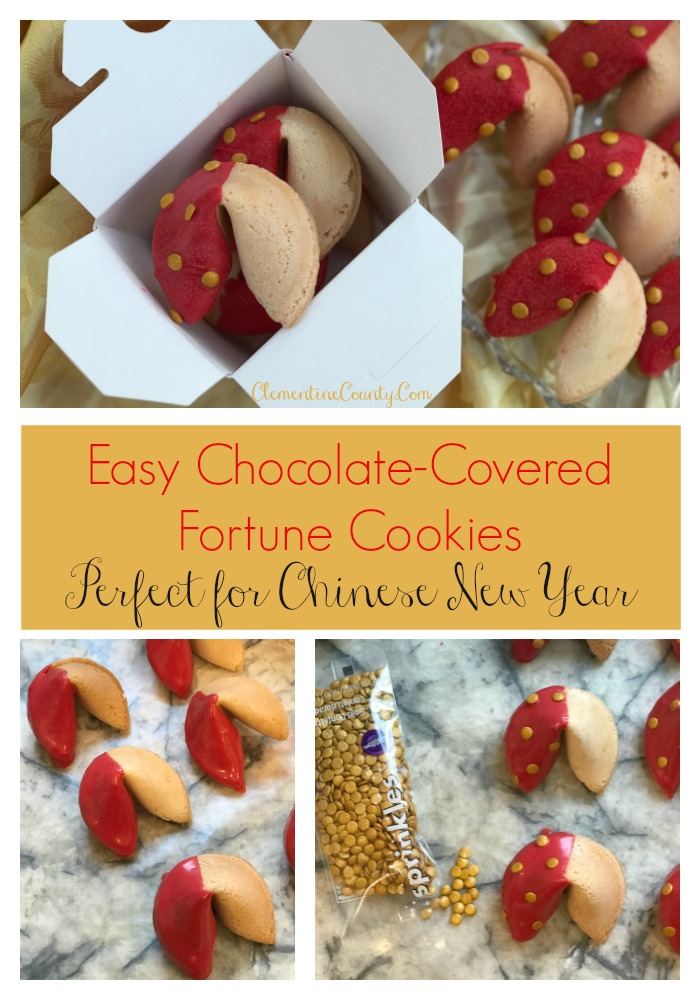 How to Make Chocolate-Covered Fortune Cookies
What You'll Need:
I've linked to similar products on Amazon. I choose foolishly to run around town picking up the supplies.  Although there are only three food items needed, I ended up at three different stores.  Let's not get me started on that one.  Instead, nab the supplies & have them delivered straight to your door with Amazon Prime.
How to Make Them:
This busy mama loves all the hacks I can get my hands on.  So rather than making the fortune cookies from scratch, I picked them up from the store.  That left me with the fun part–decorating.
First, melt red candy melts according to package directions.  To cover 20 fortune cookies, I used 1 cup of candy melts.  I tend to work slowly as there are lots of "Mom…Mom…Mooooom" the impede my progress.  So I opted to do them 1/2 cup at a time.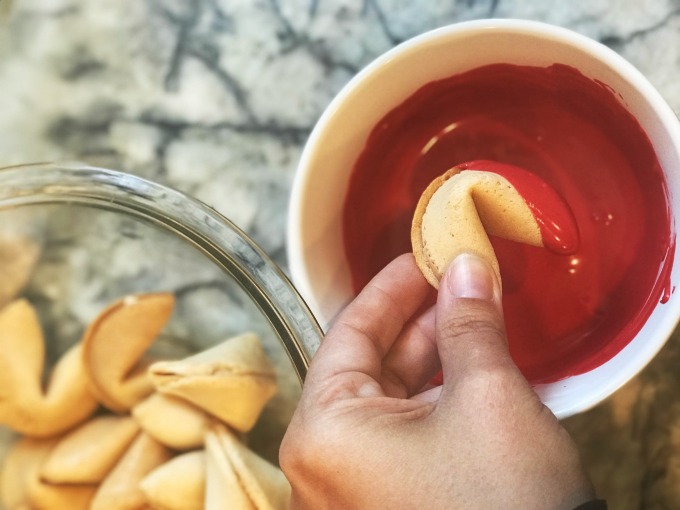 Dip half of the fortune cookie into the melted chocolate.  Gently tap the cookie to shake off excess chocolate.  Lay on wax paper.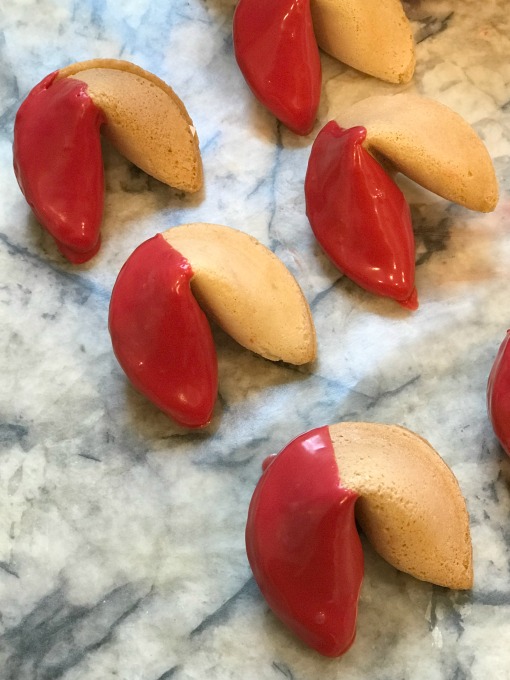 While the chocolate is still setting, add gold confetti.  Any yellow or gold sprinkles will add a little pizzazz to the cookie.
Let set, and that's it!
Because I am a crafter which is synonymous with hoarder, I had some new Chinese food boxes.  Each box fit four fortune cookies.  Sharing little boxes filled with treats are a sweet way to start off the lunar new year.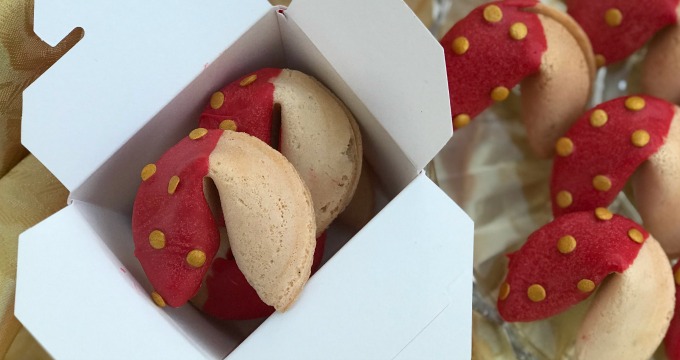 Are you looking for other ways to celebrate Lunar New Year?
Find local events to watch dragon dances
Make dog themed crafts (2018 is the year of the dog)
Give "lucky money" in red envelopes
Decorate with red lanterns
Eat a traditional meal
How do you celebrate Chinese New Year?