The hustle and bustle of the holidays can be overwhelming.  The thankfulness suffers from obligation; the merry gets shuffled under piles of unwrapped presents.  But it doesn't have to be that way.  I'm sharing how to make the season more cheery and saving money while we're at it.  From tasks to start now to grocery bargains, I'm walking you through 5 easy ways to de-stress the holidays.
5 Ways to De-stress the Holidays
Start Shopping Yesterday
I have always adored Black Friday.  I even dragged my baby along with me to indoctrinate her into my fold.  More realistically, she woke up when I tried to leave so I opted to bring her along.

I love standing outside the stores at 2 AM, with catalog in hand.  It's an event, and I can get a ton done in those wee hours of the morning before the coffee starts brewing.  But there's a lot you could do before the Friday after Thanksgiving.
Tackle these holiday chores this week:
Take your Christmas card photos
Order any personalized gifts
Restock your wrapping supplies
Make a gift spreadsheet
In addition to being able to knock a few things off the to-do list, being able to spread the payment of these things among a few months is also cause for celebration.
Plan After-Holiday Fun in between Christmas and New Years Eve
The weekends in November and December fill up quickly.  Schedule dates after the holidays now.  My best friends and I do an annual bowling trip where we drag all our of kids to the lanes in their PJ's.  By not squeezing more into an already busy calendar, we can relax and enjoy each other's company when we get together post-holidays.
Stock Up During Grocery Outlet's November Wine Sale
Grocery Outlet offers some incredible wines at affordable prices.  I was shocked when my three bottles of wine and some ingredients for a delicious dip came out to only $20, with over $50 in savings!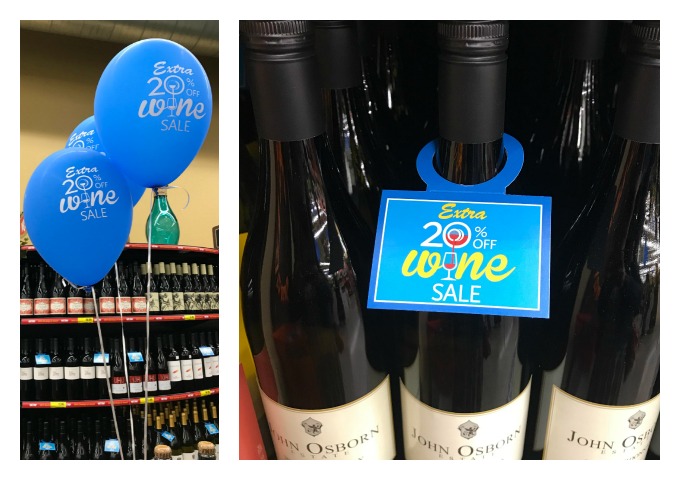 November Wine Sale at Grocery Outlet
From November 1st through 7th, take advantage of the November Wine Sale at Grocery Outlet.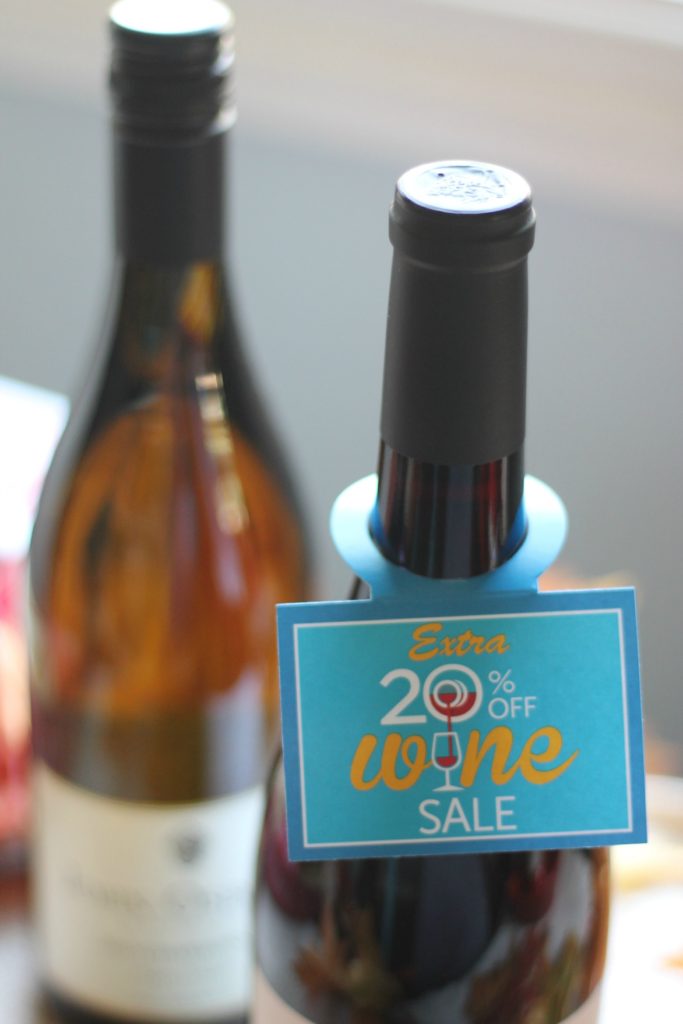 Having things on hand makes last minute parties possible.  But it also means I'm not fighting crowds the days leading up to holidays.  But the best thing of all about stocking up during the November Wine Sale at Grocery Outlet is how much you'll save.
Grocery Outlet provides such amazing deals by buying surplus items, such as when packaging changes.  These discount prices are passed along to customers thanks to the family-owned and operated stores.  No fuss stores with hot deals…I'm sold.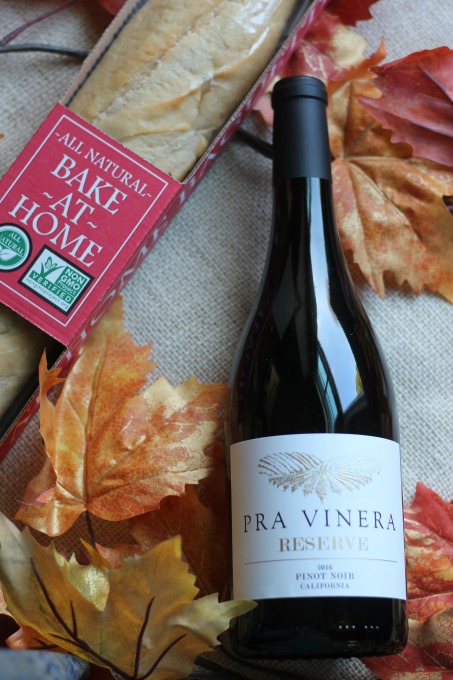 Choose a Go-To Dish of the Season
Part of saving time and energy this holiday season means cutting back on decisions.  Choose a signature dish for the holidays to bring to all of your potlucks and festivities.  This holiday season is dedicated to my favorite dip with lentils, bruschetta, and feta cheese. In addition to tasting amazing, I can buy the ingredients in advance so I always have them on hand.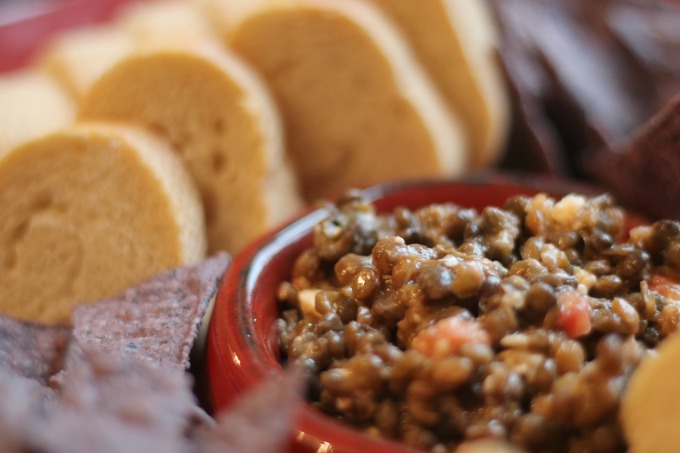 I was able to whip up the dip to bring to a neighborhood pumpkin carving party last week.  Judging by how quickly it was devoured, I know it wouldn't be out of place to serve it at a Friends-giving or Holiday Block Party.
Lentil & Bruschetta Dip
Ingredients:
14.5 ounces of Bruschetta Sauce
18 ounces Steamed Lentils
6 ounces of Feta Cheese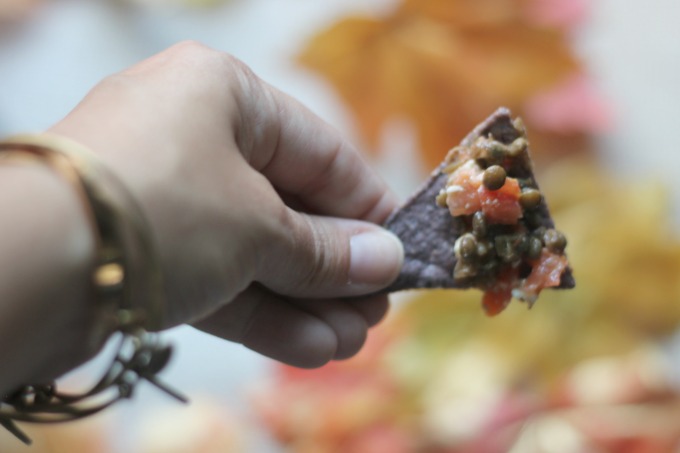 Combine the three ingredients.  I'm not a huge feta cheese person, so 6 ounces give the mixture the right amount of cheese for my liking.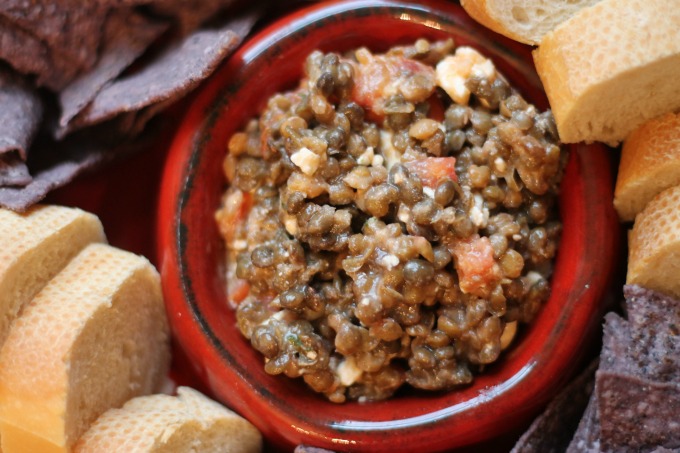 I served the dip with blue tortilla chips and a Bake-At-Home baguette from Grocery Outlet.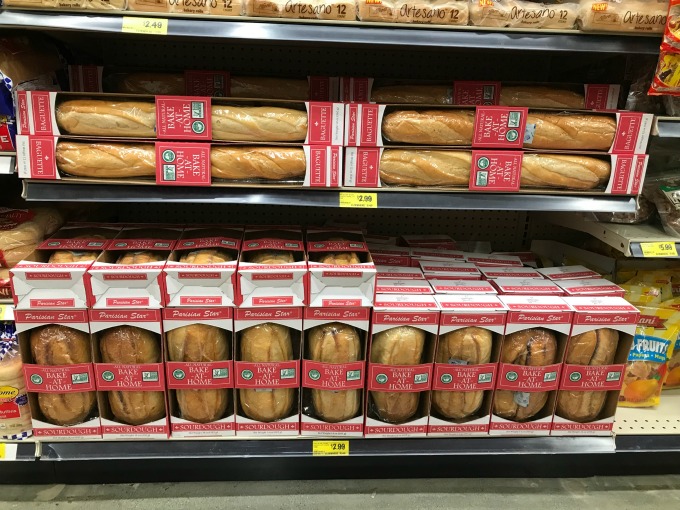 Make Spreading Cheer a Priority
There are enough people stressing about the holidays.  Let's agree to not make more of them.  Rather than stressing about how much you have to do, focus on how much you have to give.  When I was parking outside Grocery Outlet, I noticed the had designated parking marked "Family Parking" and "Veteran Parking."  I'm sure the cost of the signage was small, but what a statement it makes to those shopping in the family-owned stores.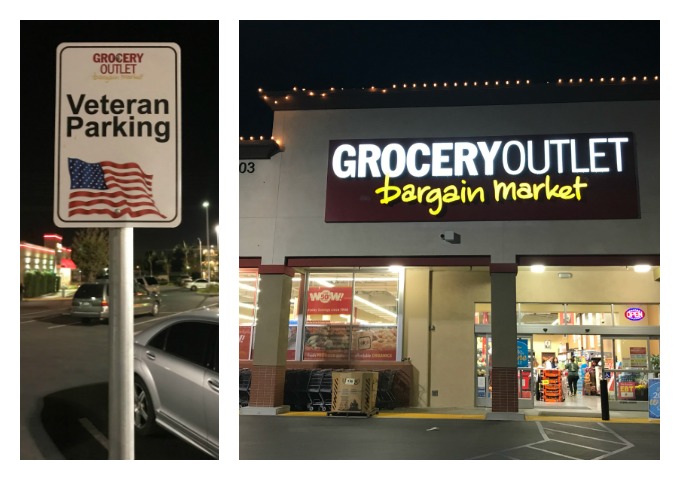 Make a statement of good intentions this holiday season.  Sing Christmas carols to the older woman down the street (I know from personal experience she'll be moved to tears).  Adopt a family.  Mail holiday well wishes to our military.
A little preparation leading up to the holiday season can mean less stress and a lot of savings!  Click here to find your local Grocery Outlet Bargain Market.
How do you de-stress the holidays?