From framed art to wine toppers, we've got a lot of Disney memorabilia in our home.  Some of it was an investment, while many pieces have value because of the memories we cherish at the Happiest Place on Earth.  To bring a little bit of Disneyland home, I made a welcome banner using free park marks.  Free Disneyland souvenirs for the win!
This post may contain affiliate links. Please read our disclosure policy for more information.
Any time we head into the Disney parks, my trio of littles grab maps.  It's tradition.  Throughout the day, they'll consult and point to things they want to do.  "Yes, we must (points to map) go to the Enchanted Tiki Room."  "Would you like to (consults map) ride Pirates of the Carribean?"
Maps are extra amazing for stroller bound kiddos who may need some light reading material.  And they're free!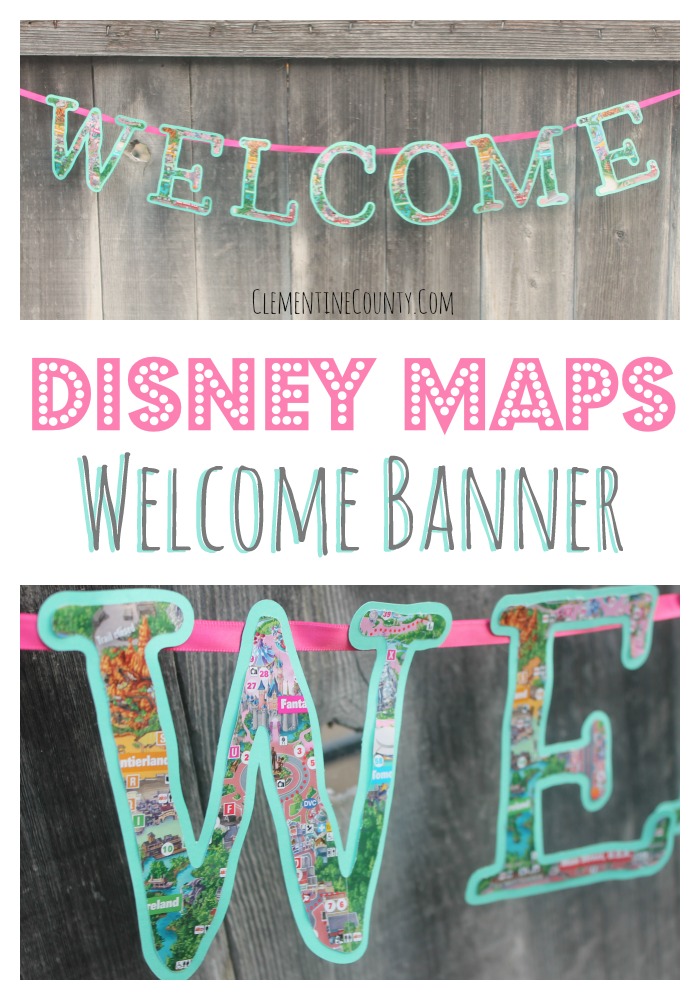 When deciding on what I wanted my Disney Maps banner to say, I went to one of my favorite Walt Disney quotes.
To all who come to this happy place, welcome. Disneyland is your land. Here, age relives fond memories of the past. And here, youth may savor the challenge and promise of the future.
I've used the first sentence in my classroom and tried my hand at handlettering for our dining room chalkboard.  Reminding myself and my family of our happy place brings a lot of joy to our days.  We can bring that joy home and offer it to our guests.  The word "Welcome" was perfect for the banner!
What You'll Need
Cricut Personal Cutting Machine
8 Disneyland Maps & card stock
Ribbon
Glue & tape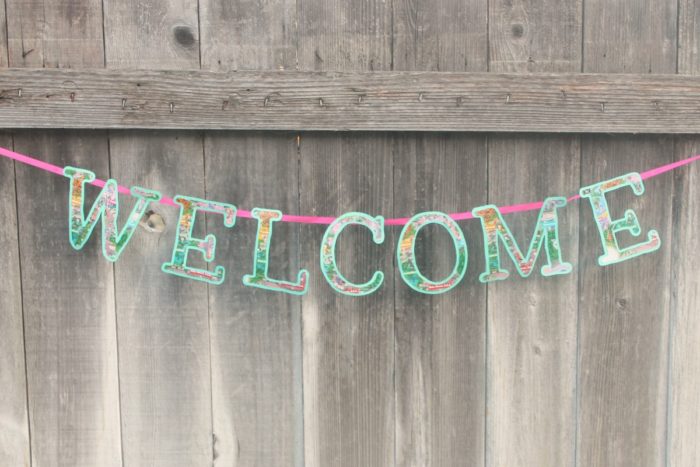 How To Make Your Disneyland Map Welcome Banner
I used my BFF, my Cricut.  I bought my first machine while watching an infomercial in the middle of the night while nursing a newborn.  I've upgraded since then, but think I'm almost ready for #3.  My favorite font for crafts is probably Doodletype.  It's kid-friendly, bubbly, and just all-around cute.
You may have noticed that I listed 8 maps for the banner when "Welcome" only has 7 letters.  That's your safety.  It's a whole heck of a lot easier to have a spare just in case.
When cutting out the letters, I set my machine to cut each at 5 inches.  I purposefully didn't set each letter to cut in the exact same spot, so different parts of the map would appear.  If you don't have a Cricut, you could absolutely cut these by hand.
To strengthen the letters, I also cut out the letters on the Shadow setting in card stock.  I had it at home, so my grand total so far is $0. Glue the map letters to the card stock, and you're almost done.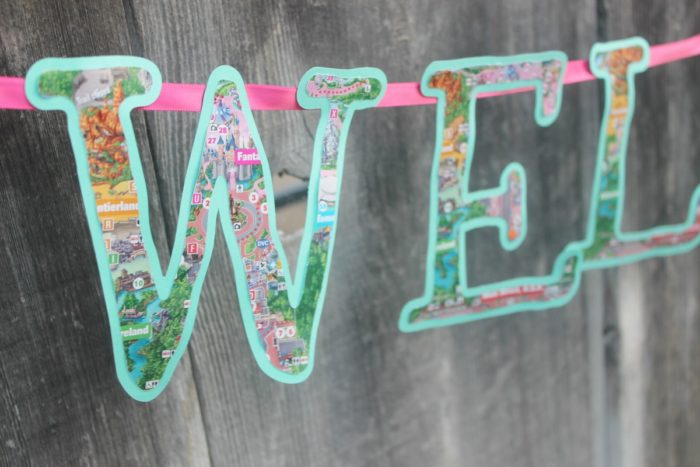 To attach the letters to the pink ribbon I'd picked, I went very fancy and used tape.  You could also hole punch the letters and string ribbon through them.  Clothespins work well, too.  Hang and impress all your Disney-loving friends and family!
If you're looking for more ways to welcome guests and share your Disney love with them, add some Disney touches like yummy soaps from Bubba's Bubbles.  The handmade and hand-crafted soaps and bath bombs bring a little magic to your bath.  Each of the Disney themed soaps is made with a clean rinsing glycerin soap base.  I loved that this one had just a touch of glitter.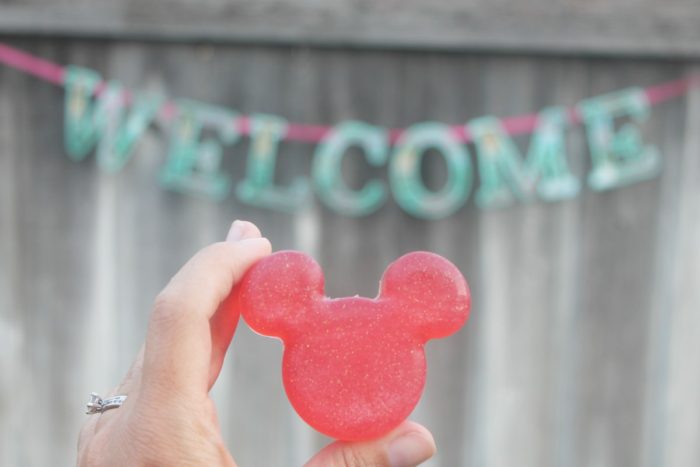 With Snow White being my favorite of the princesses, I selected the Snow White Inspired Poison Apple Mickey Soap.  It's full of apple and cinnamon goodness that's perfect for fall.  You could even stock up for a Disney-loving teacher to pair with an "Apple for the Teacher" card.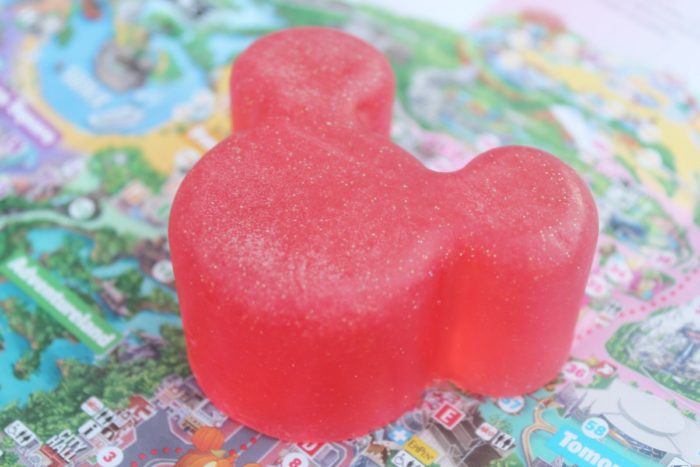 To truly make guests feel welcome, consider adding one of Bubba's Bubbles Disney Inspired Bath Bombs.  My pick: Dole Whip!  With the pineapple fizzies sure do make you feel like you're on vacation!
Disney Fans, how do you welcome your guests?