I totally should be sleeping right now, but I'm too darn excited.  Tomorrow is Disney Social Media Moms Celebration "On The Road" here in Anaheim, CA.  The morning will be spent learning all things Disney, and the rest of the day is dedicated to fun in the Disneyland Resort.  One thing I can't miss is riding on the Guardians of the Galaxy – Mission: BREAKOUT! attraction.  To help celebrate, today I'm sharing a DIY Guardians of the Galaxy pinata.
All thoughts and opinions are my own.
Disney Social Media Moms Celebration, or Disney SMMC, is part blogger convention and part awesome family adventure.  My family and I have had the good fortune of being able to visit the Disney SMMC event twice, both times in Walt Disney World.  It was seriously the best family vacation wound up in inspiration and learning.  Check out our reveal featuring a DIY Tsum Tsum pinata.
If you haven't figured it out, making pinatas is one of my favorite things to do.  I love saving money on party supplies, plus I can hide all of the Amazon boxes that come in by upcycling them.  No Prime boxes, no problem.  Let's hope my husband isn't reading this.  
To make a homemade Guardians of the Galaxy pinata, I used the symbol on the new California Adventure attraction.  Previously the ride was the Tower of Terror.  My pinata is the shaped like the Tivan Collection symbol.  Taneleer Tivan, or The Collector, has captured the Guardians within his fortress.  It park guests' responsibility to help Rocket break them free.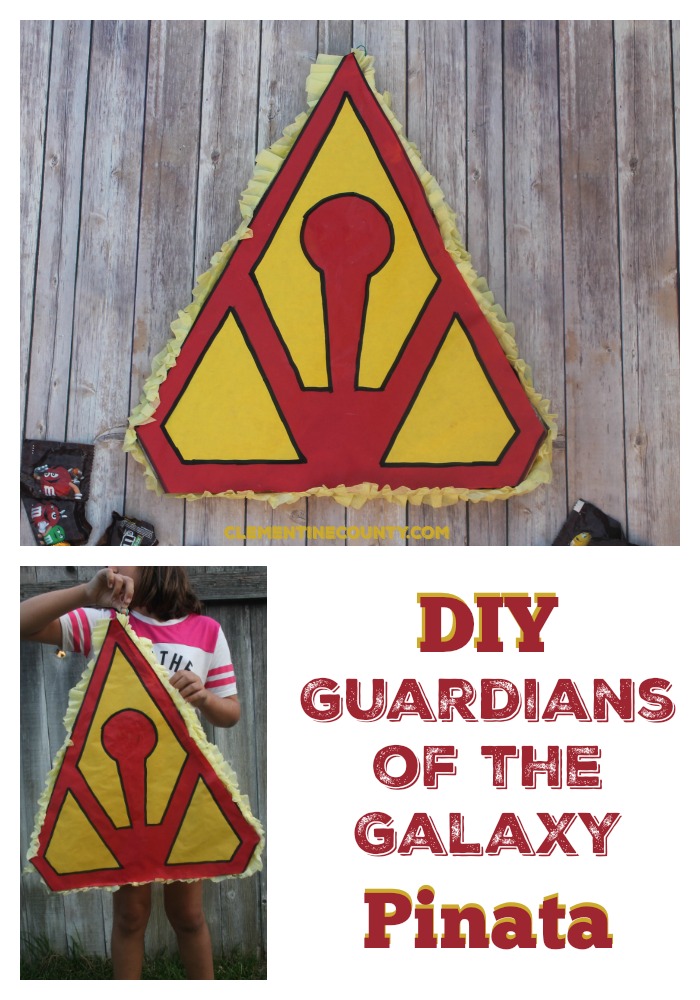 What You Need to Make a Guardians of the Galaxy Pinata
Cardboard
Packing tape & glue
Butcher paper
Crepe paper
In the past, my pinatas have been really well made.  That sounds like a good thing, until you realize that if you keep kids from candy for too long things can get ugly.  So this round, I used the thinnest cardboard I could find.  It didn't hurt that it was super ancient and wasn't in great shape.
How to Make a DIY Guardians of the Galaxy Pinata
To make the pinata, you are going to make two Tivan Collection symbols and connect the two with thin strips of cardboard.  Mine are never exactly identical, and I'm okay with that.  You can check out the steps in progress in my DIY Tsum Tsum Pinata or DIY Trolls Pinata.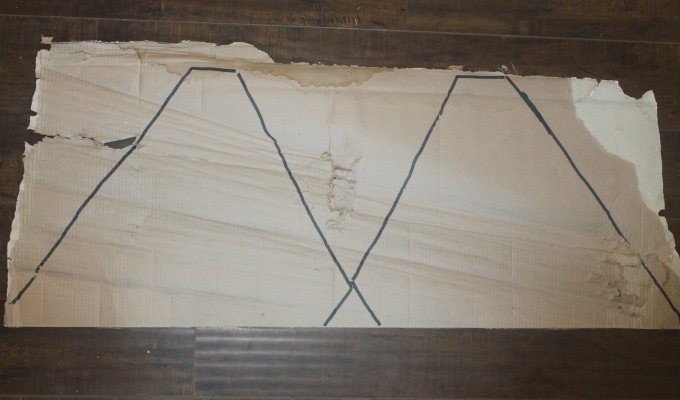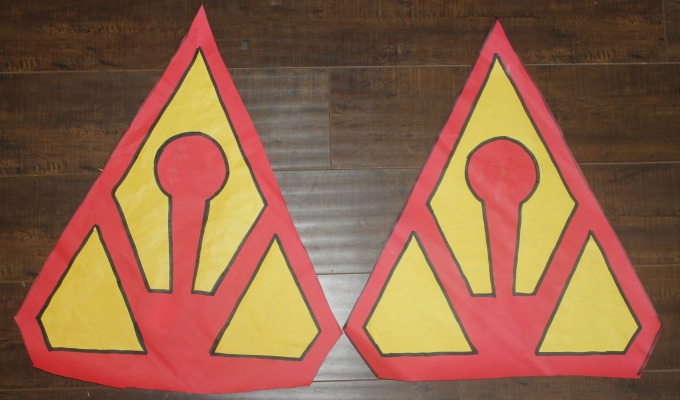 Once you've assembled your cardboard structure, it's time to give it a little color.  I use inexpensive butcher paper to cover my pinatas.  The red and yellow can be swapped to match any GOTG party theme.  Covering the sides came with a lot of "help" from my preschooler who really, really wanted to be involved.  How can I say no?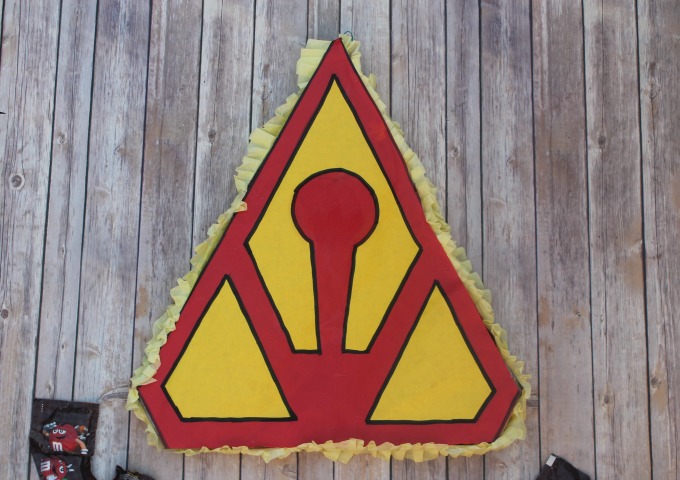 We ruffled around the edge of the pinata, overlapping the butcher paper to give better coverage.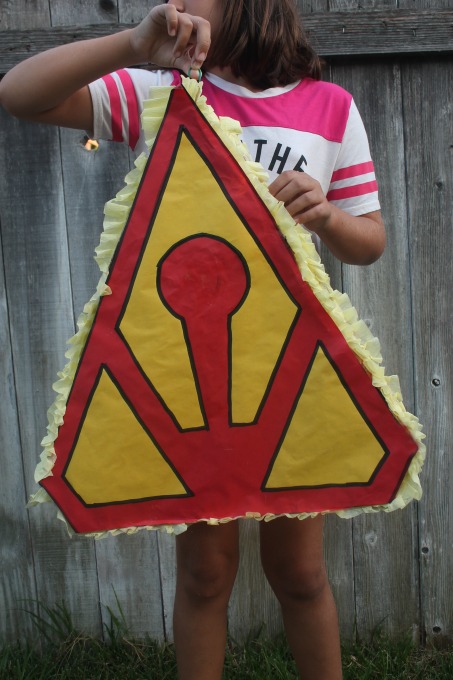 Fill your pinata will candy and you're ready for party guests to collect their treats!
Looking for more Guardians of the Galaxy fun?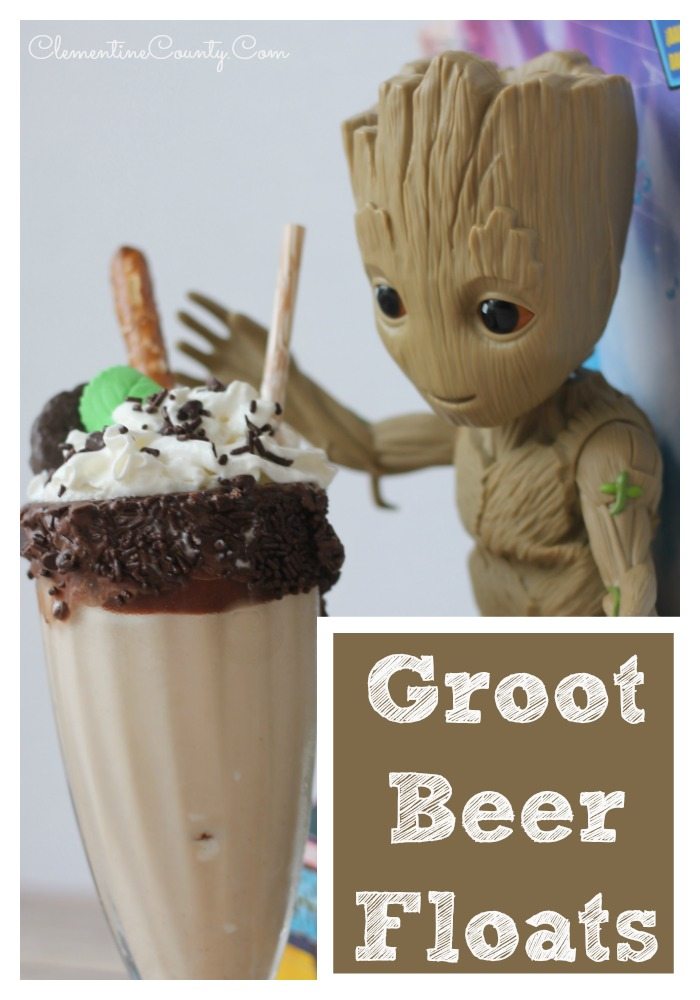 Guardians of the Galaxy S'mores