Halloween, Watermelon, It's A Small World–these are the themes I picked for my children's first birthdays. Because they couldn't voice an opinion, I got to pick whichever theme I wanted. It's one of the perks of being the party planner.
But by the time my kids turned two, they definitely had an opinion about which type of party they would like.  So as we approached Poppy's second birthday, we started discussing options with her. She was unwavering in her decision, Minnie Mouse.

That, of course, pleased us to no end. Yet there was a sliver of hesitation.  We'd already had a Minnie Mouse party for Harper when she turned two. What would guests think if I hosted two parties with the same, exact theme?  Nobody cared.  And if they happened to notice I recycled some of the same decorations from four years prior, they didn't mention it.
And recycle decorations I did.  But I still wanted here to be something special just for Poppy's second birthday. This DIY Minnie Mouse Photobooth was just the thing!  Added bonus: it cost just a few dollars to make!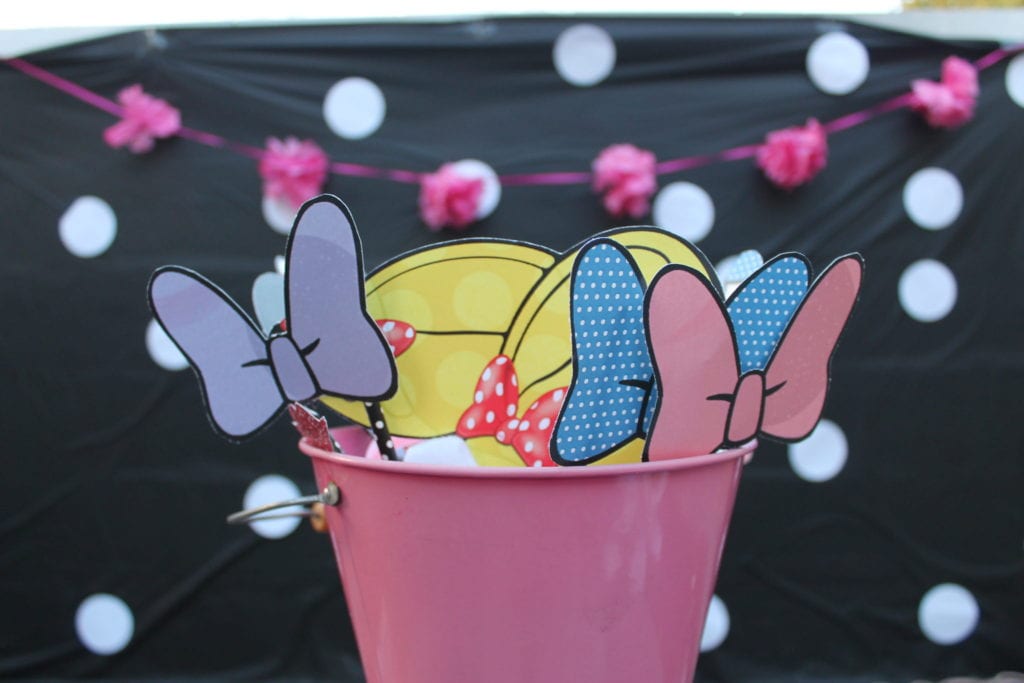 [eltd_highlight background_color="" color=""]How to Make a Minnie Mouse Photobooth[/eltd_highlight]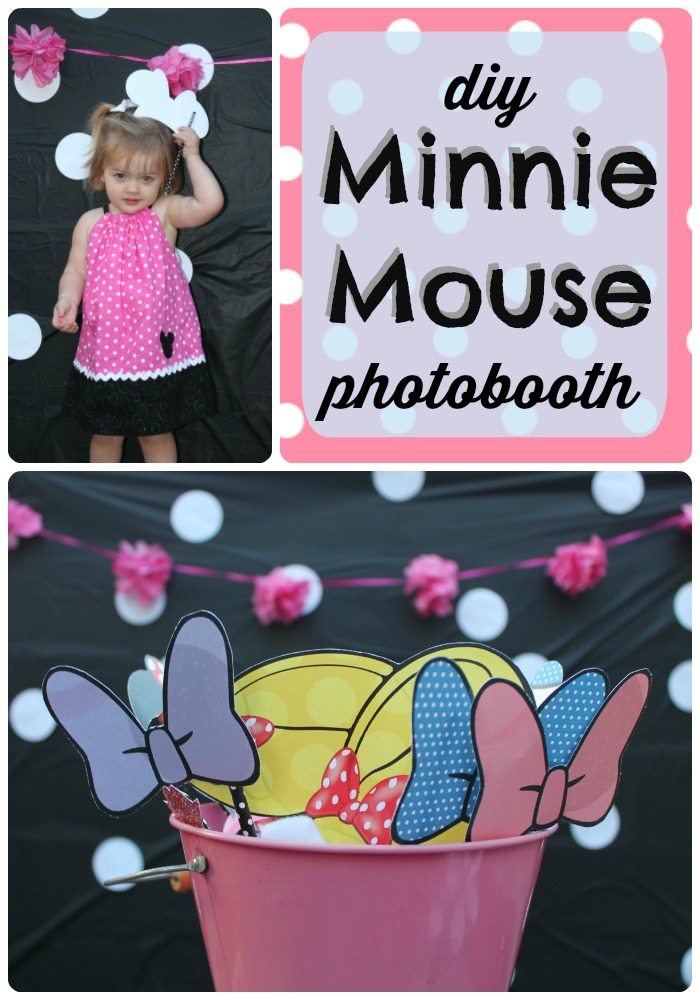 Materials Needed:
Black tablecloth, purchased at the Dollar Store
Clear packing tape
White 3-inch circles
Pink pom pom garland, purchased at the Dollar Store
Photo booth props
Lollipop sticks, paper straws, or BBQ skewers
Optional: 3M hooks
Attaching my black tablecloth to my block wall ended up being tricky, so I used 3M hooks. I placed four hooks along the top of the wall, following the package directions.  To prevent the tablecloth from tearing, I reinforced it with clear packing tape at the top. Then I made holes to hang the tablecloth.
Due to wind, I ended up placing bricks on the bottom of the tablecloth.  Just beware of stumbling!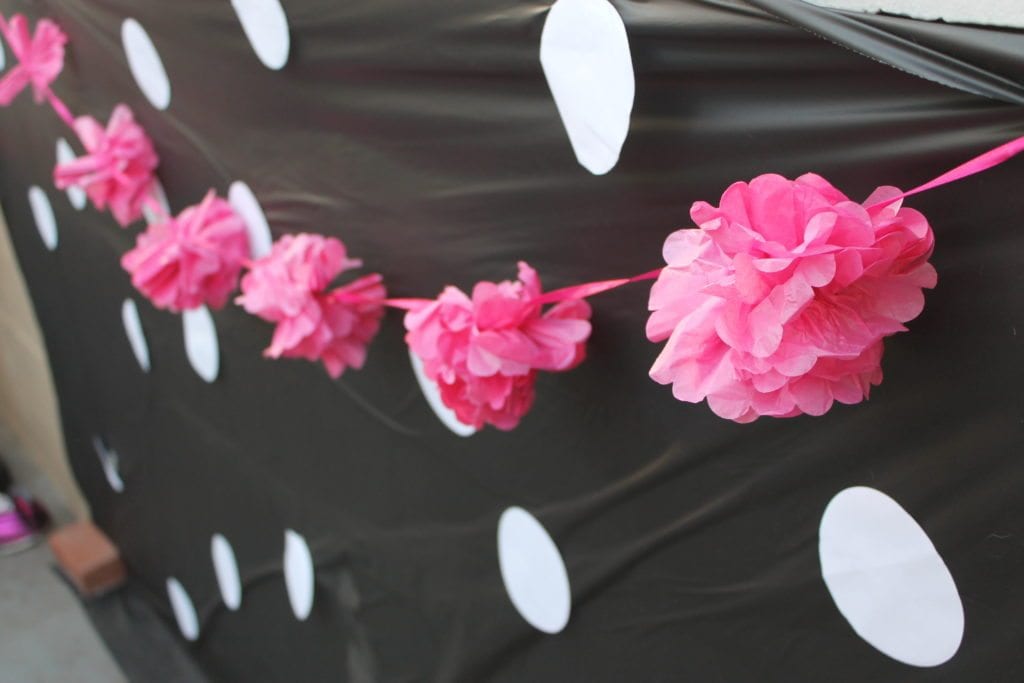 My pint-size party assistants were kind enough to randomly place polka dots on the tablecloth.  The top was decorated with an inexpensive pom pom garland from the Dollar Tree.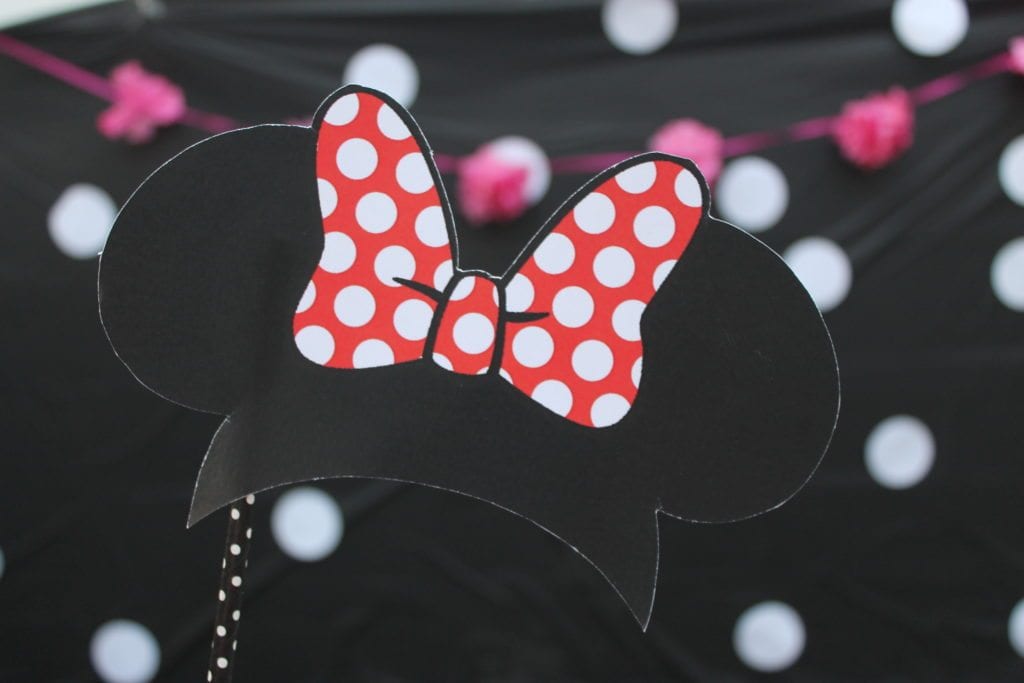 I ordered Minnie Mouse accessories from Etsy & printed them at home. Using black & white straws I had at home, I attached the accessories.  Time to party!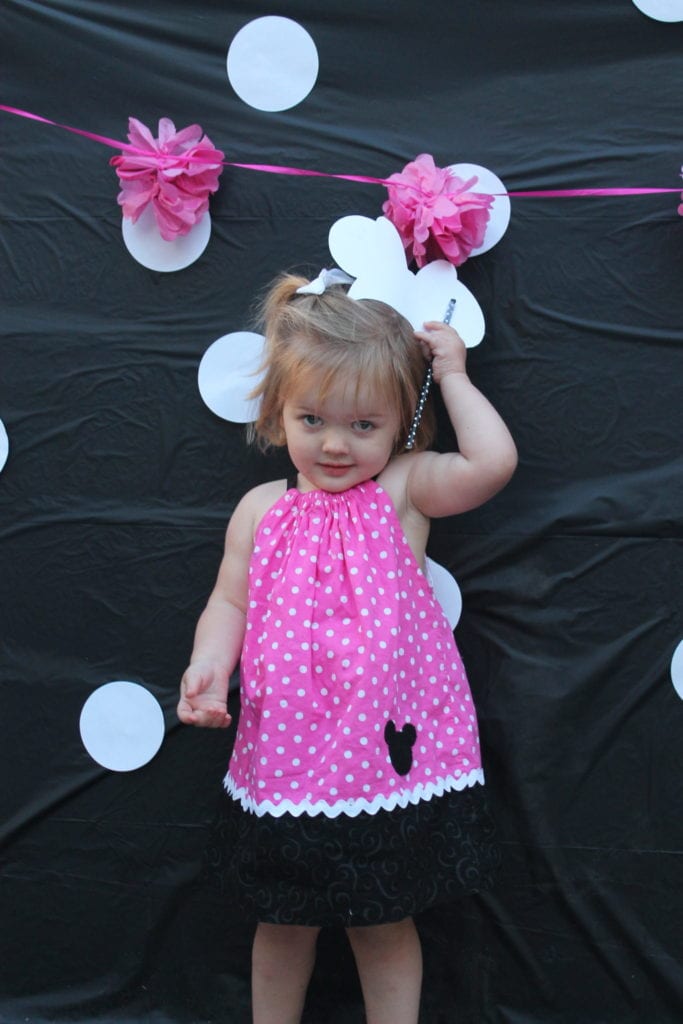 Now that we've had TWO Minnie Mouse parties, it's time to mix it up. What's your favorite party theme?