Nothing says party like a pinata, but do you know how easy they are to make yourself? Come see how to make your own tsum tsum pinata.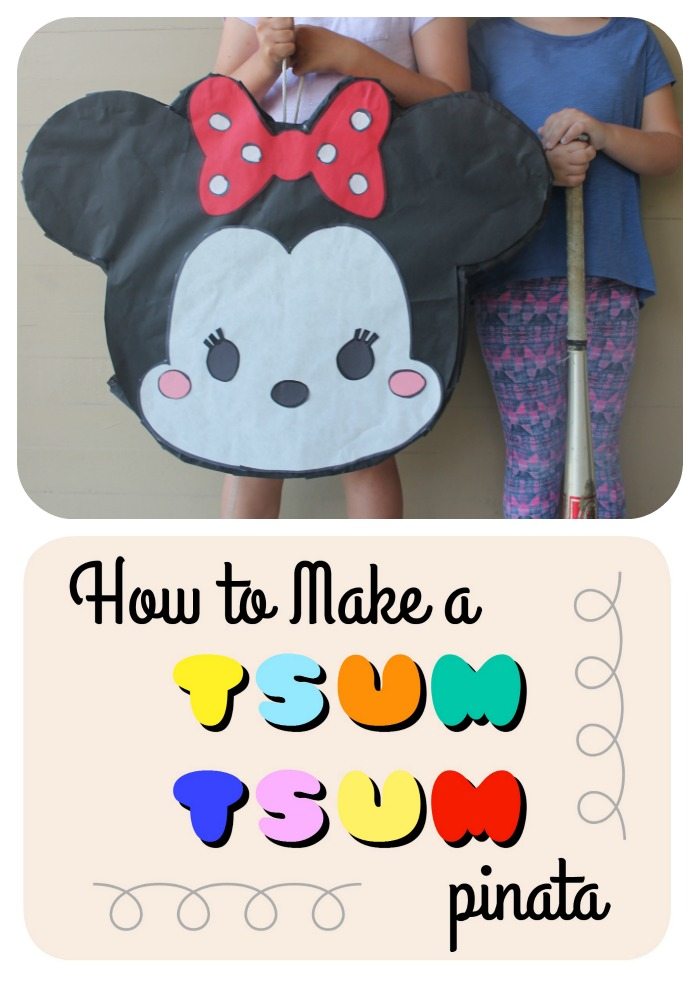 Tsum tsums are seriously the cutest. If you haven't checked them out, they're Disney-themed stacking stuffed collectible toys. My girls are crazy for them!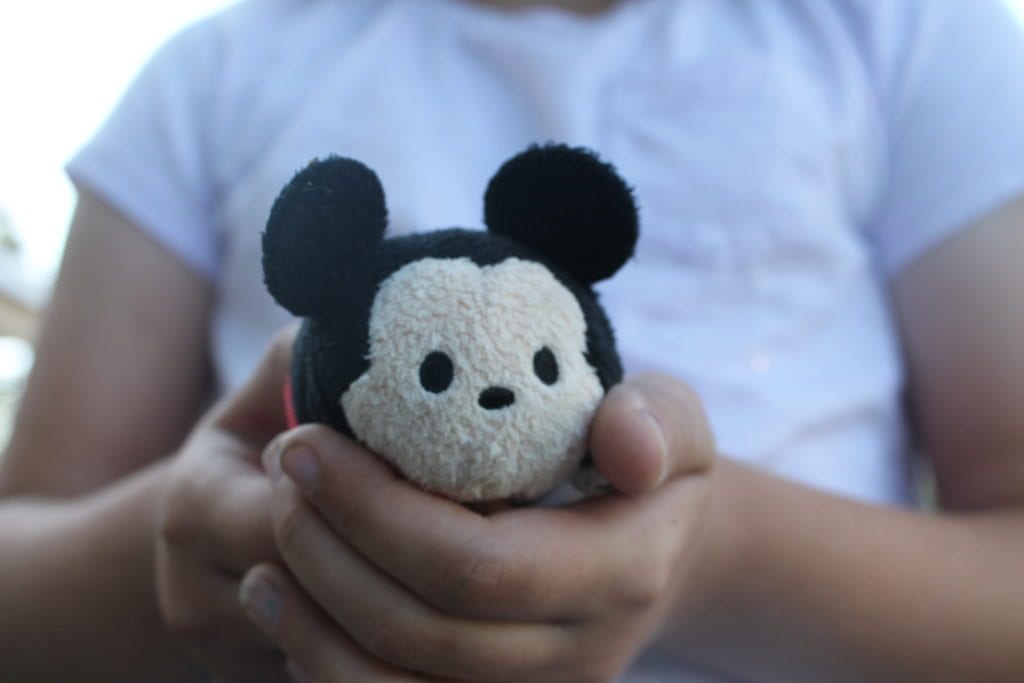 When brainstorming a fun way to break some news (more to come on that!), I decided to make a Minnie Mouse tsum tsum pinata. Using recycled materials & a little bit of butcher paper, I was able to whip up this sweet party necessity in an afternoon.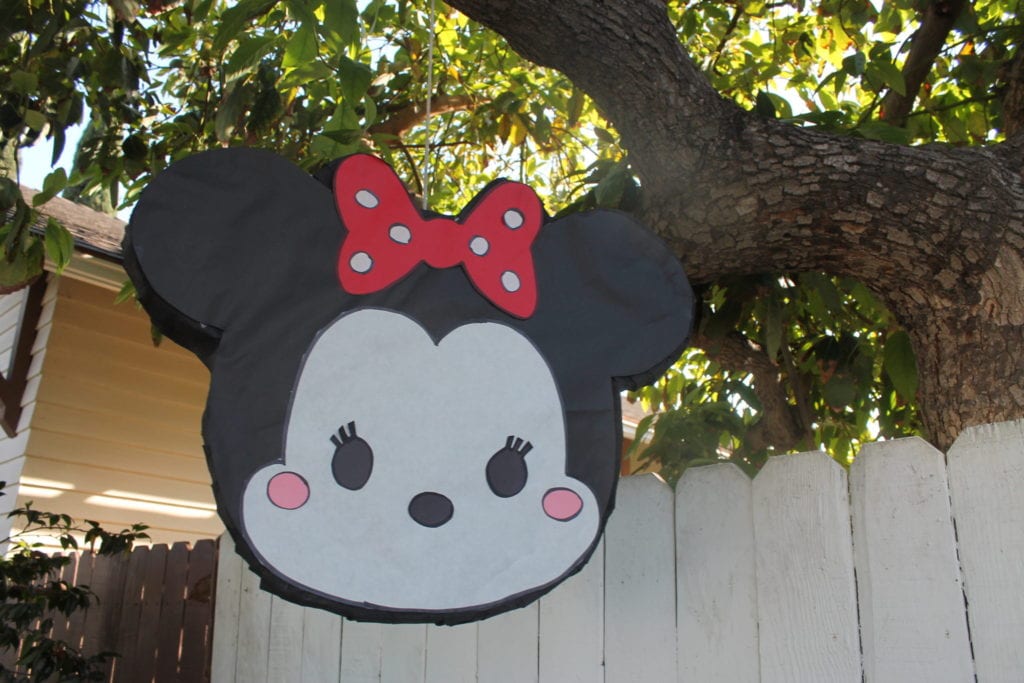 [eltd_highlight background_color="" color=""]How To Make a Tsum Tsum Pinata[/eltd_highlight]
Supplies:
Projector (or awesome drawing skills)
Butcher paper (I used black, white, red, and pink)
Crepe paper streamers
Glue or scotch tape
Packing tape
Cardboard
Box cutter
Marker
Steps:
 Create tsum tsum face-I traced the Minnie Mouse design using a projector & a picture from a Google image search. You could absolutely sketch your own.  Using various colors of butcher paper, I made two tsum tsum faces. If not a perfectly symmetrical image, you'll want to make mirror images.
Trace face onto cardboard-Trace both face designs onto cardboard. I used leftover Amazon boxes.  Put face designs aside until finished construction of the pinata.
Cut cardboard-Using a box cutter, carefully cut the tsum tsum designs.  It's okay if they aren't perfect!
Cut strips of leftover cardboard-Using scraps of cardboard, cut long strips to serve as the sides of the pinata. Mine were approximately 4-inches thick.  You will need enough strips to go around circumference of pinata.
Roll strips-Roll strips tightly to make them more pliable.
Attach sides- Using clear packing tape, attach strips to one cardboard face. I stick to small pieces of tape, about 6 inches at a time, so that the pinata is breakable.  Tip: Make an X with your box cutter at the top of your pinata. This will allow for rope to be strung. Another Tip: Leave a gap in the siding to allow for adding treats.
Attach remaining cardboard face– Use packing tape to adhere remaining cardboard face.
Decorate siding with streamers-Cover the siding of the pinata with streamers. Zig zag back and forth, adhering with glue or small pieces of scotch tape. For a fringe look, cut 3/4 of the way through streamer.  Another alternative is to ruffle the streamers and glue down.
Attach butcher paper faces–Using glue, adhere faces to front and back of pinata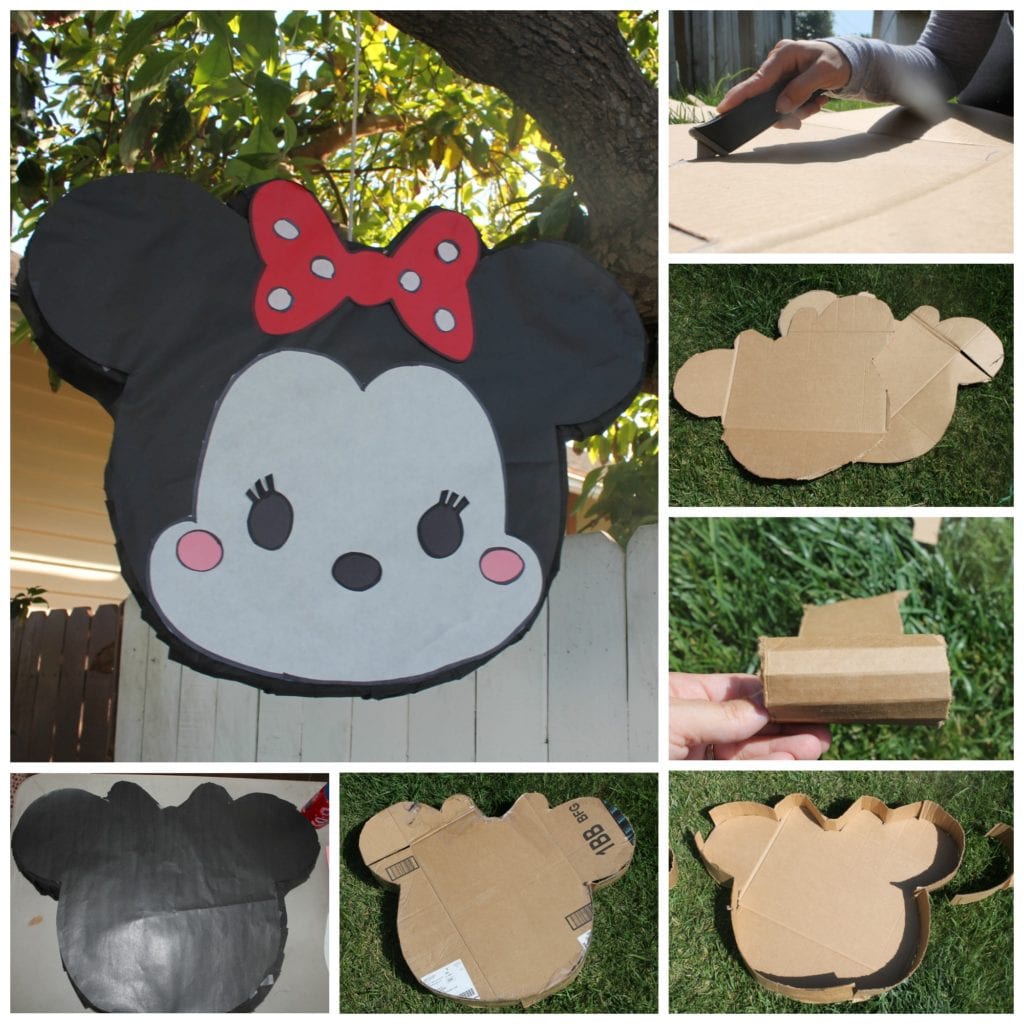 Although it looks like a lot of steps, making your own pinata is a lot of fun and relatively easy. Considering I already had all of the supplies in my recycling bin & craft supply, it didn't cost me anything to make.
Our Minnie Mouse pinata had an extra special surprise inside that I'll be sharing with you soon.
Which Disney character would you like to see as a pinata?