Some days my Disney love is overt, but others I'm a little more subtle.  This super easy DIY Dumbo bow came together when I was looking for an idea for Disneybounding for a HalloweenTime event at Disneyland.  I wanted something Disney, but not quite a costume.  Cute DIY accessory to the rescue!  Keep reading to check out how to make your own Easy DIY Dumbo Bow.
This post may contain affiliate links.  Please read my disclosure policy for more information.
Any time I'm looking for a Disneybounding outfit, I start out by looking for solid colors.  I find them the easiest to transform into a Disney-inspired look.  I strolled through the mall, evaluating my options and stumbled across a solid grey dress that was super cheap.  Perfect!  But grey wouldn't sell the whole Dumbo look.  I needed a little more pizzazz.
A discount children's clothing store had bows of every size and color.  I grabbed a ginormous bow for $3.99 and knew I was well on my way.  In hindsight, maybe the bow's a little too big.  I did start wondering at what age I'll be too old to wear big ol' bows.  Apparently, my mid-30's isn't it.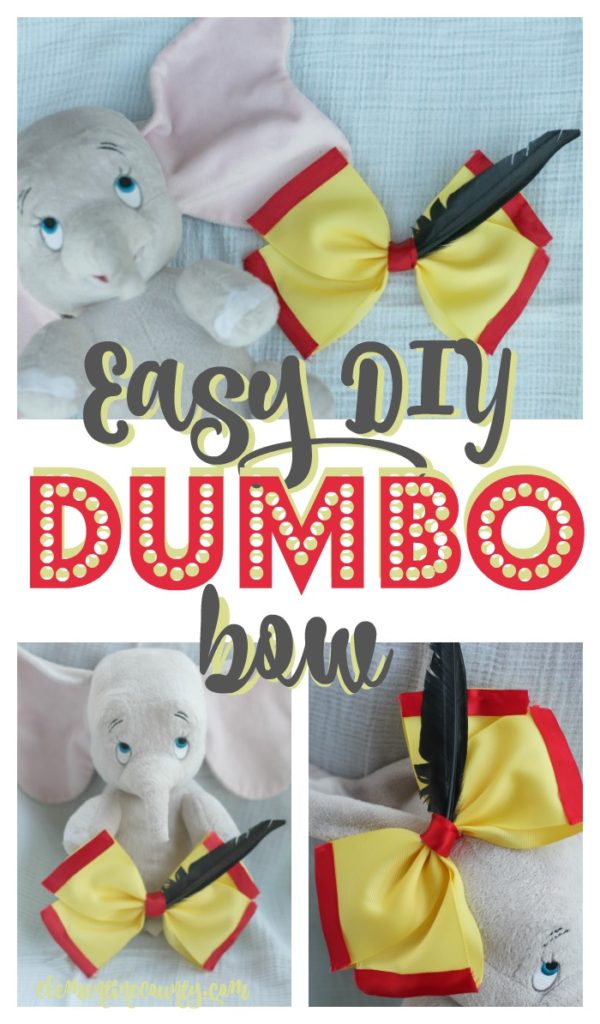 Now that I had the centerpiece for my DIY Dumbo bow, I was ready to start the crafting which took a grand total of five minutes.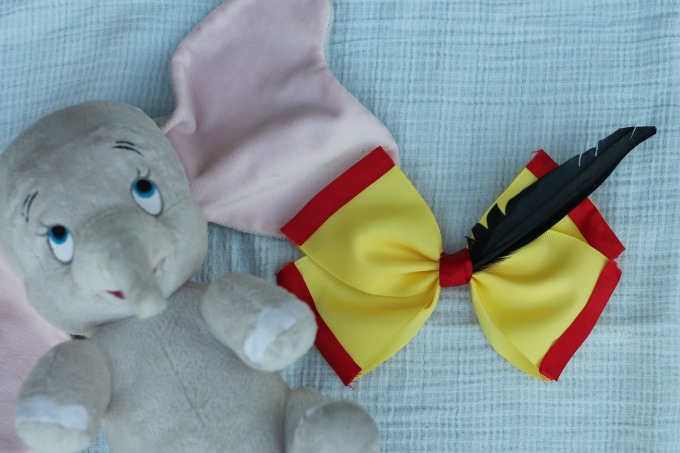 How to Make an Easy DIY Dumbo Bow
Supplies Needed:
Yellow hair bow
Red ribbon
Black Feather
Hot glue gun
How To:
The bow I purchased had rhinestones hot glued to the center.  I removed those prior to repurposing it for my Dumbo Disneybounding.
I started by attaching red ribbon to the edge of each bow loop.  My craft collection is getting a little out of hand, so I opted to use ribbon I had on hand rather than purchasing something new.  Red ric rac would be totally adorable in place of the straight-edged ribbon.
Next, I attached the black feather to the bow using hot glue.  You'll remember that it's the magic crow feather that Dumbo credits for his ability to fly.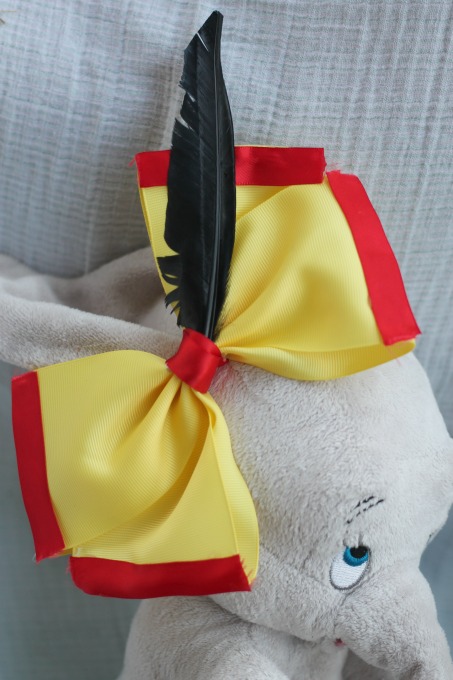 To incorporate the feather into the bow design a little more, I added more ribbon around the center of the bow.
And that's all!  So simple!  It only cost me $3.99 to bring the bow together thanks to have the ribbon on hand and a friend with a feather stash in her garage (thanks, Tracy!).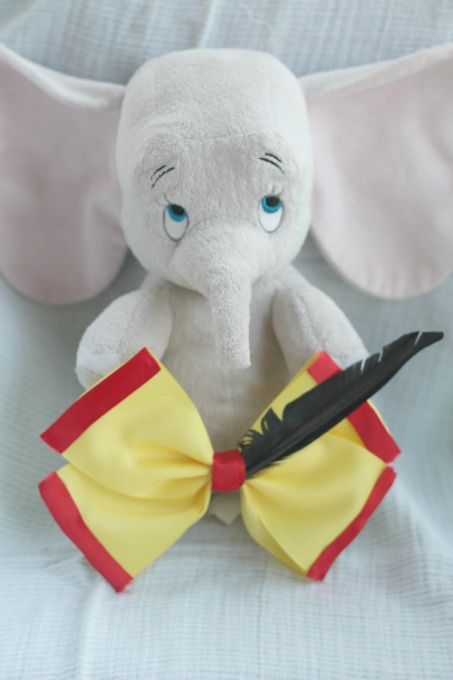 If you don't have supplies at home, Amazon can get them to you in no time. Maybe even faster than a flying elephant could deliver.

Mickey and Donald seemed happy to see me during Halloween Time at the Disneyland Resort.  They're also wearing costumes this year with Mickey dressed as a bat and Donald as the Devil.  You won't want to miss all of your favorite Disney characters in costume as the resort celebrates the spookiest time of year.
Halloween Time has bewitched the Disneyland resort.  Will you be Disneybounding when you visit next?