I am the shadow on the moon at night. Filling your dreams to the brim with fright. Oogie Boogie beckons guests to enter Disney's California Adventure Park with a ginormous silhouette above the park entrance.  Inspired by Oogie's spell over the park, I made an Easy Halloween Bat Wreath.
I received complimentary admission to the resort.  Please read my disclosure policy for more information.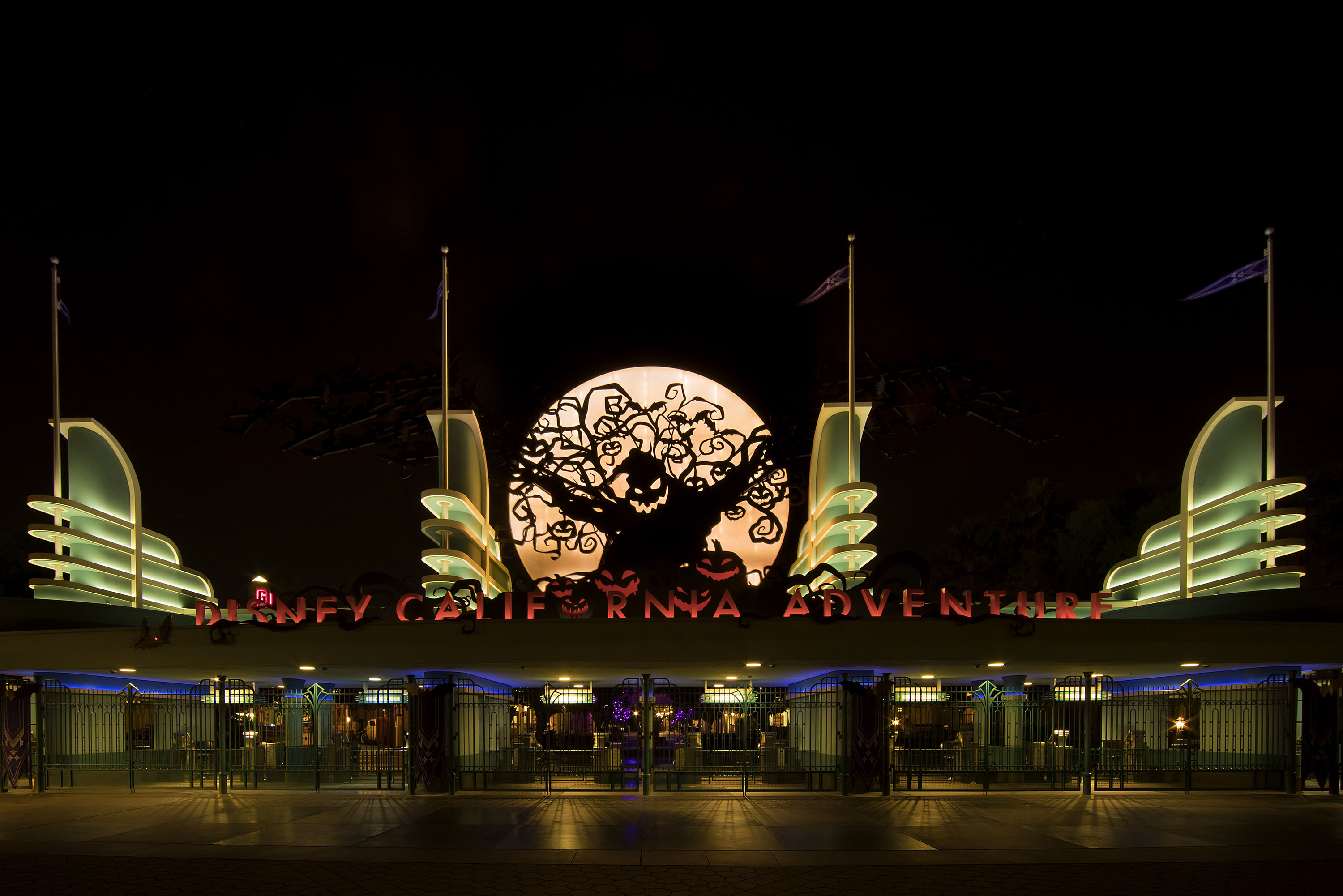 Halloween is a pretty big deal in our house.  I love decorating with Disney, and my husband adores Nightmare Before Christmas.  He's been collecting merchandise since the movie debuted in 1993, but we've added some really unique pieces as the years have gone on.  This year is extra special as our oldest is turning 10 and picked Nightmare for her birthday party theme. Just like her daddy, that one.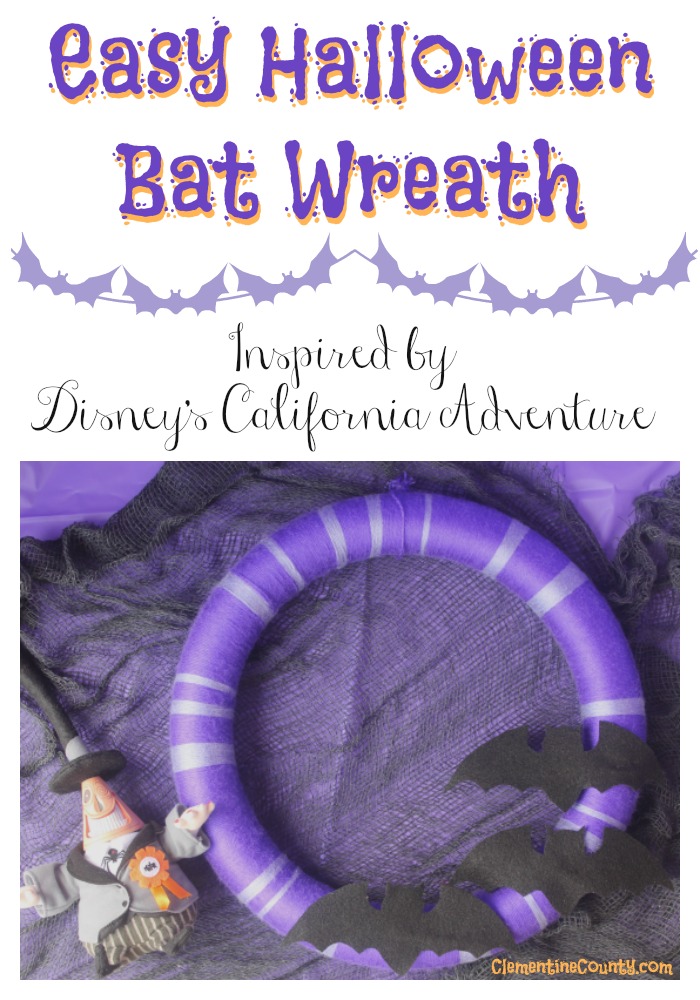 With the party on the horizon, I wanted to make some additional elements to add to our Halloween décor.  Disney's California Adventure was the perfect inspiration!
Oogie Boogie Casts a Spell on California Adventure
From the moment you approach the resort, you'll see a gigantic Oogie Boogie silhouette atop the front gates. Stick around for a minute or two as Oogie comes to life.  Nighttime is perfect when the moon is lit.
Check out this video of Oogie Boogie casting the spell over Buena Vista Street.  From the belfry of Carthay Circle Theatre, Oogie has released a swarm of bats.  All throughout the night at California Adventure, glimpses of Oogie's magic is present.  Disney magic is present in every inch of the Halloween-themed fun.
Easy Halloween Bat Wreath
Making this Easy Halloween Bat Wreath came to me when seeing the banners decorating the light posts up and down Buena Vista Street.  Normally, I think of the Halloween overlays in Disneyland's Haunted Mansion, but I adore the touches of Nightmare Before Christmas in Calfornia Adventure with the shades of purple.
This is one of the pictures from my Instagram stories.  Do you follow the fun on Instagram?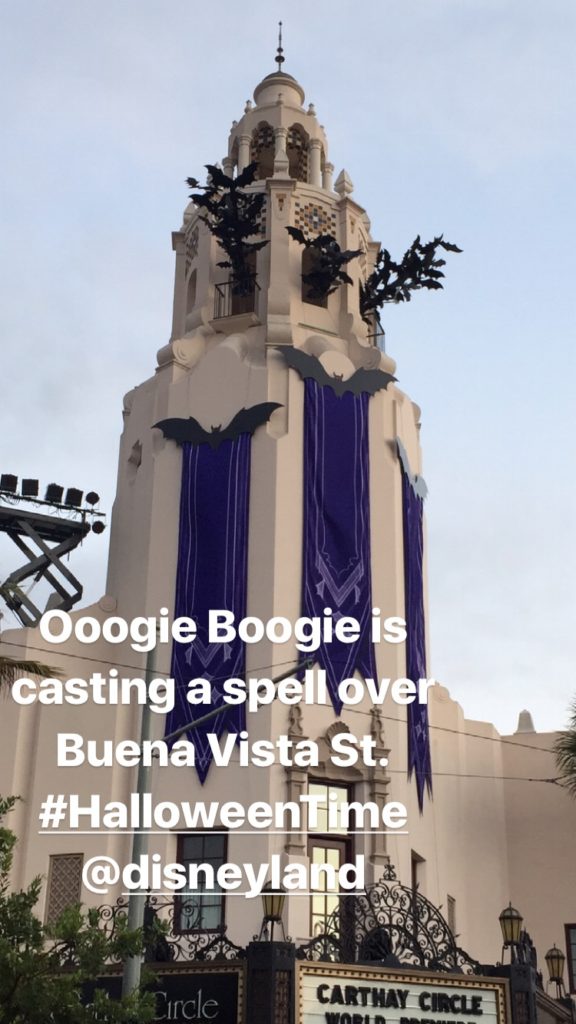 Supplies Needed:
Foam Wreath
Purple Yarn, 2 shades
Black Felt
Hot Glue Gun
Coffee Stirrers or BBQ Skewers (optional)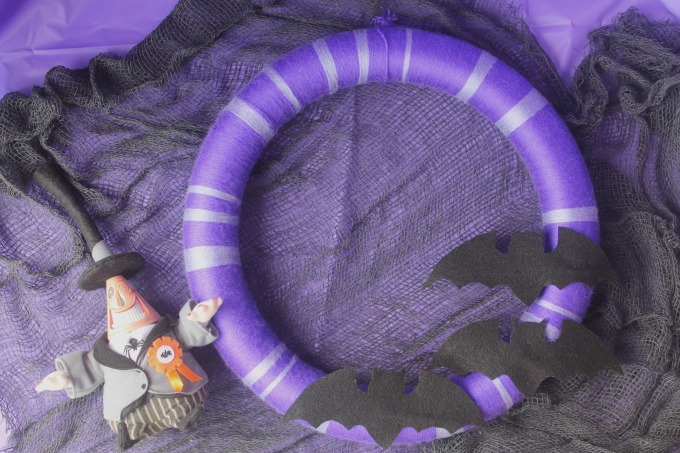 How To Make an Easy Halloween Bat Wreath:
It's great that Halloween falls during football season, so I don't actually have to watch the football.  Grab your wreath and start wrapping.  It does take some time, but I promise it's easy.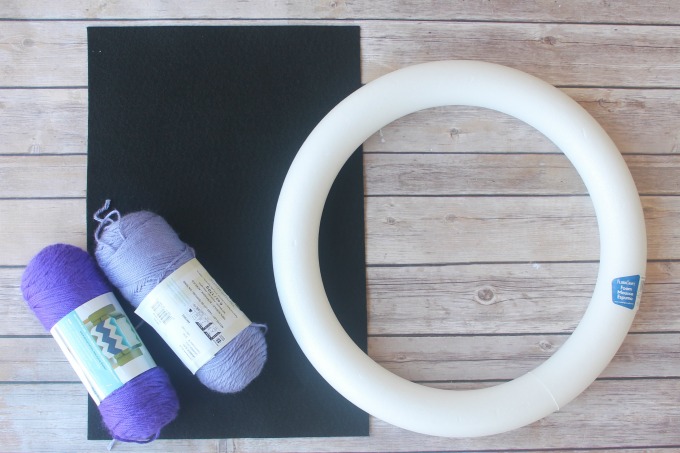 The dark purple is prominent in the California Adventure banners, so that's what I favored when wrapping my wreath.  With no particular spacing, I added accents of the lighter purple in varying thicknesses.  I didn't want to waste time or have tons of loose ends, so I held the string of the color not being used behind the wreath and wrapped over it.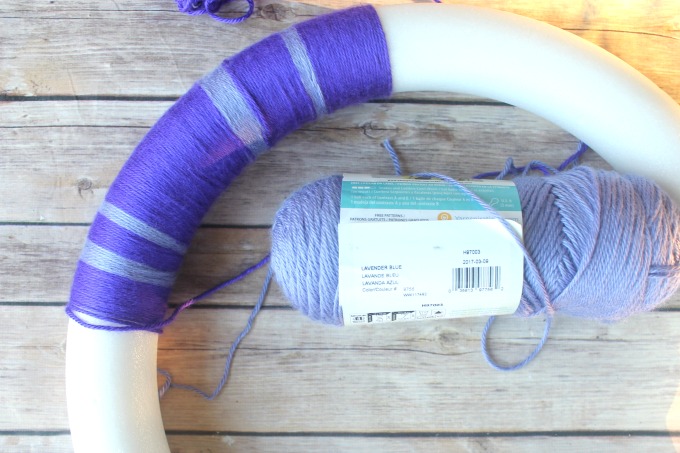 Wrap, switch colors, wrap some more.
Once the wreath was covered in hues of purple, it was time to add the bats.  I opted for three (one for each of my girls), but you could make as many in your swarm as you'd like.
I cut the bats out of black felt.  Because I wanted them to cover more of the middle of the wreath, I needed the bats to have a little more support.  Crafters are resourceful, so I hot glued some coffee stirrers to the back.  You could use BBQ skewers also.  Then I hot glued the bat to the wreath! Voila!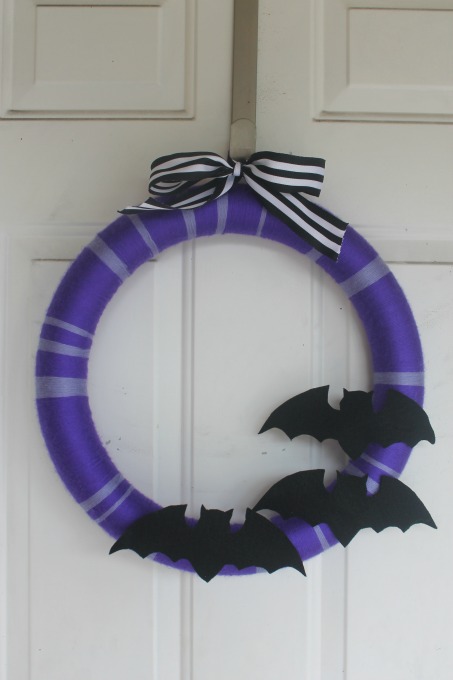 I love that I was able to bring home a little of the fun from California Adventure with this Easy Halloween Bat Wreath.  But you've got to see all of the fun of Halloween Time for yourself!  Check out Halloween Time at the Disneyland Resort, happening now through October 31, 2017.
How are you celebrating Halloween Time?