Our elf is back on the shelf, our Jack Skellington is wearing his Santa cap.  It's the happiest time of year, and one that is full of favorite family traditions.

The Merriest Place on Earth makes for the merriest memories.  We love the decorations on Main Street, and the holiday takeovers on our favorite rides.  One of my favorite holiday traditions actually takes place at the Grand Californian Hotel & Spa at the Disneyland Resort.  Each year my sister Carolyn and I round up our collective six children and bring them to the hotel.

The Grand Californian is nothing short of gorgeous all year round, but hosts some free (or inexpensive) festive fun this holiday season you won't want to miss!
All thoughts and opinions are my own.
Holiday Traditions at Disney's Grand Californian Hotel & Spa
Santa Snuggles

Jolly Old Saint Nick is available for photos, snuggles, and wishlist sharing in the lobby of the Grand Californian.

Look at how cute they were back in 2014!

The year my middle daughter was picked to sing!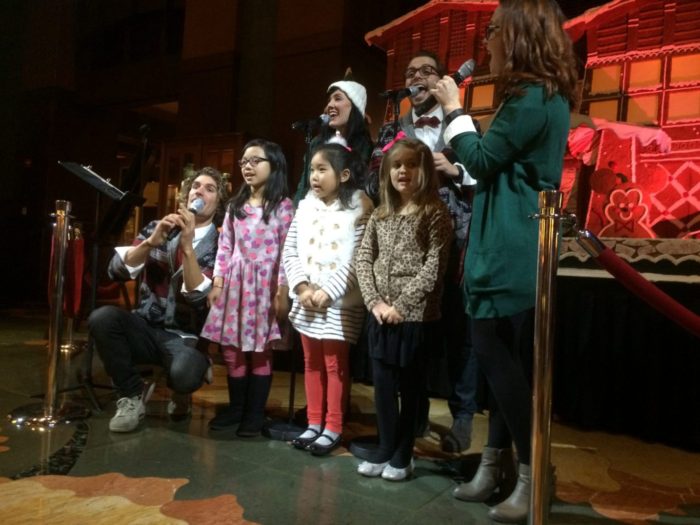 This year we made the rookie mistake of not calling first to make sure Santa wasn't up at the North Pole.  Rookie mistake.  It's ok. The kids still had fun (as proven with a less than great camera phone pic!).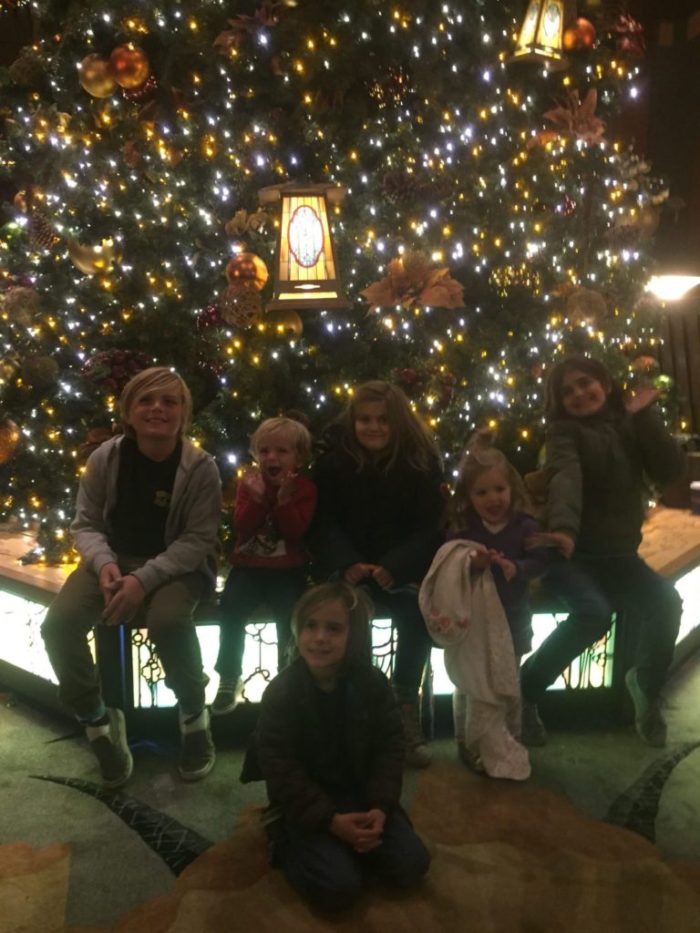 Don't fret, I've got it all figured out.  Until December 16th, Santa will be available at these times:
4:30-5:15 PM
6:00-6:45 PM
7:00-7:45 PM
8:00-8:30 PM

But by calling (714) 635-2300, you can confirm his timing after the 16th.  He's very busy this time of year after all!

Christmas Carolers

Once you've snuggled Santa, stick around the lobby for some free entertainment and general merriment from the carolers.  The Beverly Belles performed the night of our most recent visit.  The trio of singers brought some vintage-inspired flair.  Their show also included audience participation, which the kids just adore!

Caroler performances, whether it be the Beverly Belles or another talented group, perform in front of the gingerbread house.  The set times are listed below:
5:15-5:40 PM
6:30-6:55 PM
7:40-8:05 PM
8:35-9:00 PM

I'd recommend calling ahead of time to confirm as these are approximate.

Gingerbread Galore

The grandest gingerbread house you'll ever see is at the Grand Californian. The 7-foot-tall and 12-foot-wide house is fit for gingerbread royalty.  Posted to the side of the house is a "recipe" of sorts. 6 craftsmen and 16 bakers and pastry chefs outdid themselves in this year's display.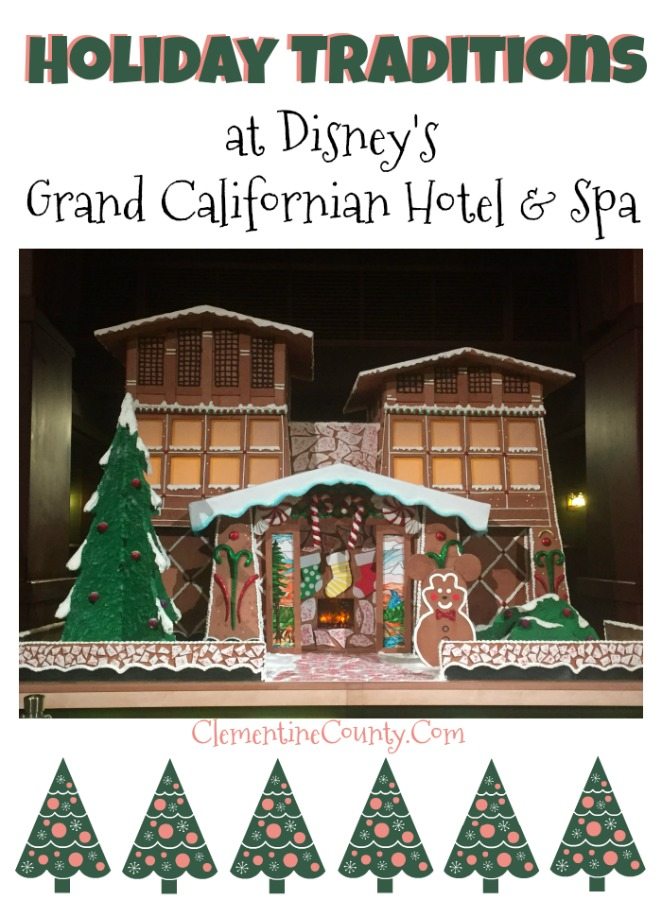 While checking out what the Disney designers dreamed up, be on the lookout for the 25 Hidden Mickeys on the house. Read more about the creation here.

Probably my kids favorite part of the Grand Californian tradition is getting to sip hot chocolate and eat goodies. There are tons of treats to choose from:
Gingerbread Men ($3.99)
Snowmen Shortbread Cookie ($4.00)
Trio of Cake Pops ($6.00)
Panettone- Small ($3.99) or Large ($17.99)

This mama loves it too as there are some specialty drinks to warm your spirits.
Hot Chocolate ($4.29) or with RumChata ($10.50)
Peppermint Hot Chocolate ($4.49) or with Peppermint Schnapps ($11.00)
Hot Cider ($4.29) with Spiced Rum ($10.50)

Get there early for a full assortment. When the stand sells out, you'll have to find treats elsewhere.  While you're enjoying your treats, enjoy the piano players.  They take requests and know the Star Wars theme!  Our littlest adore the Mickey cartoons in the lobby & child-size armchairs also.




I nibbled on a gingerbread man cookie while walking around California Adventure, and was hooked.

Gingerbread Bundt Cake-Festival of Holidays Recipe

Now fully aware of my love for gingerbread, I was thrilled when I found a Gingerbread Bundt Cake at the Festival of Holidays.  In addition to the numerous food stops offering a variety of globally-inspired cuisine, there are desserts you just can't miss.

The Gingerbread Bundt Cake is moist and sweet with hints of orange, perfect for this Orange County girl.
Yields 20 small bundt cakes or 2 large bundt cakes
Cake Ingredients
1-12 oz amber lager beer
2 1/4 c. dark molasses
1 tsp. baking soda
1 1/2 c. brown sugar
1 2/3 c. ap flour
1 tsp. ground ginger
1 tsp. ground baking bowder
1 tsp. salt
1 tsp. ground cinnamon
1/2 tsp. nutmeg
4 each large eggs
3/4 c. vegetable oil
2 1/2 tsp fresh ginger-zested
Toppings:
1 c. powdered sugar
3 tbsp. water
Orange Vanilla Sauce
1 1/4 c. milk
1/4 c. granulated sugar
3 egg yoks
1/2 vanilla bean
1/2 fresh orange for zest
1 tsp. orange oil (available at specialty stores or online)
How to Make Cake:
Add the beer to a medium sized pot & bring to a boil, remove from the heat & slowly add the baking soda.
Once it stops foaming, add the molasses & brown sugar–set aside.
Sift together the flour, ground ginger, baking powder, salt, cinnamon, and nutmeg over a bowl.
Add the flour mix in three batches to the molasses mix.  Scrape down side of bowl after each section is added.
Whisk together the eggs, oil & fresh ginger–mix together with the flour mix until all is combined.
Mixture will look thin.
Bake at 350º for 18-30 minutes, depending on size of pan.  Toothpick should come out clean.
Once cake is cool, unmold gently.  Cake is moist and may break if handled roughly.
How to Make Orange Vanilla Sauce:
Cut vanilla pod in half and scrape out seeds–set aside.
Add milk, sugar, and vanilla beans to a medium-sized pot.  Bring to just below a boil.  Milk needs to be hot, but not boiling.
In a separate bowl, whisk together the eggs yolks.  Add about 1 cup of hot cream to the eggs to bring up the temperature.
Add the egg mixture back into the pot and cook for another minute or until the sauce becomes thick enough to coat the back of a spoon.  Take off heat.
Continue to whisk for about 3 minutes after taking off of heat.
Pour mixture into a glass bowl set over ice to cool the sauce.
Once sauce is cool, add the orange zest and orange oil.
Finishing the Bundt Cakes:
Sift the powdered sugar in a bowl.  Slowly start adding your water to the bowl.
Swirl icing on top of cake in pattern.
Right before serving cakes, pour orange vanilla sauce into center of bundt cakes.
If you're add the gingerbread bundt cake to your holiday traditions, I hope you'll also stop by the Grand Californian Hotel & Spa. It's a festive evening with a wink of Disney magic.