Do you plan out your vacations or  go where the road takes you?  I find my vacation planning somewhere in the middle.  I adore the planning, the research.  But there's also magic in the unknown.  That magic came in the form of a giant ostrich on our last roadtrip.  You've got to see OstrichLand USA.  I'm still cracking up.
This post is not sponsored; I just adored the ostriches.  This post may contain affiliate links.  Please read my Disclosure Policy for more information.
My husband Matt loves Christmas.   So we spend all of December celebrating with activities ranging from caroling with the neighbors to visiting Santa at the Grand Californian Hotel & Spa.  For the holiday season 2017, Matt added a new tradition to our calendar when we visited Solvang, California.  It's a charming tourist town that resembles a little Denmark.  Danish bakeries, lots of windmills, and all around adorableness.
As we driving towards Solvang, I yelped with delight as we drove past OstrichLand USA.  This is the magic I hadn't anticipated as part of our vacation, but something I knew we needed to add to the itinerary.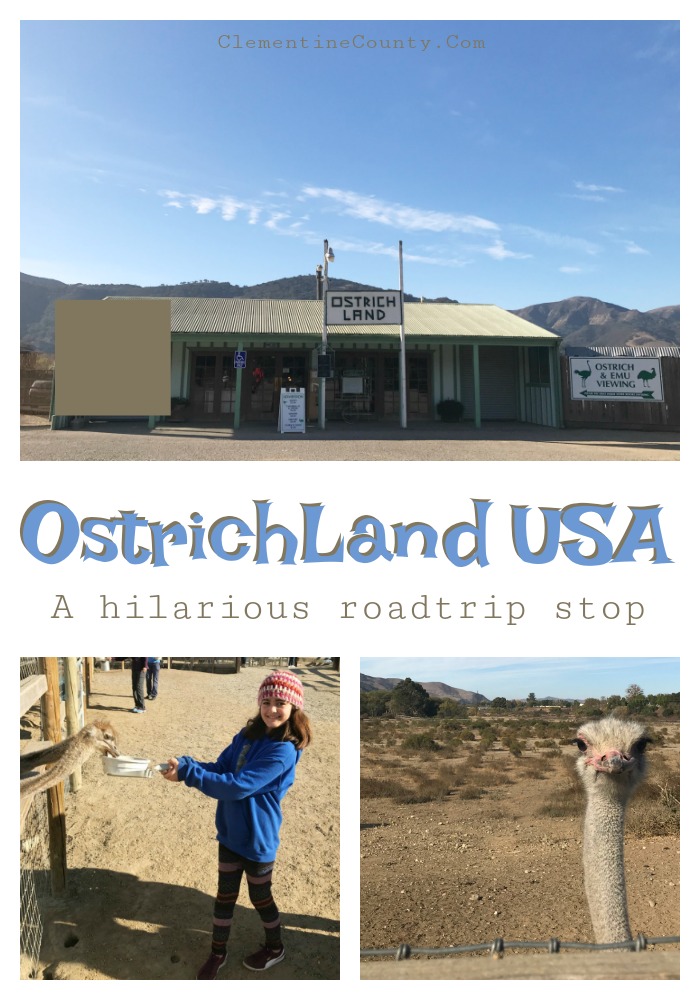 OstrichLand USA
OstrichLand USA is located right outside Solvang in Buellton, California.  The central California landmark is home to over 50 large birds, both ostriches and emus.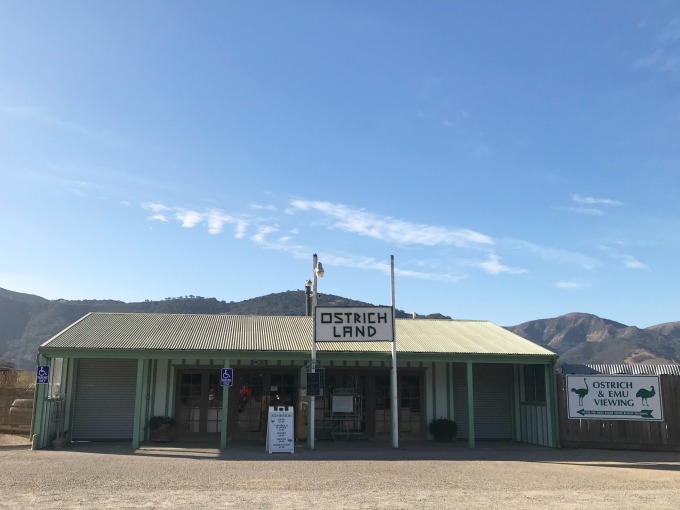 When we arrived, we purchased bird food for $1 a bowl.  My kids being very good shoppers wanted to buy Costco-sized portions of ostrich food.  Now, I've learned from previous experiences that they will most likely chicken out so I figured we'd start with just a few bowls.
With admission for adults being only $5 and children 12 and under set at $2, I was willing to risk being the only one feeding them.  The kids could always observe and enjoy from afar.
An employee advised that emus are actually friendlier than ostriches and gave some basic feeding instructions.  The ostrich food comes in bowls adhered to metal dust pans.  To feed the birds, you hold the handle of pan.  All of the birds have been trained to eat out of the bowls, but as a general warning we were reminded that birds can bite.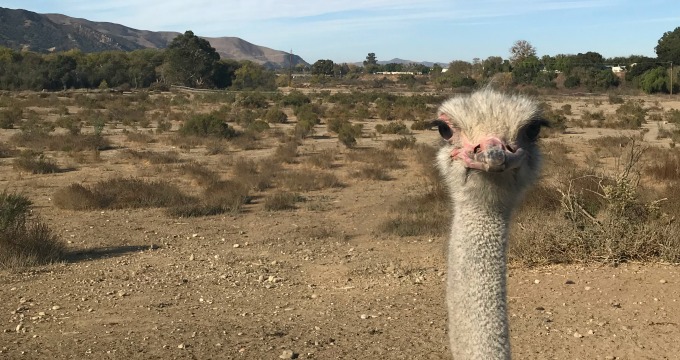 Once outside in the feeding area, we wound around past the ostriches and found the emu enclosures.  The birds stroll along the plains of OstrichLand, but most were gathered along the gates waiting for their morning audience to deliver breakfast.  We had checked the website and knew they opened at 9 AM, and feedings happened throughout the day.  However, busier days may limit feedings to ensure the birds aren't overfed.  So we planned on arriving early in the day.
As anticipated, my three girls were apprehensive at first.  Score another bowl of ostrich food for me.  I share these photos not because I love the baggy clothed, no make-up look on the internet.  But because IT WAS SO DARN FUNNY.  The birds have these dinosaur long necks that they stick through holes in the fencing.  And then they peck at the bowls with so much gusto that it sounds like stones hitting the road.  Oh my god, I'm still laughing about it.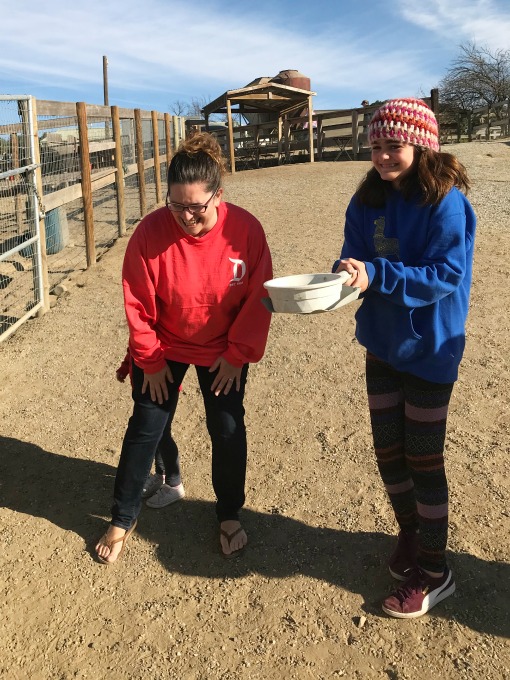 After seeing me fall over with glee at feeding the birds, my older children warmed up to the idea followed by their younger sister.  We started by assisting them holding the bowls until they felt comfortable and then let them take over.  We ended up going back to buy additional bowls of bird food.  But still we're are only up to $20 for a family of five.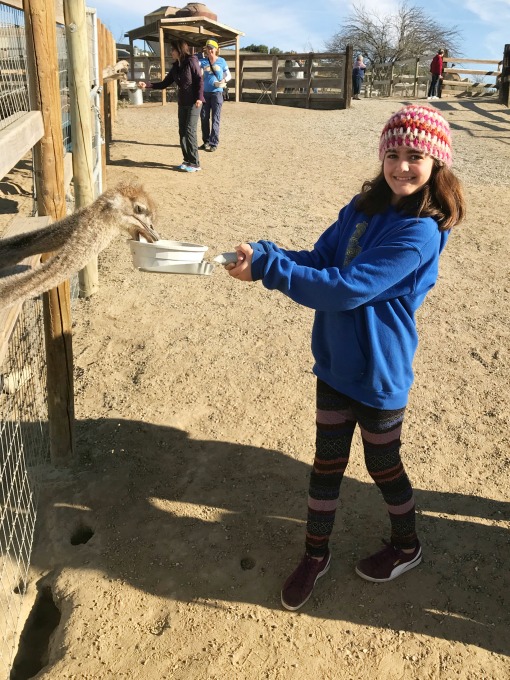 There is a gift shop with unique ostrich-themed gifts.  I couldn't see buying ostrich jerky for my husband or kids after so happily engaging with my feathered friends, but that's the vegetarian in me.
Once our bowls were empty, the girls took turns taking pictures with the photo backdrop.  Thanks to a perfectly positioned potted plant and a timer on my cellphone, we even got a family photo.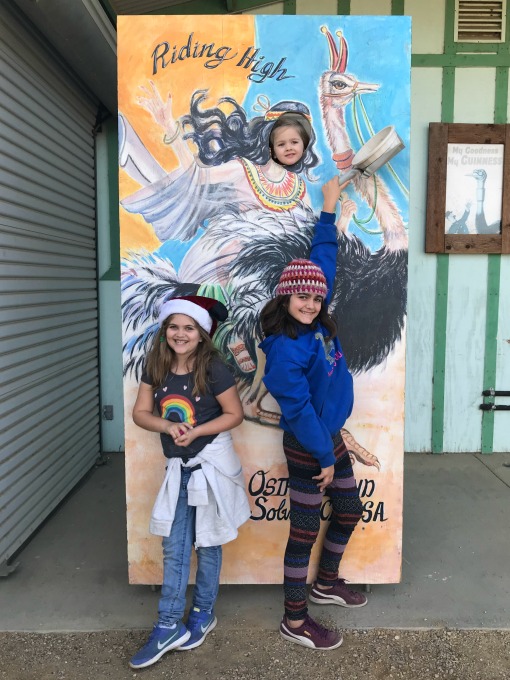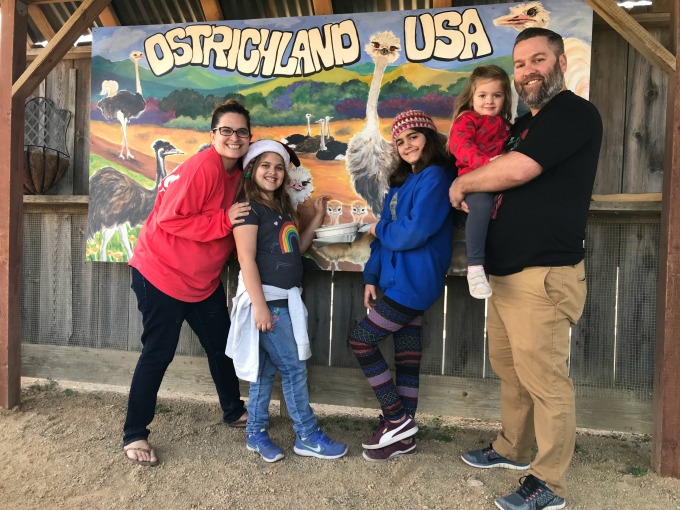 Not that we need the family photo because this is a road trip stop I will never forget.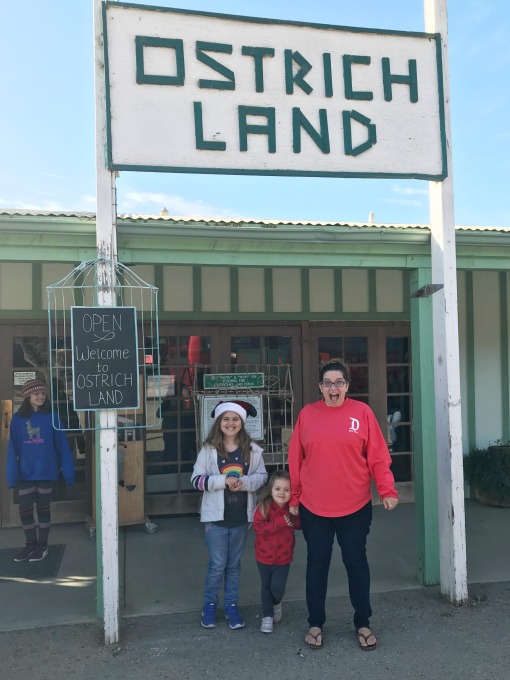 You can check out a peek of our time as OstrichLand USA.
OstrichLand USA is located at 610 E. Highway 246, Solvang, Ca 93463.  More info on OstrichLand can be found here.
What's your favorite road trip destination?