It's the merriest time of year at Knott's Berry Farm! My family and I were able to enjoy the fun from Camp Snoopy to Silver Bullet last weekend, and we had so much fun.  For my husband and myself it was a bit of a homecoming.

Growing up in Orange County, California, Knott's Berry Farm has always been an institution. For my husband it holds special holiday memories.  Every year for Christmas Eve dinner, all throughout his childhood, his family would head to Mrs. Knott's Chicken Dinner House.  Now that we are parents, we're looking to make some holiday memories of our own.
My family and I received complimentary admission to the park.  All thoughts and opinions are my own.
Full of hometown feelings in the midst of Orange County, we were thrilled to enjoy all Knott's has to offer.  And during this merriest of seasons, there's so much to see and do!
Holiday Sweets & Santa Snuggles
Head over to Santa's Christmas Cabin for the sweetest flavors of the season! Guests can enjoy milk & cookies, themed desserts, hot chocolate, and so much more! Also inside Santa's Christmas Cabin, park guests can get their snuggles in with Santa Claus. His elves will happily take your photo for purchase, but you can also use your own camera.
While we're on the topic of treats, you can't miss the famous funnel cake. The powdered sugar on a windy day almost makes it feel like it's snowing.
Heartwarming Decor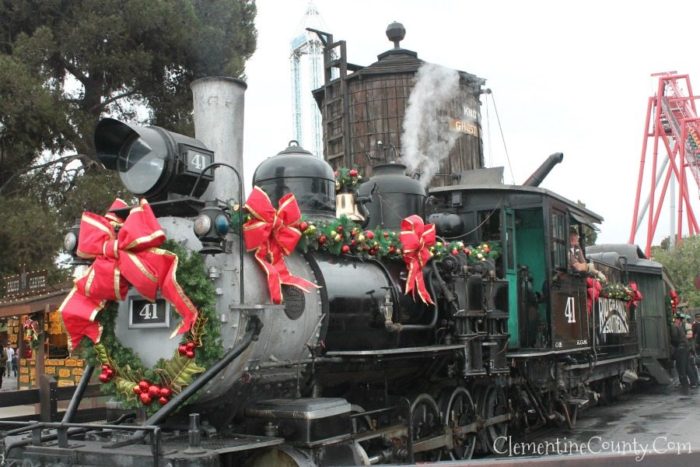 With its craft vendors and rustic decor, Knott's Merry Farm feels like an escape into a small town.  All throughout the park, large bows and festive garlands add to virtually everything. You may even see a familiar face hidden in the decorations.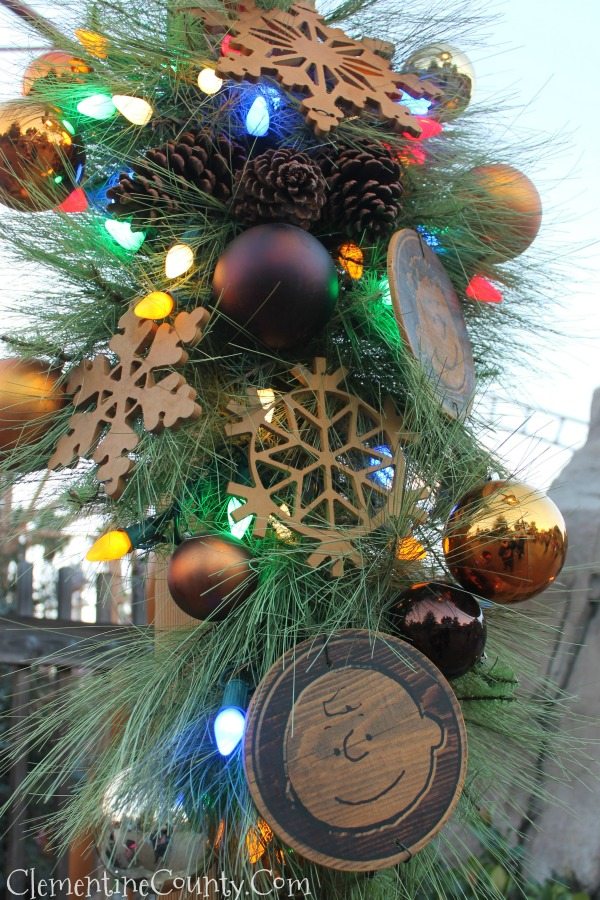 The large Christmas tree makes for a festive photo op with the family. And having it set up for photos on multiple sides means there's not a long line.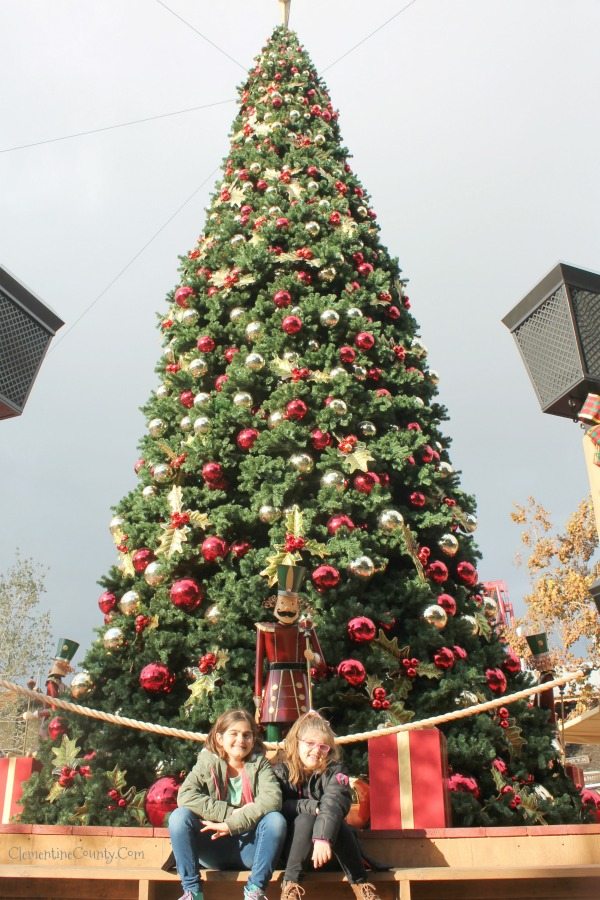 The day of our visit, the tree lighting ceremony was held at 5:15, but you'll want to check showtimes  the day of your visit. They're handed out with park maps also.
Show-Stopping Snoopy
As luck would have it, it ended up raining the day of our visit.  Where normally I'm cranky about weather in Southern California, it turned out to be such a blessing.  We were able to enjoy the many performances by our main man, Snoopy and his cast of characters.
A Christmas Carol & Gift of the Magi
Fly over to the Birdcage Theater (the one where Steve Martin took the stage) for one of the two Christmas classics.  Both offer multiple showings throughout the day.
A PEANUTS Guide to Christmas
My youngest and I had a blast watching the Peanuts gang sing about their survival during the holidays over in Camp Snoopy.  The show was approximately 15 minutes, and perfect for younger park guests.
It's the Merriest Christmas Show Ever, Charlie Brown
When I saw the great stage at the outdoor Calico Mine Stage, I knew that director Charlie Brown must have something great up his sleeve.  You'll won't want to pull a football away from him after you see his one-of-a-kind Christmas pageant.
Snoopy on Ice
During the holidays, I've made it a tradition to take my children to see a holiday show.  Whether it be "It's a Wonderful Life" or "The Nutcracker," the holidays are a great opportunity to add a little exposure to the arts.  The Snoopy on Ice show was seriously fantastic, and worthy of a separate admission.  The skaters are phenomenal, the music both nostalgic and contemporary, and the Christmas message so perfectly tied into the presentation that the audience clapped.
Definitely not to be missed, so make sure you line up in advance.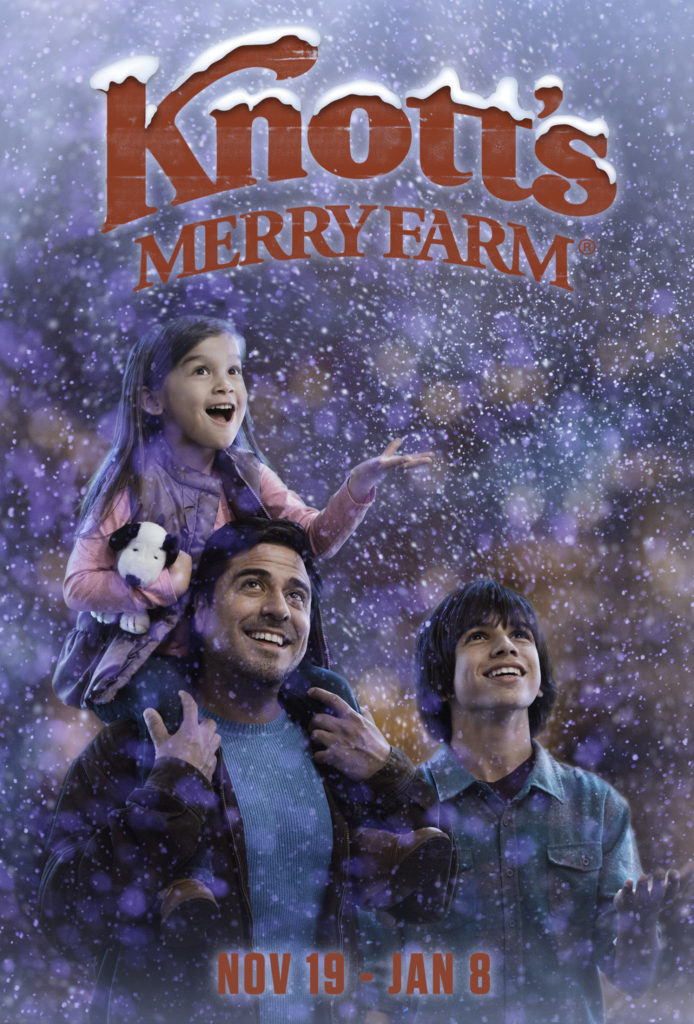 Enjoy the fun of Knott's Merry Farm now through January 8th, 2017.  For more information & to buy your tickets, click here. It's a season of fun your family won't want to miss!