Do you have a favorite season? Maybe summer with its generous offerings of sunshine or winter's endless calls for celebration?  When it comes to Seasons of Fun at Knott's Berry Farm,  picking a favorite season becomes even more challenging.  All throughout the calendar year, the Buena Park, CA amusement park offers guests opportunities to celebrate.  Well, this weekend, Knott's kicked off a whole new celebration — Knott's PEANUTS Celebration.
My family and I received complimentary admission to facilitate this review.  Please read my Disclosure Policy for more information.
There's the Boysenberry Festival in the spring, Ghost Town Alive in the summer, Spooky Farm in the fall, and Merry Farm in the winter.  My family and I love them all!  As season pass holders, we now get to experience each.  But I do have to say that the inaugural weekend for PEANUTS Celebration put this Season of Fun high up on our list of favorites.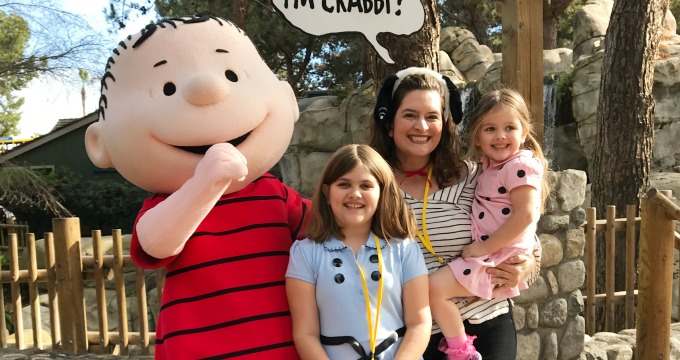 The PEANUTS Gang Takes Over Knott's Berry Farm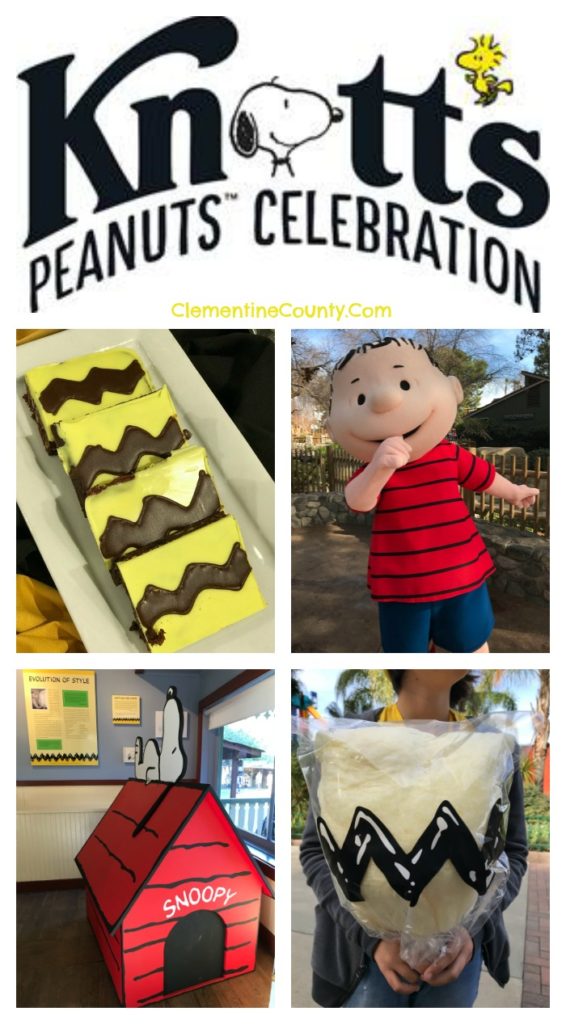 35 years ago, Knott's Berry Farm opened the doors to the PEANUTS Gang with the addition of Camp Snoopy.  The wooded high sierra themed-area of the 160-acre amusement park is perfect for families with young children.  You'll find over a dozen rides perfect for pint-sized guests.  Poppy's favorite is the Camp Bus!
Camp Snoopy is also home adorable shows at Camp Snoopy Theatre and meet and greets with Snoopy, Charlie Brown, and more of the gang.
But during Knott's PEANUTS Celebration, Charlie Brown and his friends have taken over the park!  Themed treats, unique photo opportunities, and new entertainment make it a season of fun you just won't want to miss.
Photo Opportunities
From the second you walk in the park, you'll be greeted by some super fun spots to nab a family photo.  Use your own camera or have a FunPix photographer snap it for you.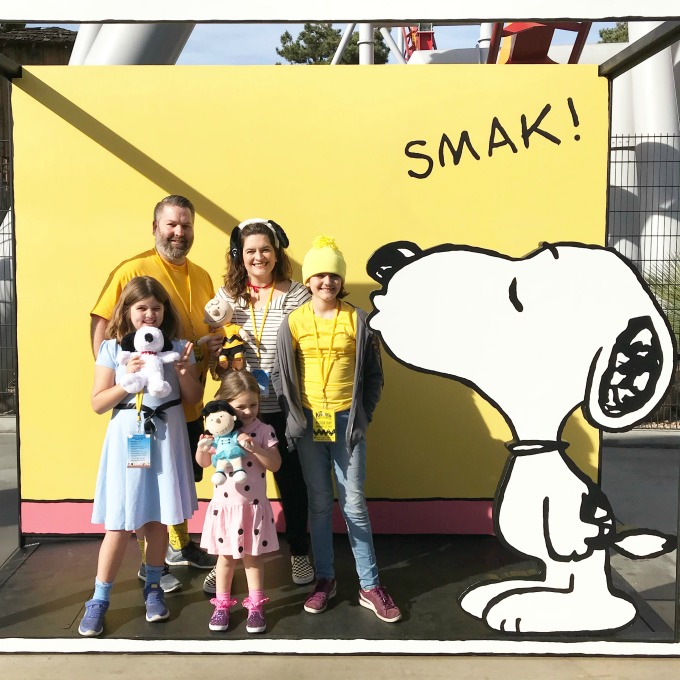 As you stroll into Camp Snoopy, the adorable comic-strip inspired photos don't stop.  Giant speech bubbles with PEANUTS-themed quotes are attached to posts.
The gang is always available for meet and greets in Camp Snoopy, but during the PEANUTS Celebration you'll have even more opportunity to snuggle Snoopy or Linus.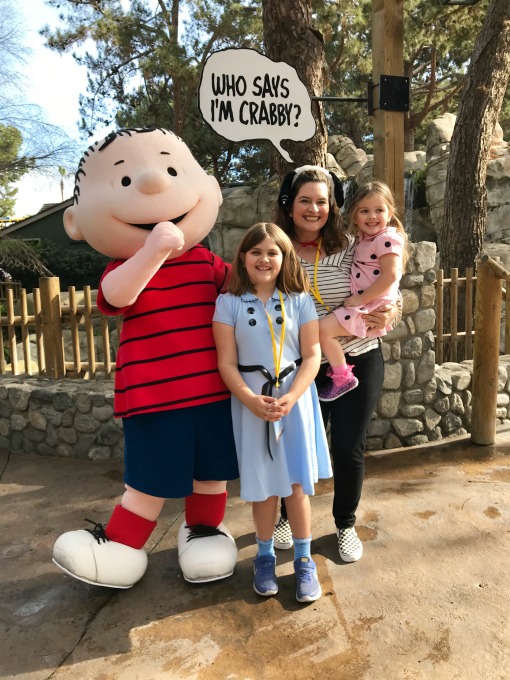 One BIG announcement for the PEANUTS Celebration is that another member of the gang is in the park.  Exclusive for the celebration, guest can greet Pig Pen!  He's available for photos in the Livery Stable throughout the day.  You will also see Pig Pen and the other PEANUTS characters strolling through the park, so keep your camera at the ready.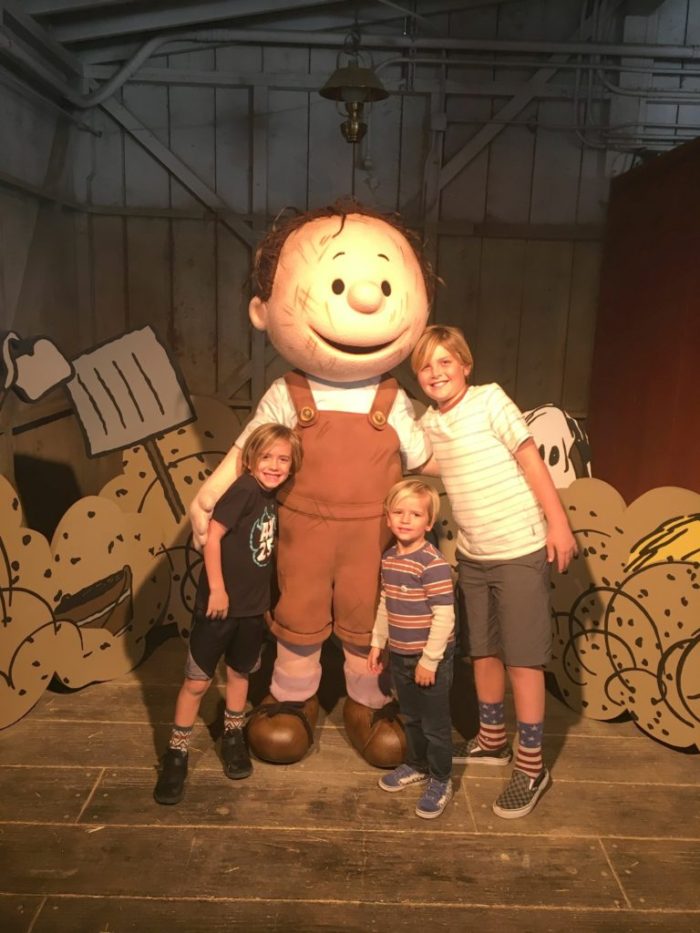 These fellas!  My sweet nephews joined us for the fun!  It's so to fun to have a cousin to explore and ride roller coasters with!
Also in the Livery Stable are Pig Pen's friends — actual pigs!  The one-month old piglets were so cute! Harper could have spent hours watching them wrestle, nap, and shake their curly tails.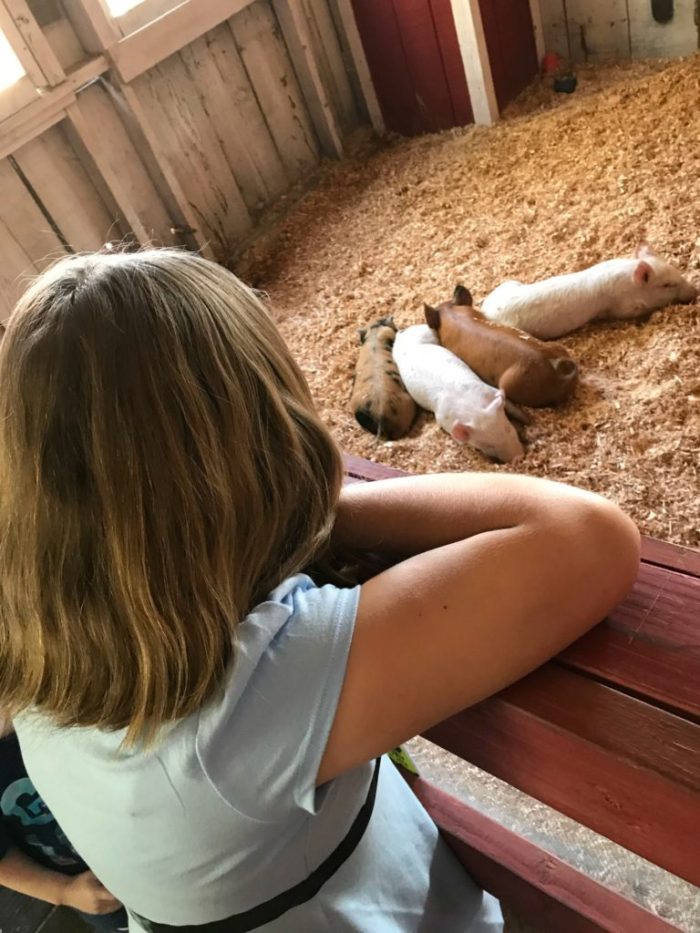 Themed Treats
I may have trouble picking my favorite season at Knott's, but I know without a doubt that dessert is my favorite meal of the day.  So I was so excited to get to try the PEANUTS themed treats offered during the celebration.  The Charlie Brownies are ridiculously cute brownie squares with zig zag frosting.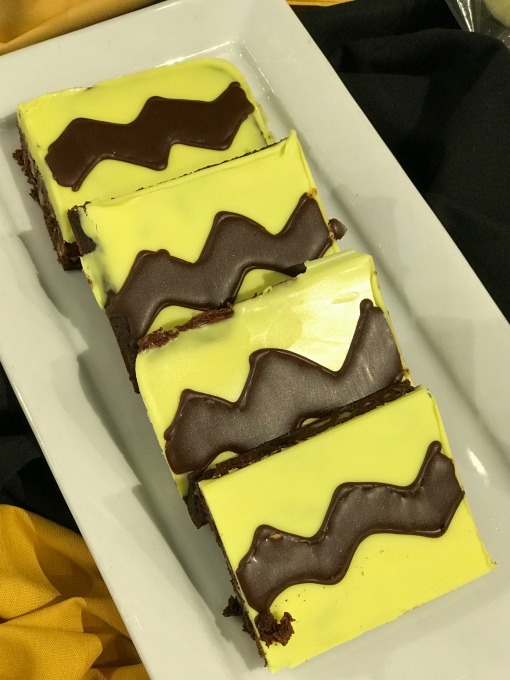 You'll find Charlie Brown's recognizable shirt design on all kinds of goodies like Charlie Brown Cotton Candy and assorted sugar cookies.  As if funnel cake could get any better, the seasonal offerings include Peanut Butter Funnel Cake.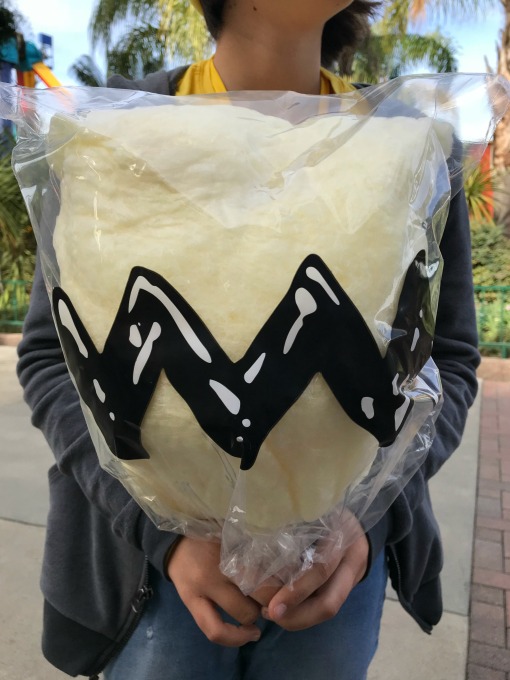 Get a sneak peek at the goodies in this little video:
Click here for a list of the yummy tastes and treats: Knott's Peanuts Celebration Food Offerings
6 New PEANUTS Themed Shows
Each season at Knott's Berry Farm means unique entertainment offerings.  The PEANUTS Celebration is no different!
PEANUTS Balancing Act – Head over to Camp Snoopy Theater to figure out how many blockheads it takes to kick a football.  The kids will be clapping and moving along with this adorable show.
PEANUTS Fiesta Fantasy  – Lucy and Sally learn folklorico dancing alongside live music over in Fiesta Village.
The Music Goes 'Round and Around – Sally presents a fun report on music at the Calico Mine Stage twice a day.
Woodstock's Music Festival –  The Calico Mine Stage turns into a rock show at night with the Jelly of the Month rocking in a kid-friendly festival.  Check out the cook LED screens!
PEANUTS Country Jamboree – The kids will have a blast playing games at Calico Park.  Horseshoes, bowling, and other ranch-inspired games.
PEANUTS Sketch School – Fly over to the Birdcage Theatre to learn how to draw your favorite characters.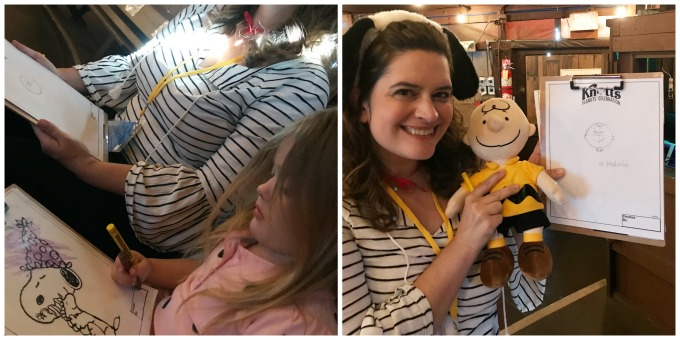 This was a huge hit with my kids, even Poppy.  She alternated coloring the Snoopy paper she was given and following along with the easy-to-follow instructions.  I think we both did pretty well.
The PEANUTS Celebration is all new and all fun.  You won't want to miss the season of fun celebrated weekend now through February 25, 2018 (and President's Day).  For tickets and more information, head to the Knott's Berry Farm.
Which PEANUTS character are you most excited to meet?