The sun's shining, and the water is fine.  Knott's Soak City is now open for the 2017 season, featuring 7 brand new water slides.  We had an opportunity to check out the fun during opening day!
I received complimentary admission to facilitate this review. All thoughts and opinions are my own.
We've still got a few weeks left in the school year–yes, weeks.  But with the temperatures rising and the homework load lightening, it certainly feeling like summer.  So Knott's Soak City Water Park was the perfect getaway for our pre-summer day.  I was able to bring my three daughters and my mama for a girls' day.  We splashed, we floated, we had so much fun!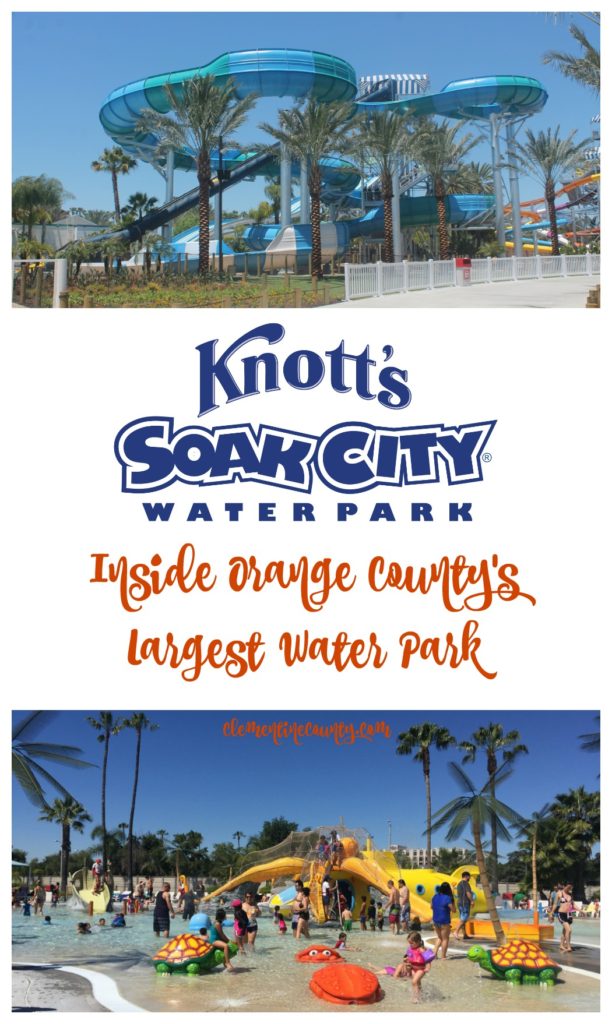 New Expansion at Knott's Soak City Water Park
Orange County's largest water park is even bigger for the 2017 season with 2 acres of fast-paced slides being added.  Additionally, return guests will notice additional cabanas and shaded areas.  When all that swimming and splashing has worked up an appetite, heard over to the renovated Longboard's Grill.
The Wedge
Grab five of your best friends and take the plunge on The Wedge.  With surprising twists & drops, you'll sail down stories on an open air-raft.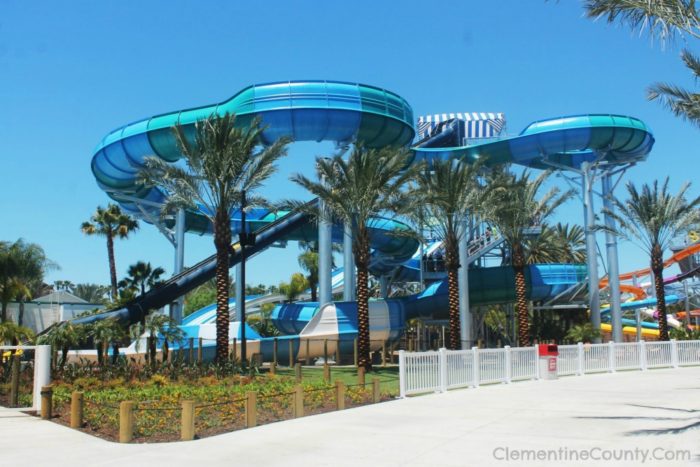 Shore Break
While waiting in line, my daughter and I struck up conversation with a few guests in front of us.  One said, "These are like the rides I see on YouTube."  She's right!  The additional 2-acres feature the newest styles of water slides.
Shore Break features six drops down seven stories.  Four of these slides have guests step inside an Aqua-Chamber before the floor literally falls out from underneath them.  Don't let the idea of free fall scare you; you've only got to be brave for a moment.  Once the fall begins you'll find yourself looping and and curving.  One neat feature for those watching is you can see the person sailing along the translucent tubes.  My little one, not 48 inches tall, loved cheering them on.
Shore Break also offers two dueling slides.  Ride in solo inner tubes or in the double occupancy tubes.  The tube offers both dark spots and big splashes making it a great way to share in the fun with your family or friends.
15 Acres of Water Park Fun
Growing up in sunny Southern California, it's crazy to admit that this was my first visit to Soak City.  I definitely regret the years of missing out.  I was so impressed with all of the slides and water play options.  With three kids of different ages, they all had favorite experiences.
Some of the highlights: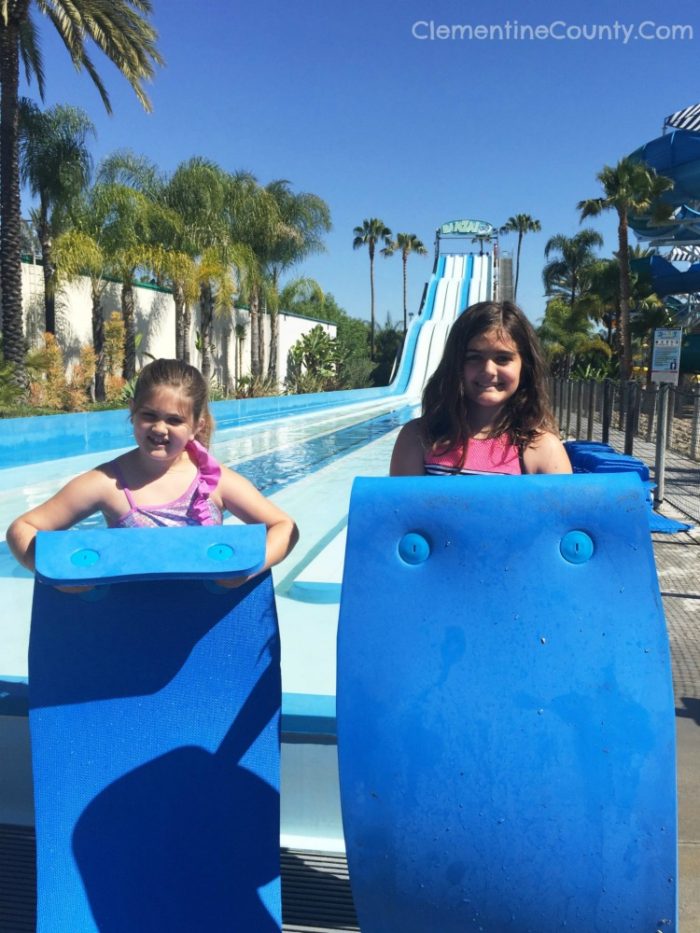 Banzai Falls – My 7-year-old loved racing down the huge slides on rafts! It reminded me of the carnival slide where you ride down on burlap sacks.
Malibu Run – Open and closed flumes allow single riders to soar down almost 40 feet.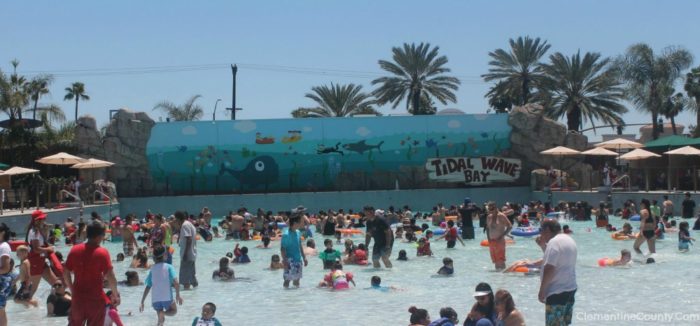 Tidal Wave Bay – The breakers are rolling in.  Whether you want to jump through the waves or ride through them on an inner tube, the crowds all adored the 750,000 gallon wave pool.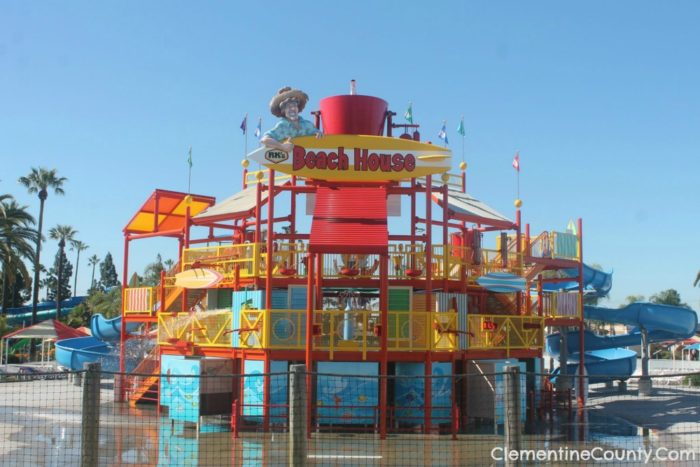 Beach House –  A playground for mermaids awaits.  The Beach House features water guns, slides, and the big bucket!  Crowds gather awaiting the bucket to fill and then dump 500 gallons of water upon them!
Sunset River – My mama loved the lazy river.  Hop on an inner tube and float the one-third mile winding path, that boasts the title of one of the world's longest.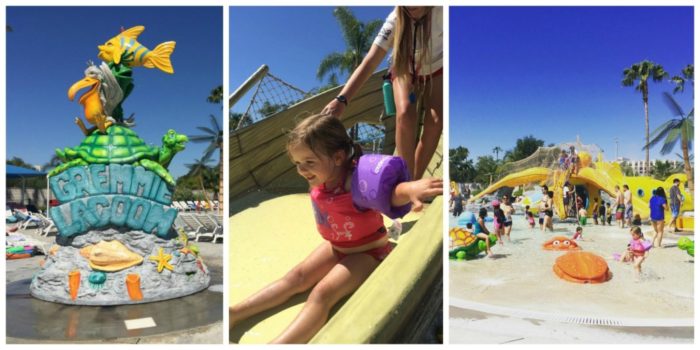 Gremmie Lagoon – For my preschooler, Gremmie Lagoon was the perfect oasis.  A wading pool with ocean critters also hosts a submarine to explore.  She could have spent all day with the kid-sized fun.
Check out more of our day in this overview video.
After spending the day at Soak City, I know we'll certainly be spending a lot of time there this summer.  I wanted to share how to make the day even more fun.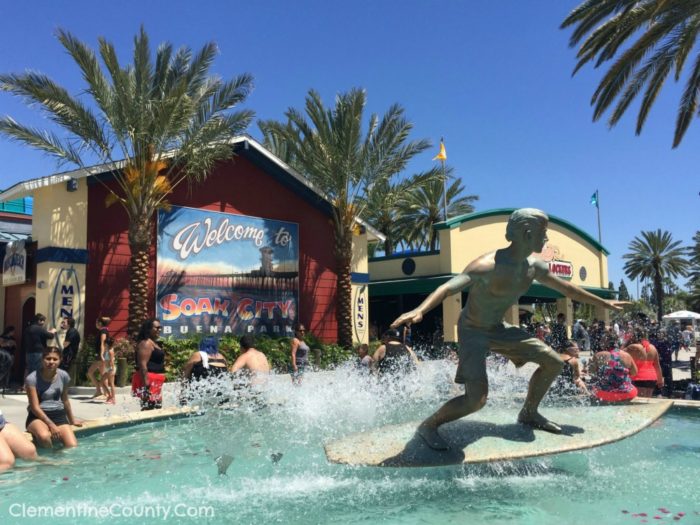 Tips for A Day at Knott's Soak City Water Park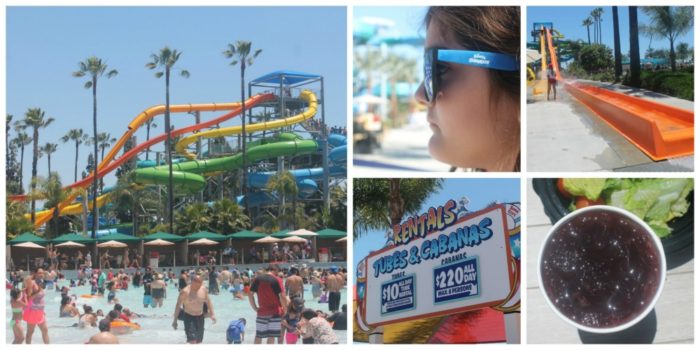 Get there early – With temperatures over 90 degrees, it was warm enough to dip our toes in the water the second we arrived.  We went straight for the big slides, before the lines got long.  Because I'm a planner, I'm already planning out our summer schedule.  It'd be perfect to spend the first half of our day at Soak City and head home for naptime (the preschooler's and mine).   Check out the awesome deals on a season pass.
Getting there early also meant we got to nab a spot for our stuff.  Make sure your spot will have some shade throughout the day.  Tons of families set up umbrellas on the numerous grassy areas as a respite and gathering spot.
Consider a Cabana – Speaking of your spot, consider renting a cabana.  Up to 8 guests can escape to private getaway with table and chairs.  You also receive 4 inner tube rentals (no waiting for tubes at the bottom of rides) and waiter service.  At $220, it's a bit more than I'd want to say on a random Tuesday.  However, it'd take a family fun day to seriously special as a private retreat.
Save on Tubing – Opening day was pretty packed.  But we still had a pretty easy time with inner tubes.  If you're looking to save a little, skip the $10 rental.
Pack Your Flip Flops – Racing from attraction to attraction is part of the fun.  As the day warmed, so did the concrete.  Pack your flip flops for keeping your feet happy.
Consider the Plunges When Picking Your Suit – There are guidelines for attire while at the park; some attractions prohibit various items like metal components for your safety.  But let's just say free falls have a way of moving your bathing suit into places.  Opt for conservative and coverage.
Keep the Kids Covered – It's the ex-life guard in my mama that had her complimenting the Soak City staff's attentiveness again and again.  They were on point.  Yet, it's important to set some ground rules with your kids and address safety concerns.  We opted to bring our own Puddle Jumpers Life Jacket for 3-year-old; however, life jackets are available for free throughout the park.
Save Your Skin – Even if you're there early, load on the sunscreen.  My Mediterranean skin does well in the sunshine, but I'm still not willing to suffer for days after when a quick application of SPF would save me.  If you've forgotten yours, Wipeout Surf Shop has you covered.
Dive into Lunch – All that splashing can work up an appetite.  The expended menu at Longboard's Grill features cheeseburgers, chicken tenders, hot dogs, and yummy fries.  Or swim over to Portside Pizza or Surf Daddy's Food Hut.  Outside food and drinks aren't allowed, but you can always picnic outside the park at Breaker's Park.
I was super thrilled to find Knott's Berry Punch available in the soda machines!  If you plan on spending the season there, purchases a souvenir cup and get free refills all season long.  Tickets and seasons passes can be purchased online.
Knott's Soak City Water Park is now open!  Will we be seeing you there this summer?  If so, share which attraction you'll be sliding on first!