Disney is our happy place.  But with the world of hearing loss being pretty new to us, I was dependent on my mama friends for helping to manage my daughter's hearing loss at Disneyland to ensure she had a magical day.  They delivered!  Today I'm sharing ideas for managing hearing loss, your child's or your own, while at amusement parks like Disneyland.
This post contains affiliate links.  All thoughts and opinions are my own.
My daughter has been visiting Disneyland her entire life.  Literally.  But with the dramatic changes to her hearing in the past year, there were different considerations.  You can read more about her health here and a more recent status of her hearing here.
Disneyland is full of so many amazing sights, smells, and sounds.  Use these tips to make the fun accessible and manageable.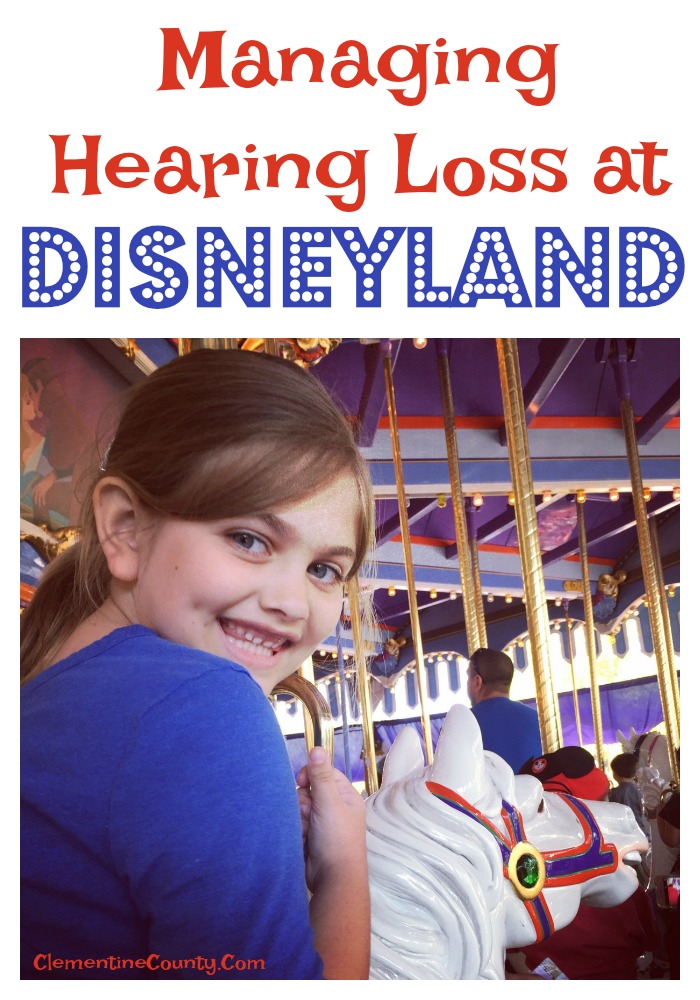 Managing Hearing Loss at Disneyland
Take Hearing Aids Out
With big crowds and lots going on, lots of my mama friends suggested removing hearing aids for the day.  The hearing fatigue is increased.  There's the added benefit of keeping your devices intact.  The twists and turns of thrill rides shouldn't come with any worry.
Focus on Safety
Getting lost is a concern for my daughter.  She's not a wanderer or anything, but a fully hearing person unconsciously hears footsteps or change.  She can't do that.  If she's in the lead, heading us to her favorite ride Space Mountain, she won't know if we've been stopped by crossing traffic.  And there's no way she'd hear us call for her to stop from behind.
Younger guests might consider a backpack with a leash like this Mickey-themed one.
I'll be the first one to admit that I was anti these backpacks.  But as a parent of a child with hearing loss, I get it now.  I care more about her safety than what you think of me.
Lost parents can be retrieved by their children at Guest Relations at the front of both Disneyland and Disney's California Adventure.  It would be wise to point that out at the beginning of your trip, just in case.  Another precaution to consider is temporary tattoos.  These race car designs would be perfect for Cars Land, but there are other design options available.
Dining
Choose quieter spots for dining options.  We adore the Mexican themed offerings at Rancho Del Zocalo and the ample seating that allows for easy conversation.  For a quick meal, try grabbing a corn dog behind the Golden Horseshoe Saloon.  If you're at California Adventure, try a meal from Boardwalk Pizza & Pasta for a quieter meal than the offerings at the wharf.
Assistive Listening Devices 
Assistive listening devices are available at Guest Relations for a refundable $25 deposit.  Click here for a list of the attractions that are supported by the devices.  Disneyland offers additional reflective and handheld captioning.  Sign language interpretation is also available at certain live shows.  Currently it is being offered Mondays and Saturdays at Disneyland Park, and also Fridays and Sundays at Disney's California Adventure.
Disability Access Service Card
Again, we're totally new to this world so I had no clue my daughter would qualify for a DAS, or Disability Access Service Card.  Again at Guest Relations, park guests can request a DAS.  The card allows guests who would have difficulty waiting in line queues to get a return time.
You're not skipping the line, but instead waiting in an environment that is more conducive to hearing.  Many lines are perfectly fine for my daughter; others not so much.  The DAS would save on frustration and fatigue.
You know what's crazy? I still feel a little hesitant asking for things like this.  Invisible disabilities are hard, guys.  But if it would help my kid have a good time, I need to get over any wayward glances or perceived judgment.
Make Plans in an Ear-Friendly Environment 
Ahead of time, plan out each person's "Must-Do's."  As you enjoy the resort, there will be times to discuss options.  Peter Pan or Alice in Wonderland?  Keep your eyes open throughout the day for spots that would be good to hold these planning meeting.  Use the Disneyland app or complimentary map as a visual aid.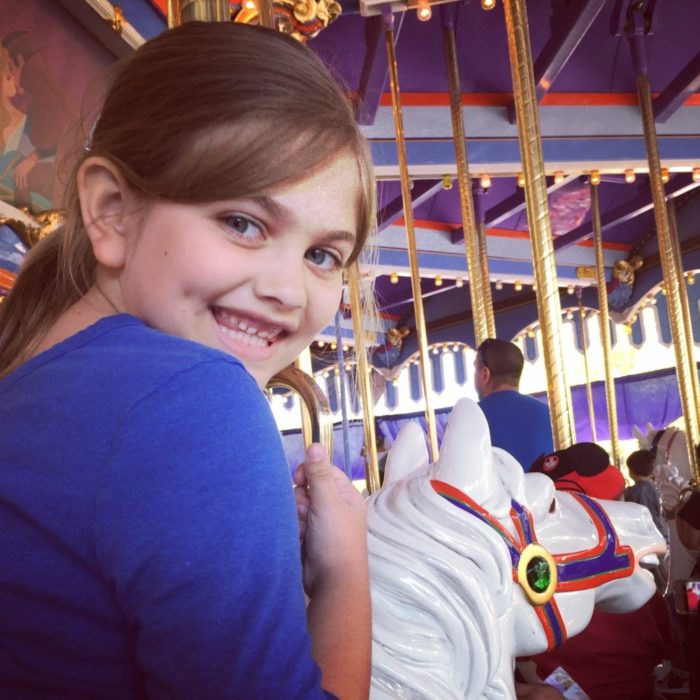 You can do some research ahead of time, and search the Disneyland website.  Search "loud" for rides & attractions that fit in that category.  If you choose to use hearing aids during your visit, I would consider turning them off for these rides.  Indiana Jones is LOUD!
Disneyland and all Disney parks are truly magical places.  By making some accommodations you'll make sure your hard of hearing friends and family can enjoy their day.
Do you have any additional recommendations?  Share them in the comments!