From French Pot Roast to Provencal Veggie Pasta, the menu at Mimi's Café offers the comforts of home for all who dine there.  I had an opportunity to check out the new food offerings at my local Mimi's, and it brought back so many great memories.  Explore the scrumptious American-French dishes now being served at Mimi's and make some new memories of your own.
I received a complimentary meal in order to facilitate this review.  Please read my disclosure policy for more information.
Growing Up with Mimi's Cafe
Our local Mimi's Café was where my family celebrated birthdays growing up.  I still sing the Mimi's birthday song to my sisters on their special days.  "Do we have a birthday here?  Yes, we have a birthday here! Birthday where? Birthday here. Mimimimi…."  
This fabulous family photo is at least ten years old, as my nieces and nephews are teeny tiny and none of my own children were born.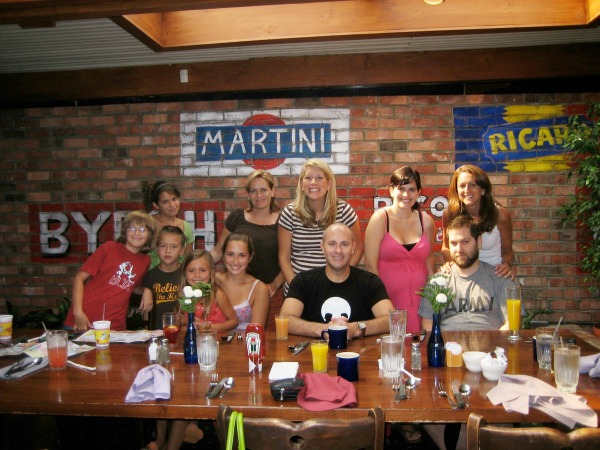 I will always have a special place in my heart for Mimi's Café, buttermilk spice muffins, and the dirt cup chocolate pudding dessert.  It may have been intended for the kids, but who doesn't love a gummy worm?
Heritage Menu
A great restaurant knows a menu must evolve.  Throughout the years, we've seen many versions of the menu at Mimi's Café.  Currently, the café is offering their Heritage Menu full of fan favorites that have returned to the kitchen.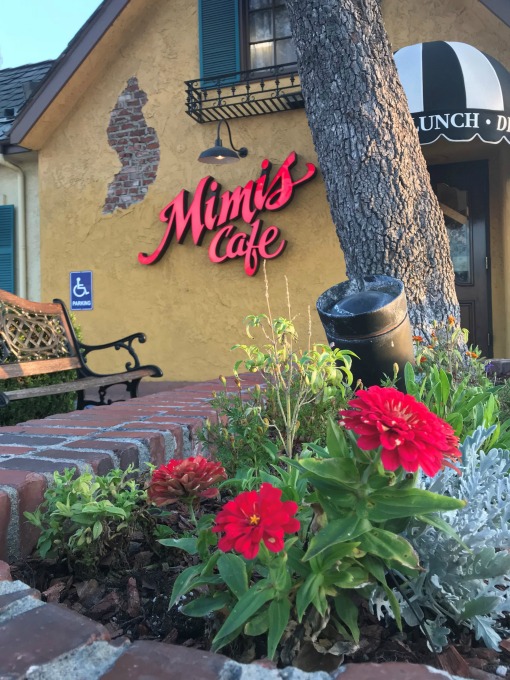 As Mimi's Café is nostalgic for me, seeing these old favorites come back is a reason to celebrate.
Mimi's Café is also offering 20 new items.  Getting the insider's take, I asked the waitress her personal favorites.
Must-Try Menu Items
French Pot Roast Slowly braised beef simmered with carrots, mushrooms and pearl onions
Hibachi Plate Choice of salmon, shrimp, or chicken with Asian vegetables tossed in a honey teriyaki glaze and served with long-grain rice
Chicken and Shrimp Jambalaya Shrimp, chicken and Andouille sausage, red and green peppers, and onions in a French Basque region inspired tomato sauce with your choice of penne pasta or long grain rice
Roasted Chicken Croque Monsieur Pulled roasted chicken and caramelized onions on grilled sourdough topped with Mornay sauce and Swiss. Comes with your choice of French Fries, Mixed Fruit or Petite House Salad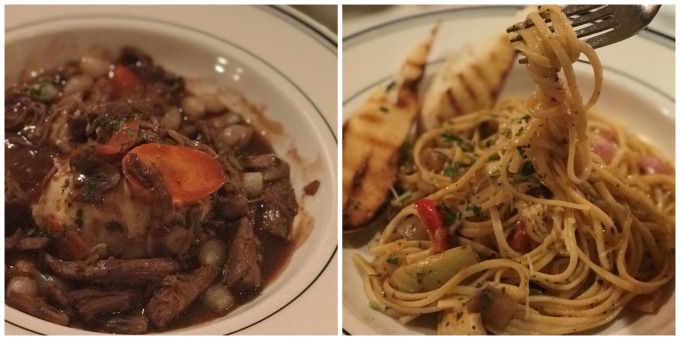 Since I'm a vegetarian, I selected the Provencal Veggie Pasta.  Our helpful waitress requested that it be made with vegetable stock instead.  The dish featured roasted zucchini, squash, eggplant, mushrooms, artichokes, onions, grape tomatoes and pasta.
Aside from the fabulous flavors listed above, I was thrilled to see the Mimi's Mix & Match available at dinner named the Mimi's Mix & Match Trio.  That's right, can't pick just one side? Choose two!  Select a petite sandwich or salad, then choose a side or soup.  I won't tell if you opt to forgo a side and grab dessert instead.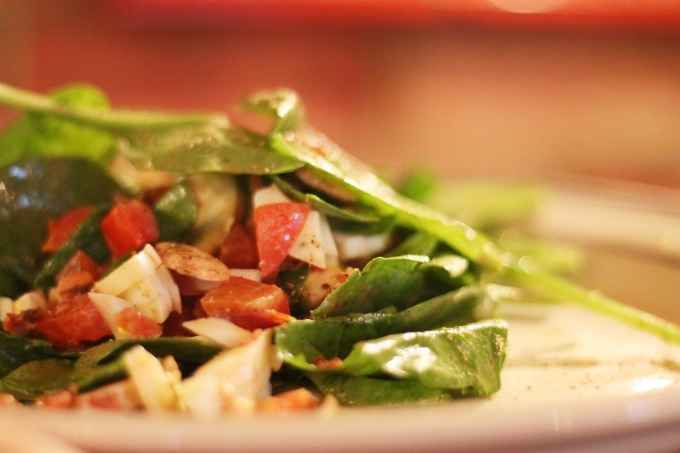 Since the menu is brand new, I was thrilled to be able to sample a variety of options.  My husband and I started with the Trio of Appetizers–Hand-breaded Chicken Tenders, lightly Fried Zucchini and Warm Spinach Artichoke Dip with house-made tortilla chips and served with ranch and buffalo sauce.  The zucchini spears were covered in cornmeal, making for a much lighter coating than other fried zucchini.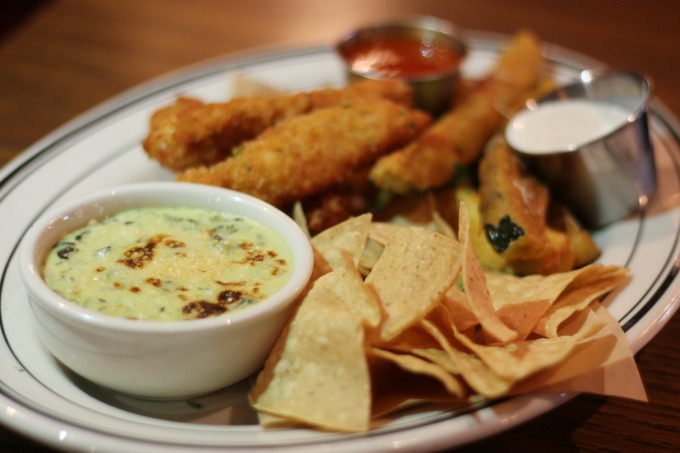 Another yummy way to try out your favorites is to order a trio of smaller portions of the desserts.  Normally dessert isn't something I'm willing to share but after such a filling meal, I agreed.  We ordered the French Silk Slab Pie (oh.my.chocolatey.goodness), Crème Brulee Cheesecake Slab Pie, and Chocolate Chip Croissant Bread Pudding.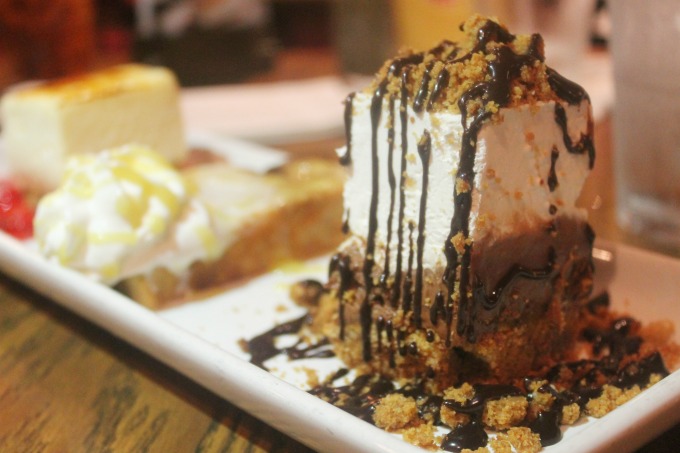 Nothing goes better with dessert than a hand-crafted coffee, like the Pumpkin Spice Latte from the seasonal menu.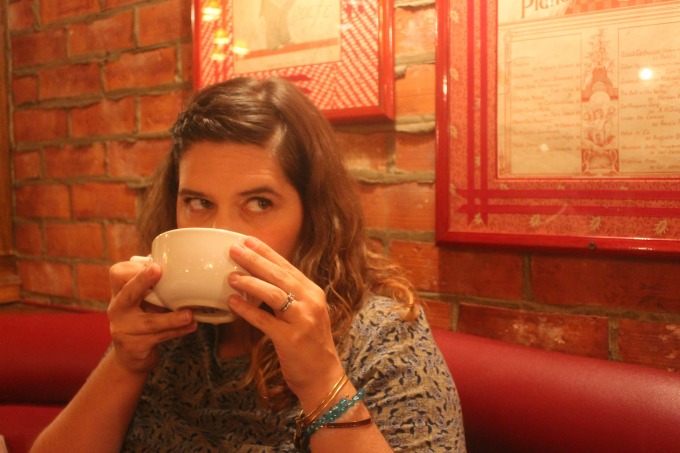 Mimi's Café offers American-French cuisine at reasonable prices.  The dishes are both fresh and filling and served within a comfortable environment, perfect for any celebration.  You can find your local café here. You won't be disappointed if you choose one of the 20 new offerings or your long-time favorite.
Have you ever been to a Mimi's Café?  Share your favorite dish!