The countdown to Christmas is on, and each member of my family is filled with glee.  We do Christmas big around here.  My pal Michelle is the queen of the Christmas countdown, posting a fun family activity each day of December.  I've been able to replicate some of her ideas, plus add in some unique ones for my own family.  However, the greatest of my holiday traditions is visiting Santa at the Grand Californian Hotel & Spa.  It's not the holidays until we visit.
This post may contain affiliate links.  Please read my disclosure policy for more information.
There's something so jolly about this year.  Perhaps it's because we're so optimistic about 2018.  After taking the Blogging Fast Track course, my blogging career has taken off.  I've got a pretty big announcement in regards to that, but you'll have to check back later in the week for that one!  Additionally, Matt finished his masters program this month.  Besides being super proud of his accomplishment, having my husband back in the evenings is enough reason to cheer.  There are so many things to celebrate this season!
Celebrating the season has always been a big deal for us.  In attempt to make each day of December, we've planned activities for the days leading up to Christmas.  Don't worry, I'm not going to suggest you spend zillions of dollars or even tons of time.  Remembering to move that darn elf is tricky enough without adding unnecessary pressure to parents.
5 Easy Christmas Traditions
Sleep Under the Christmas Tree Break out the sleeping bags & have the kids cuddle up by the tree.  The glow of the Christmas lights acts as a nightlight and the perfect backdrop for a holiday story.
Wrapping Party Grab the rolls and put on a Christmas movie.  If you're wrapping for people in the room, stick them in plain boxes & mark the receiver with a sticky note.
Festive Manicures This was suggested in the comments for my Tween Holiday Traditions post, and I'm so doing this.  My littles will love painting their nails red & green in preparation for the holidays.
Holiday Brunch There are just not enough weekends to fit in all the fun.  With work parties and family obligations, it can leave me longing for a way to make merriment with my best friends.  Pick an unlikely time to get everyone together.  A Sunday brunch works for us.  We also have an annual PJ bowling party post-Christmas because we like to keep the party going.
Christmas Caroling I live in the cutest neighborhood in all the world.  One fun thing we do together is gather all the kids to go Christmas caroling.  My next door neighbor cried through the kids' entire rendition of "Silent Night" last year, and how touched she was to have us at her doorstep made the night so special.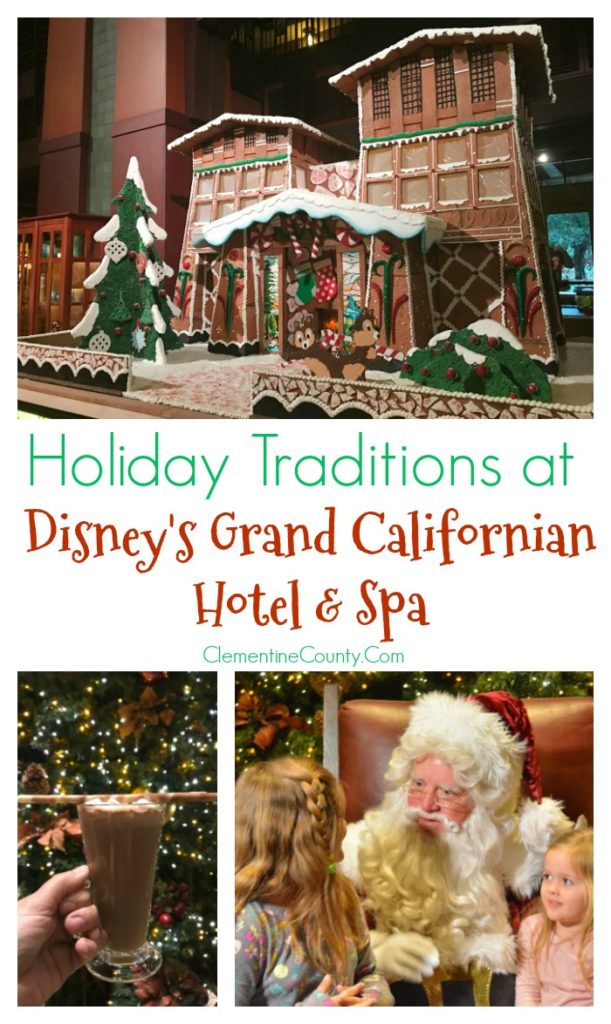 But the merriest event for us all is visiting Disney's Grand Californian Hotel and Spa! The California craftsman-style hotel blends elegance with comfort in a way that must be magic.  The hotel holds special meaning for Matt and myself as it's where we stayed as part of our wedding celebration.  During the holiday season, the Grand Californian offers guests a breathtaking festive experience.  When you enter the Grand Lobby, the beautifully decorated tree fills the center of the room.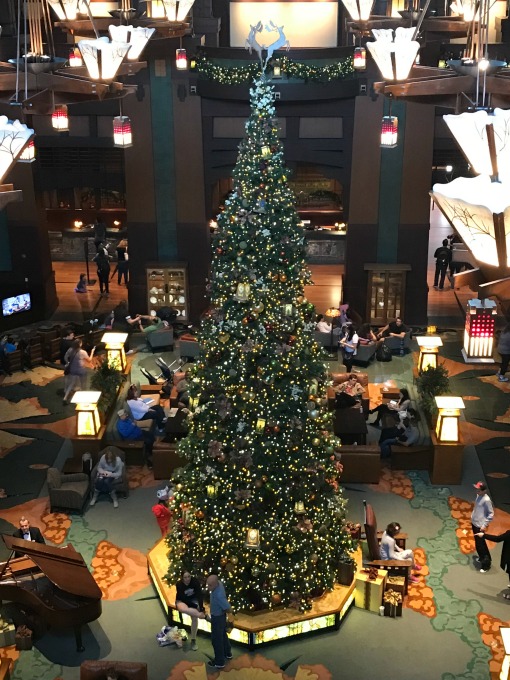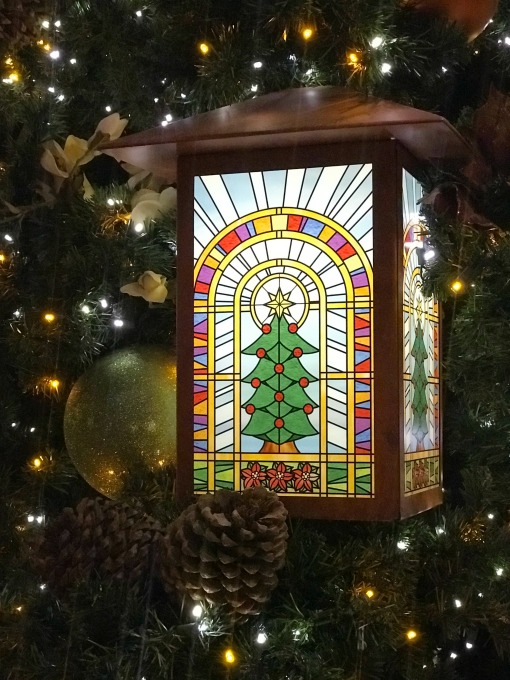 Santa Claus stops by in the evenings for complimentary photos.  If you'd prefer to have the Disney PhotoPass photographers snap your family photo, you can add your pics to your account.  Perfect if you have MaxPass! On our most recent visit, Santa arrived at 4:30 PM.  I would advise calling (714) 635-2300 in advance to confirm his sleigh's arrival.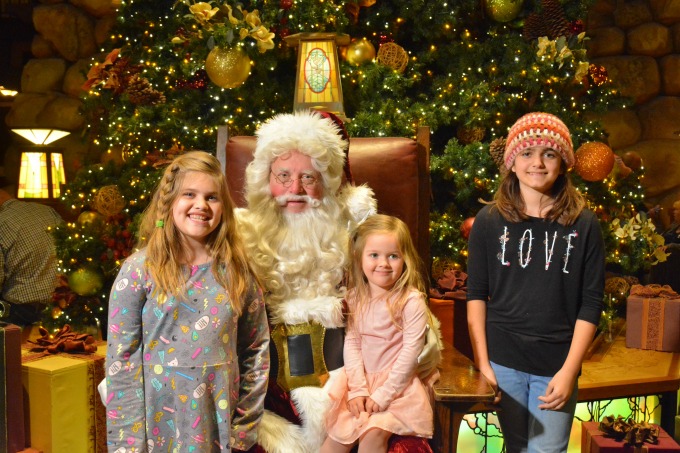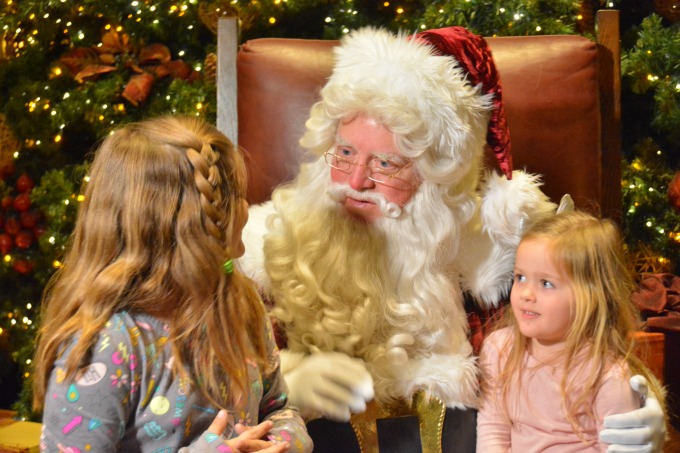 Free candy canes motivation for even hesitant visitors.
But treats are not in short supply.  There's also a special booth available for purchasing goodies for the kiddos and yourself.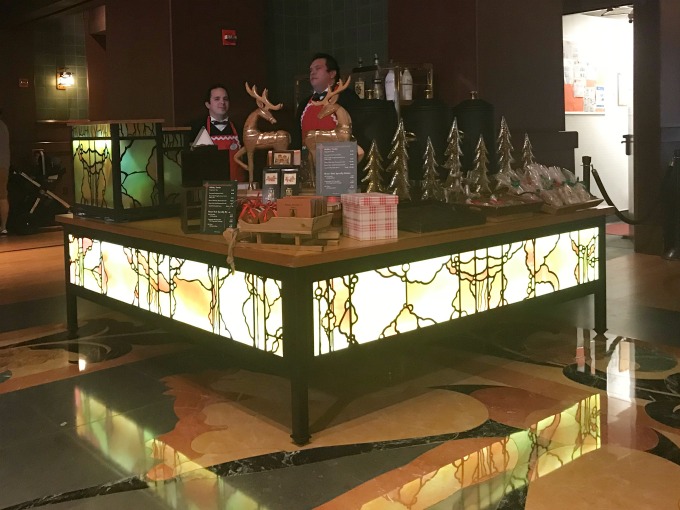 Holiday Treats at the Grand Californian Hotel & Spa
Holiday Treats
Gingerbread Man $5.00
Snowman Shortbread Cookie $5.00
House-Made Pumpkin Cream Cheese Coffee Cake $9.00
House-Made Large Ornament Cookie $18.00
House-Made Small Ornament Cookie $8.00
Assorted Chocolate Boxes $6.00-$32.00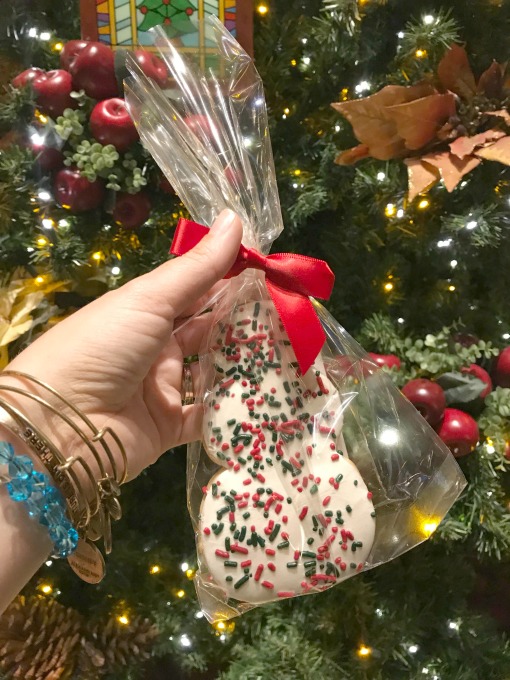 House-Made Specialty Drinks
Hot Chocolate $4.79
Peppermint Hot Chocolate $5.49

with Peppermint Schnapps $11.50

Hot Cider $4.79
With a treat in hand (and an adult beverage), we marveled at the large gingerbread house.  Each house, Disney bakers design a unique and immersive handmade house.  You can check out the 2016 display here.  My littles loved looking for Hidden Mickeys all over the house.  But the biggest hit was the addition of Chip & Dale.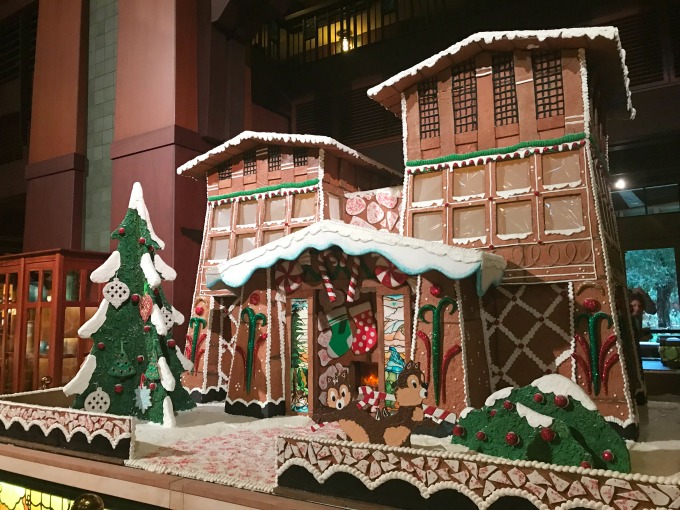 It's these things we do year after year that make it feel like the holidays.  There's something to be said for tradition, for visiting the places that feel like home.  As much nostalgia as the Grand Californian holds for our family, the hotel has just completed its largest refurbishment since it's opening in 2001. You can see some of the changes in this video.
As part of the Disneyland Holidays celebration, I was able to get a sneak peek at some of the changes planned for the hotel.  Our guide explained the upgrades with this analogy.  Imagine inheriting your grandmother's craftsman-style home.  You'd keep the charm, while providing modern upgrades.  That's exactly what hotel imagineers have done.  Inspired by the designs of Arts & Crafts visionary Charles Rennie Mackintosh.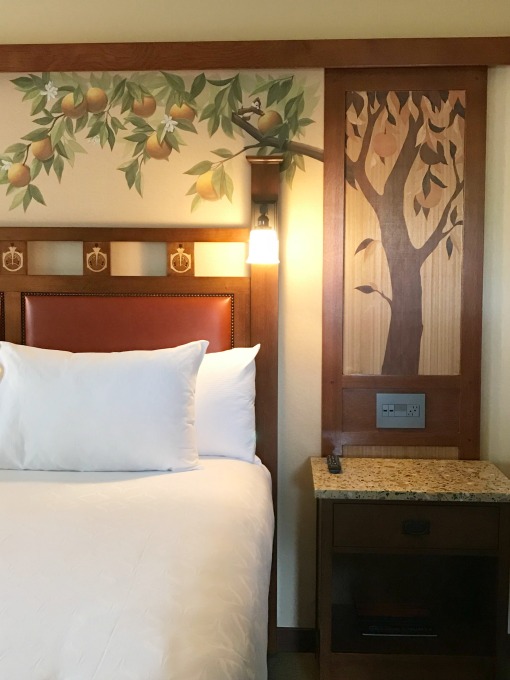 The renovations for the 17-year-old hotel continue to offer family friendly accommodations which are in-tune with the current guests.  There are more device plugs (because no one wants to fight over whose phone is less charged), additional lighting, and interactive televisions.  The look of the rooms is brand new also.  My mama will tell you stories of playing in the orange groves that used to reside where the Disneyland resort resides.  To honor that piece of Orange County history, orange trees play a larger role in the decor.  Plus, there's a little surprise visit from Chip & Dale.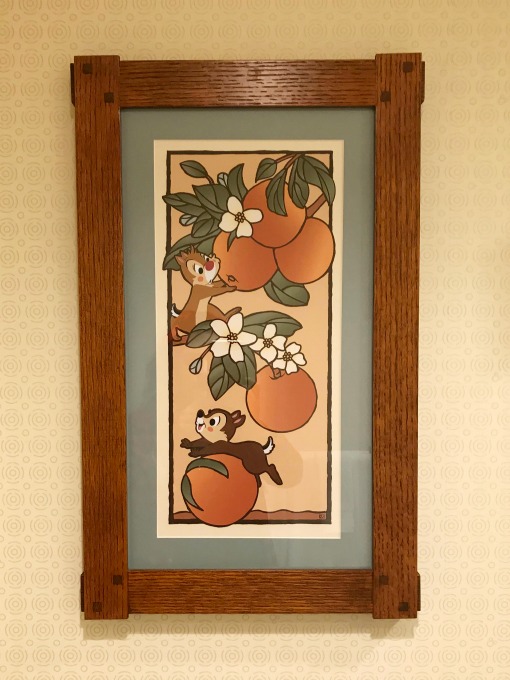 I don't think it's a coincidence that they appeared in this year's gingerbread house after seeing the upgrades.
Other changes in the rooms at the Grand Californian Hotel and Spa included streamlined rooms to create more space.  For example, the beds are taller to allow for luggage to be stored away.  Each room is decorated with different art work.  This Disney-lover was thrilled to see glimpses of Walt.  Overall, the rooms feel modern and homey, with a strong connection the arts and crafts history.
A dramatic change to the hotel is the concierge lounge with 4 signature suites and 40 standard rooms.  We were able to tour the The Veranda.  It was still under construction during my tour, but I could see the vision for what the special space would become.  Imagine Disney hotel staff predicting your every need prior to your arrival.  Smoothies and mimosas in the mornings, signature cocktails in the evenings.
Visiting the Grand Californian Hotel and Spa is part of our holiday tradition.  I look forward to adding more stays in the hotel to our family memories in the new year.
More Disney Holiday Fun
The 2nd annual Festival of Holidays returns to Disney's California Adventure Park.  Enjoy the tastes of the seasons at food kiosks while enjoying seasonal entertainment and shopping.

Can a trip to the parks be fun all by yourself? Oh my goodness, YES! Check out my Solo Disney Day.



We love that we can make Disney a part of our holiday traditions.  I'd love to know what you look forward to each holiday season.  Share your holiday traditions in the comments!