Things not to mess with: my family, my Disney movies, and my town. So when I heard the 1977 classic Pete's Dragon was being remade, I was full of nervous anticipation.  My sister and I could happily (not well) belt out "Bill of Sale" or "Candle on the Water" at a moment's notice. Could this reimagining hold up to the sing-along greatness of the film from my childhood?
My family and I were given admission to a complimentary screening. All thoughts and opinions are my own.
If it's not already clear, I've got a Hidden Mickey for a heart. I take all things Disney pretty seriously. Although I cherish the original, the historic, the what was, I also appreciate Disney's ever-evolving nature.  In reference to the theme park, Walt himself said,
Disneyland will never be completed. It will continue to grow as long as there is imagination left in the world. -Walt Disney
The same is true of the great storytelling of the Disney company. Pete's Dragon was originally released in 1977 as a light-hearted sing-along that followed a young orphan to Passamaquoddy, Maine. As he struggled to fit into town with his dragon pal, Elliot, viewers laughed at the antics of a drunken lighthouse keeper and despised the cruel school teacher.
But a great storyline lends itself to new tellings. Just as I cherish several versions of A Christmas Carol come holiday time, I too will cherish multiple versions of Pete's Dragon.  The 2016 release once again shows young orphan Pete in the company of a dragon with the power of invisibility.  The pair have lived within the forests of Mullhaven for over five years together. Once Pete is discovered, however, by the young daughter of a woodcutter, the conflict begins.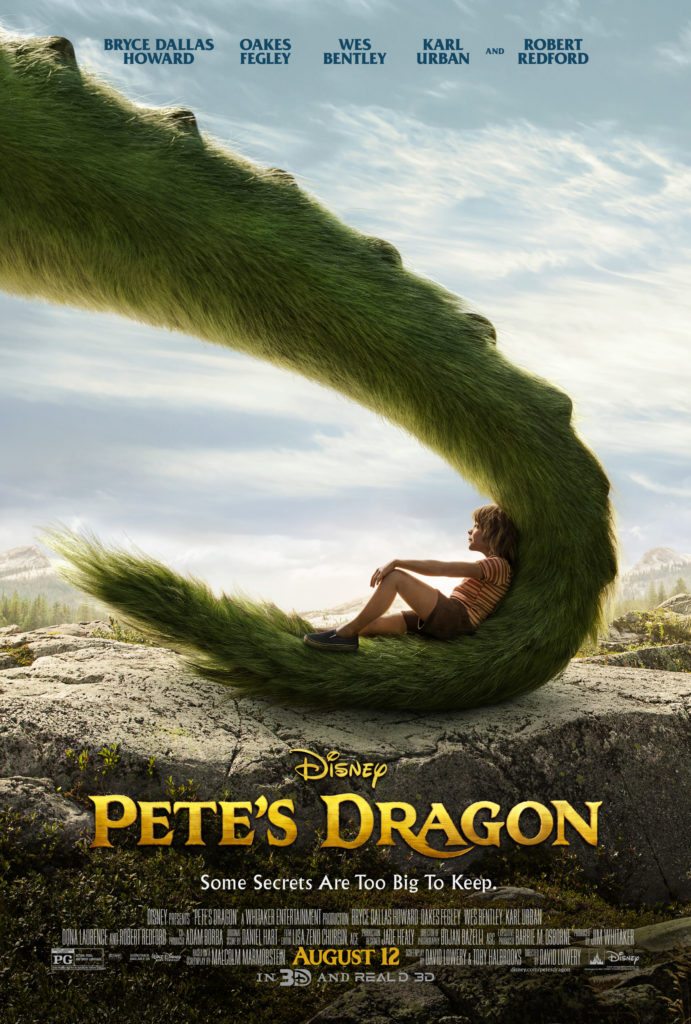 The updated tale has a stellar cast with Pete (played by Oakes Fegley), forest ranger Grace (Bryce Dallas Howard), and her father (Robert Redford). The strong acting and direction guide audiences through the Pacific Northwest on a quest to find family and magic.
For the special screening, I was able to bring my husband and two older daughters (aged 7 and 8). Although there were some scary parts, such as Elliot being hunted, it was not too intense for my children. My 7-year-old is not interested in things that are dark or scary, and she was still thrilled with the film. I can say there were tears, both happy and sad, and not just from the children.
We go to the movies for entertainment.  But on rare occasions you are not only entertained but provided with something more. As we left Pete's Dragon as a family, something Robert Redford's character requested of his daughter stood out. As Grace doubted the possible existence of dragons, he asked her to be open to looking for magic.
That is why we see Disney movies. The take-away you didn't know you needed to hear until right then.  I left inspired to pick up John Muir, listen to The Lumineers, and accept that sometimes something wild calls you home.
And so we spent the day following the screening out in the Fullerton Loop, looking for magic.
Pete's Dragon in theaters Friday, August 12th, 2016, is full of Disney magic. If you loved the original as much as I do, I ask you be open to looking for something special in the new telling. I'm sure you and your family will find it.