Winter, spring, summer, and fall.  In other parts of the country, those are the seasons.  But here in Orange County, we celebrate a slightly different calendar.  Knott's Berry Farm offers guests a spin on the traditional season with Boysenberry Festival, Ghost Town Alive, Spooky/Scary Farm, and Merry Farm.  But which season is the best of them all?
I received complimentary admission to facilitate this review.  All thoughts and opinions are my own.
In Southern California, the weather stays pretty consistently lovely.  But that means we have to mark the passing of time in other ways.  Seeing the year-round fun at Knott's Berry Farm is one way to celebrate the seasons.  With the yummy food offerings of the Boysenberry Festival to the charming decor of Merry Farm, it's hard to pick a favorite time to visit.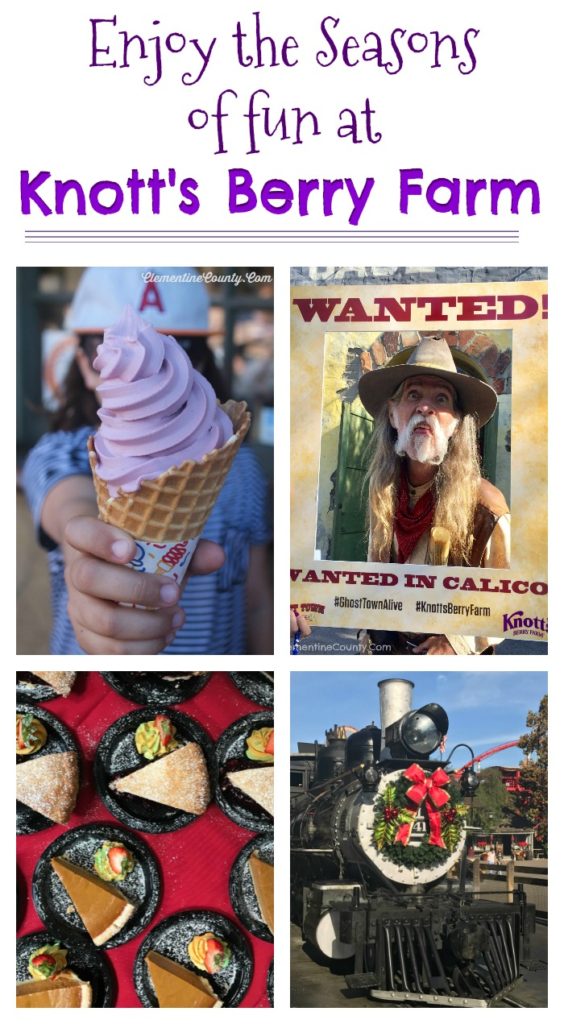 Boysenberry Festival
The history of Orange County appeals to this local girl.  The boysenberry–a cross between a loganberry, raspberry, and blackberry–originated on Walter Knott's farm land in Buena Park, California.  History tell us that George M. Darrow struggled to keep the berry created by Rudolph Boysen thriving, but Knott was able to get it to grow.  Who knew it would grow into an entire festival!?!
For three weeks, Knott's Berry Farm celebrates its boysenberry roots with a berry fantastic food and entertainment festival in the Knott's Boysenberry Festival.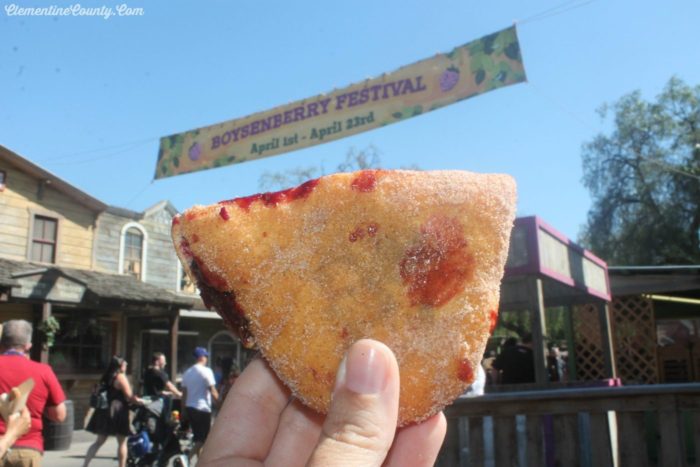 Sample over 80 boysenberry-flavored foods ranging from savory to sweet.  The best way to nimble on the best is to nab a sampling punch card.  My husband was happy to have my Boysenberry Meatballs, as I don't eat meat.  But don't worry, I happily sampled allllllll the treats!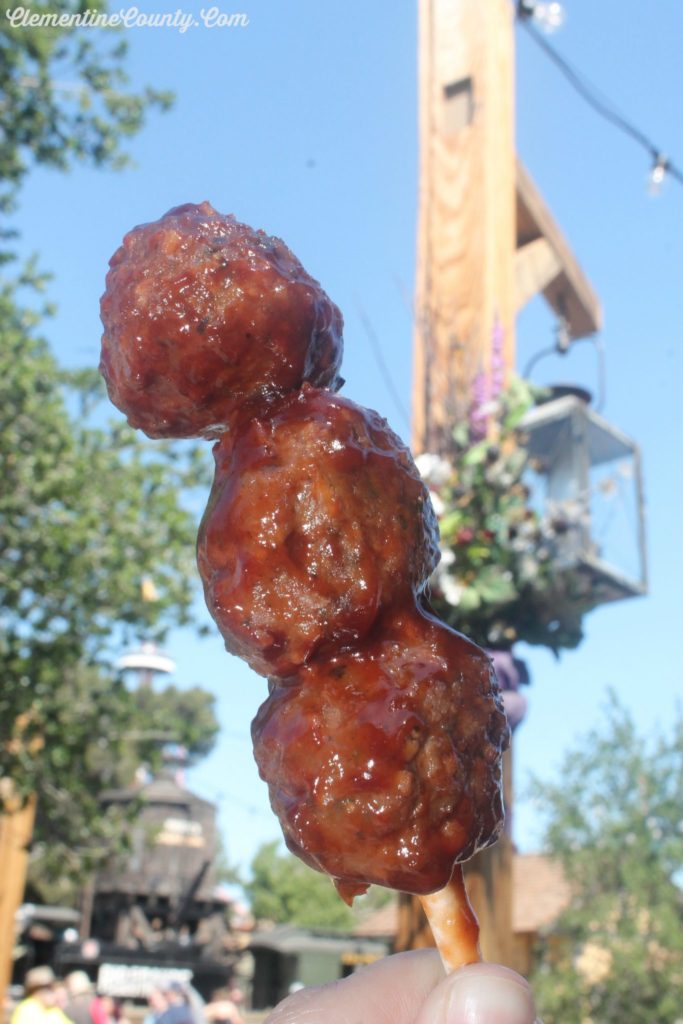 Some of the boysenberry treats are available year round, like the Boysenberry Soft Serve that my kids adore.  Others are exclusive to the festival, so you can't wait!  I was surprised with how much I enjoyed the Boysenberry Ravioli, thinking a fruit-flavored pasta dish would be odd.  Now I can't wait to see what's in store for 2018!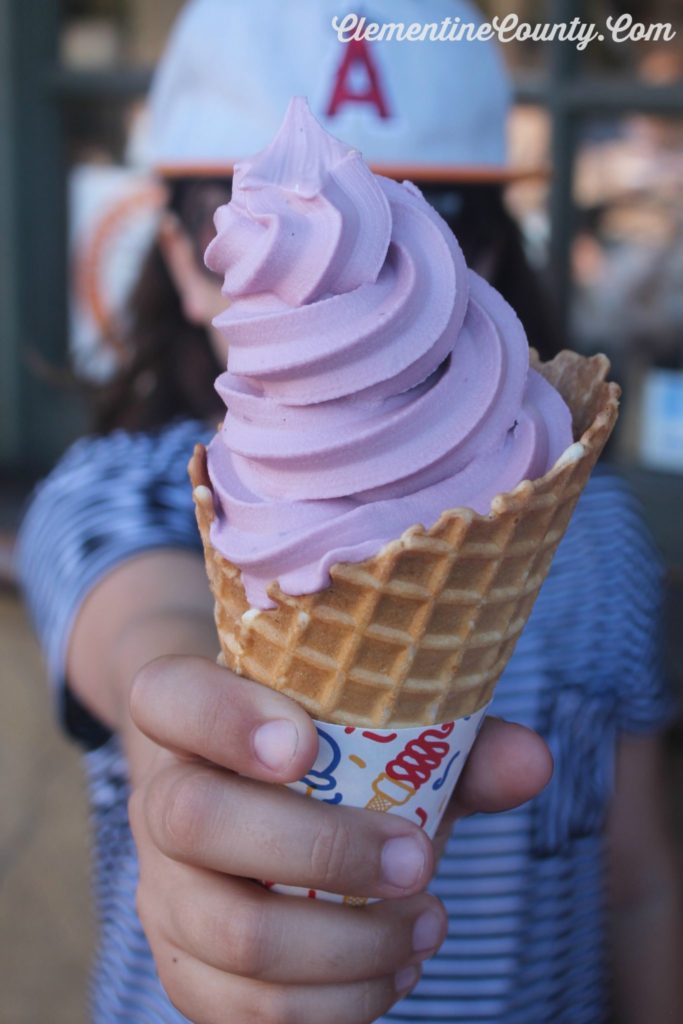 In addition to the scrumptious flavors, there's foot-stomping entertainment too! The 2017 line-up included:
Snoopy's Boysenberry Jamboree
Birdcage Theater Melodrama
Old MacDonald's Farm
History of the Boysenberry & Knott's Berry Farm film viewing
Krazy Kirk and the Hillbillies Comedy Show
Calico Park Fun & Games
Normally, Knott's Days are family days.  My littlest loves Camp Snoopy, and the big girls are all about the roller coasters.  But the Boysenberry Festival would make for a great date night, too!  Grab a Wine & Craft Beer Tasting card for a tour designed just for grown-ups.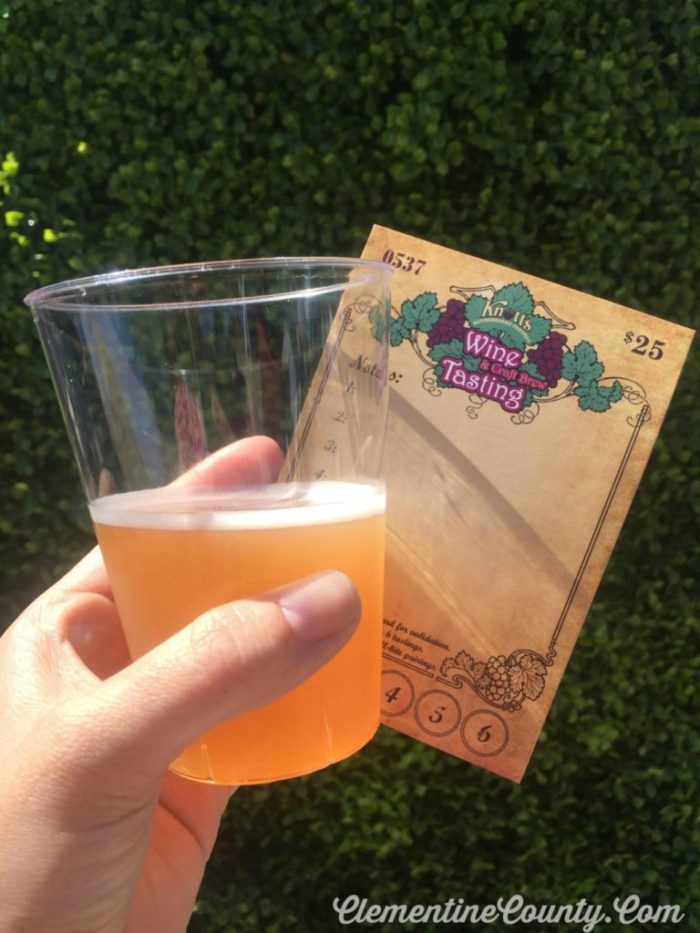 Knott's Boysenberry Festival is the perfect season for foodies who are looking to explore new flavors with a side of old-fashioned fun.
Ghost Town Alive
The western town of Calico literally comes alive for Knott's Berry Farm's Ghost Town Alive.  Calico residents create an interactive and engaging experience for guests that lasts all season long.  This year's plot started where the previous left off.  The Mayfield Gang was released from jail and a historic election took place.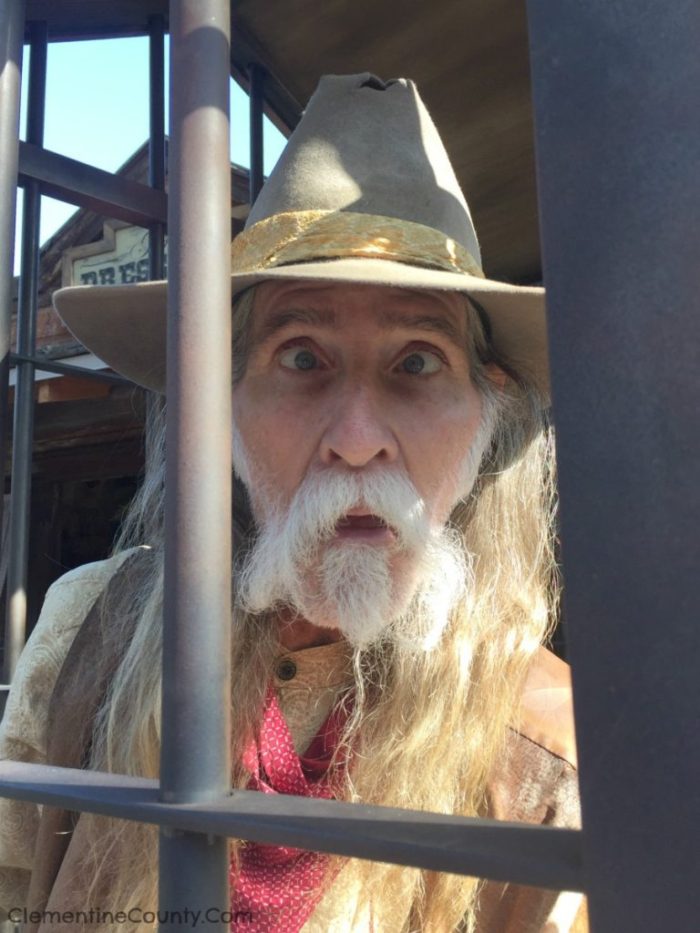 What's truly unique about Ghost Town Alive is the "Choose Your Own Adventure" type choices truly do affect the outcome of the story.
Step into the barber and get a fake mustache.  The type of 'stache changes how the characters treat you.  My 9-year-old was welcomed into the gang by Ike, encouraged to run amock throughout town, and even given insider scoops.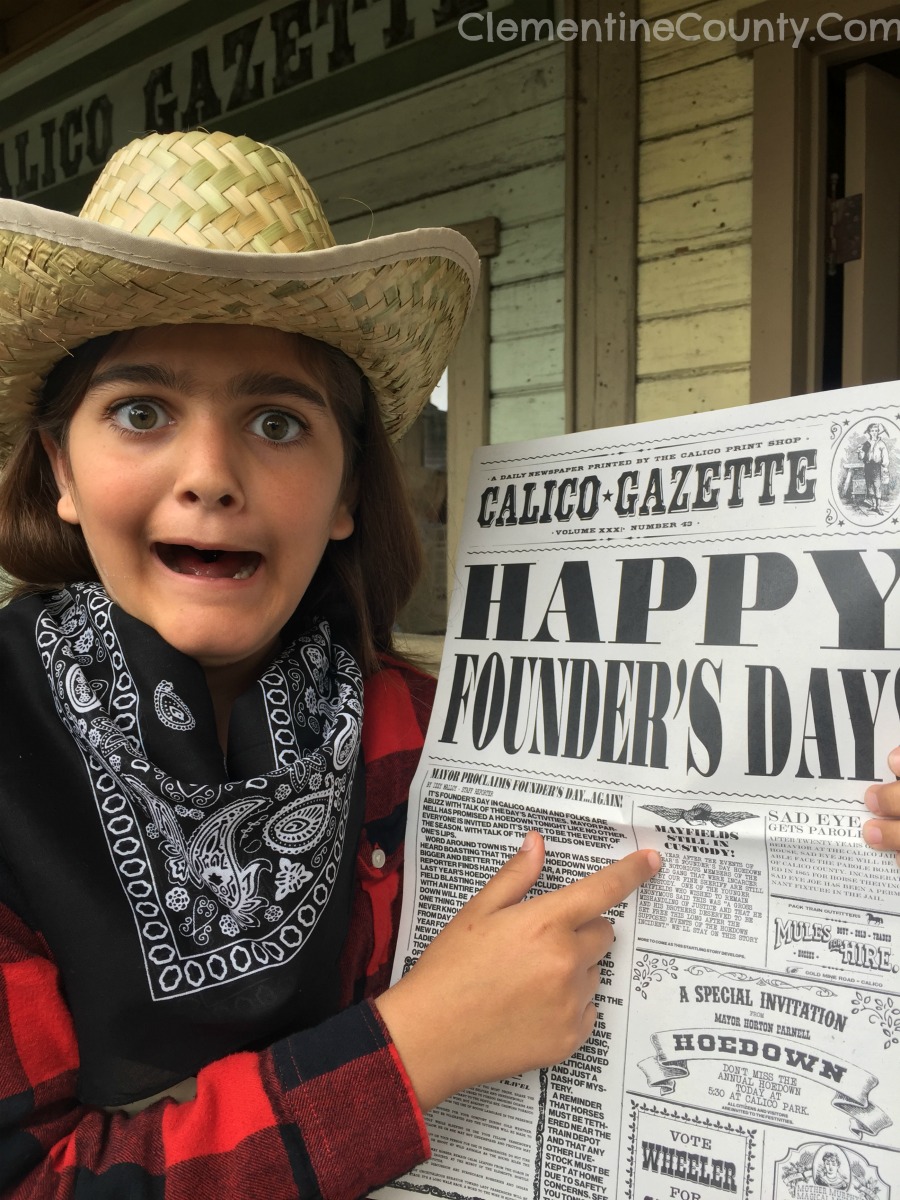 In addition to the engaging fun, there's a bit of detective work involved as you hunt for clues from "The Raven."  You may also find yourself put to work by the Post Office delivering packages.
Ghost Town Alive is the perfect season for families who enjoy an engaging story come to life.
Spooky/Scary Farm
During the day, Knott's Berry Farm transforms into Knott's Spooky Farm to celebrate Halloween.  But it's nighttime that Knott's is known for.  Knott's Scary Farm brings countless ghouls to Buena Park.  The separate ticket event runs throughout the Halloween season for select terrifying nights.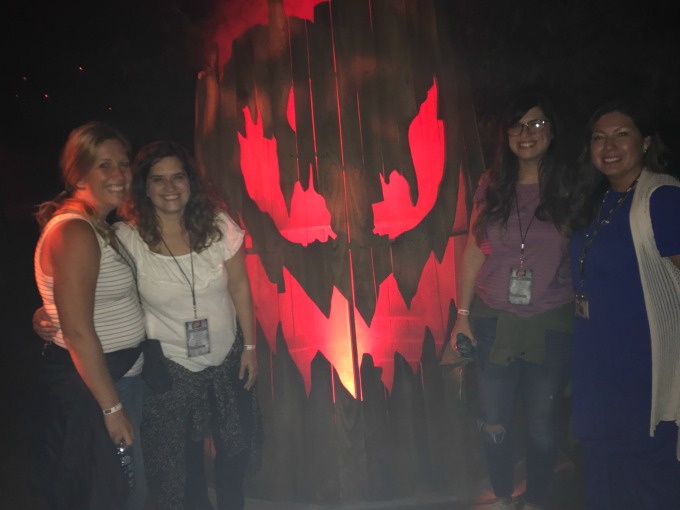 For Scary Farm this year, I toured with my sister and best friends.  This is NOT an event for little ones.  Check out the series of themed mazes, each more terrifying than the next.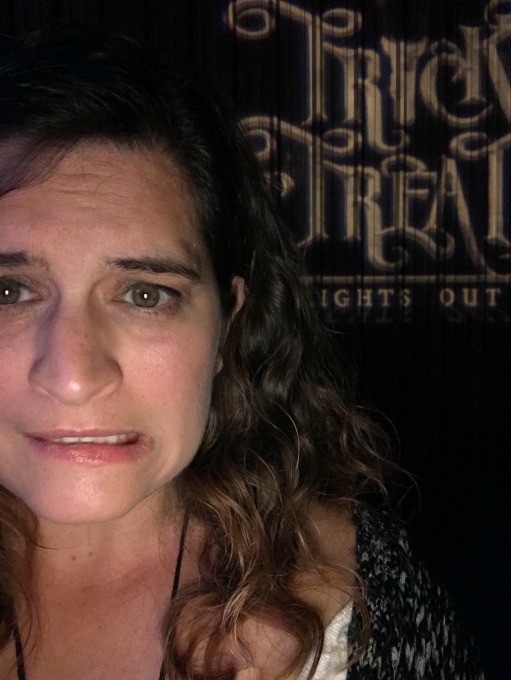 Being a little bit of a chicken (okay, a lot), it helped having a friend that could warn us of what lurked behind each corner.  For those who have attended the event in the past, you think you know but you have no idea.  Some favorite mazes remain, while each Scary Farm brings new attractions and horrifying mazes.
One of my favorite new mazes, Special Ops: Infected, was truly unique with guests "armed" with laser guns to take town zombies through city streets and sewer systems.  But each of the other 12 mazes offered a dynamic themed story with something to terrify everyone.  I suggest the Fright Lane passes to move to the front of the line.  Pricing varies depending on the night.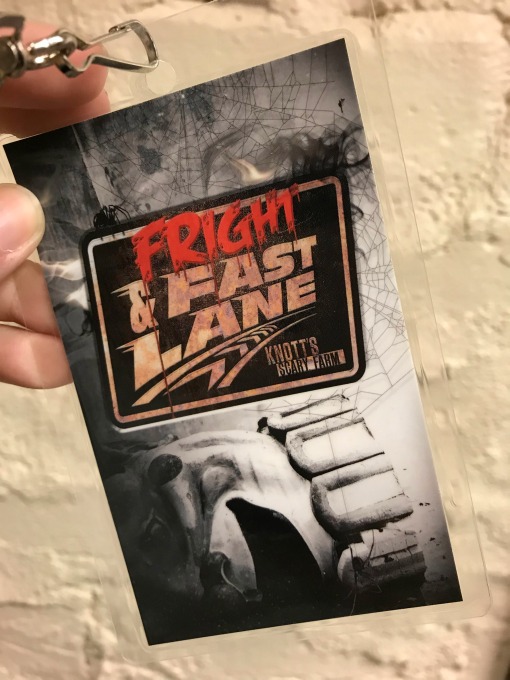 Additionally, the scare zones mean that nowhere is safe.  The undead lurk in the mist, meaning someone (or something) may be right behind you.
Knott's Scary Farm is the perfect season for teens to adults who are ready for sinister fun.
Knott's Merry Farm
All the charm of the holidays can be found at Knott's Merry Farm.  The Christmas season at Knott's is filled with old-fashioned decor and yuletide merriment.
Growing up, my husband visited the many vendors in the craft fair.  From hair bows to honey, the unique wares make Knott's Merry Farm like Etsy in person.
One of my favorite ways to celebrate the holidays is to enjoy all of the yummy tastes and treats.  The chefs at Knott's have us all covered.  First of all, pie.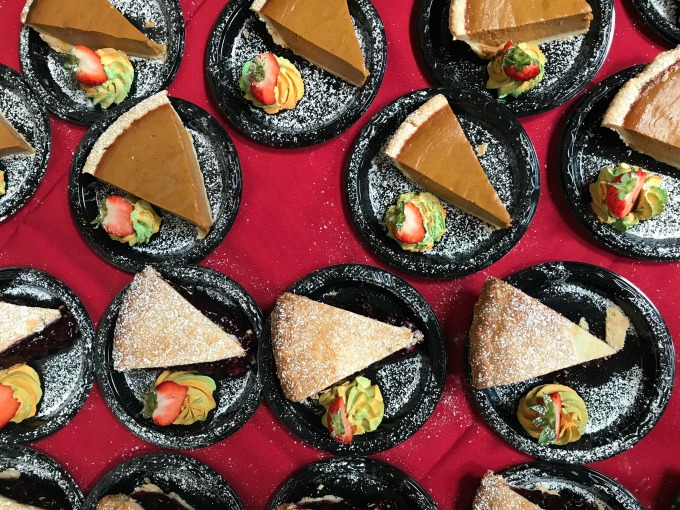 But head over to Santa's Christmas Cabin for all the holiday favorites.  It's totally something to scream about!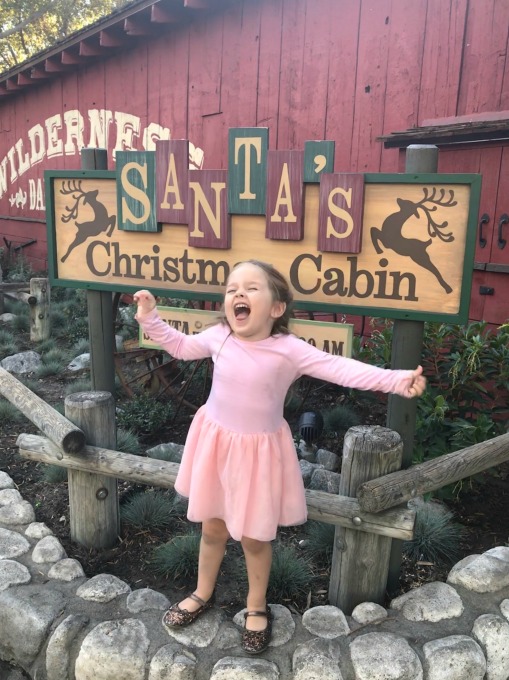 You'll find sweets, toasted nuts, tamales, and cookies and milk perfect for sharing with Santa.  Speaking of the big guy, Santa's Christmas Cabin give guests a chance to visit Santa and take photos.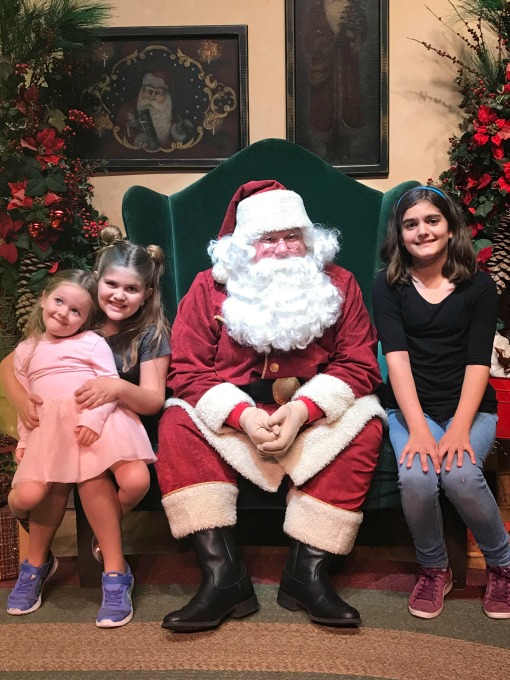 All over the park are yummy holiday flavors like the pizza with all of the holiday favorites like the pizza with bites of all things festive in one bite.  My 8-year-old informed me that she had never had a tamale before.  I was totally failing as a parent!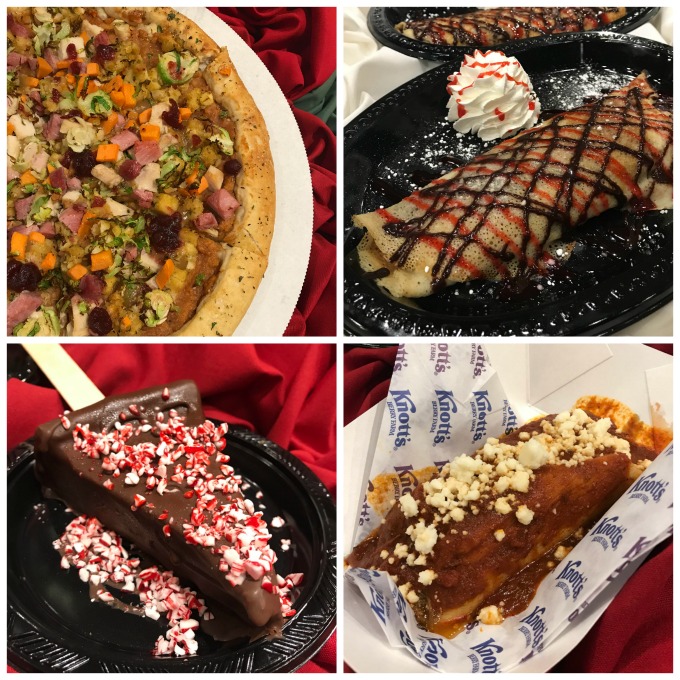 In addition to the festive foods, there's so much to see and do.  Our personal favorite is the Snoopy on Ice show.  The fantastic choreography of ice skaters is combined with holiday songs, lovely costumes, and appearances by your favorite Peanuts gang.
Other holiday entertainment includes:
A Christmas Carol/The Gift of the Magi at the Birdcage Theater
A Peanuts Guide to Christmas
Calico Christmas Tree Lightning Ceremony
Calico Saloon Christmas Show
Snow in Calico
Knott's Merry Farm is the perfect season for the whole family who want to cherish the holiday season together.
We've had a great year at Knott's Berry Farm!  Each unique season of fun shouldn't be missed. And with the Knott's Berry Farm season pass, you can enjoy them all.  For as low as 6 payments of $15.33, you'll receive unlimited visits in 2018, with no blackout dates, exclusive discounts, and more.  Plus, if you purchase your 2018 pass now, you'll get a day to celebrate the fun in 2017.  But there's no time to wait.  The deal expires January 7, 2018!
Which season is your favorite to celebrate at Knott's Berry Farm?