Just like their mother before them, my little ones are growing up Disney.  From a house full of magical mementos to Disney days, my husband and I began their indoctrination into the Disney-loving world almost immediately.
With little ones in tow most of the time, there are certain necessities for our trips to Disneyland.  One of those is a stroller.  Today I'm sharing all you need to know about strollers at the Disneyland Resort.
This post may contain affiliate links. All thoughts and opinions are my own.
Can I rent a stroller?
Absolutely!  Strollers can be rented in front of the Disneyland Main Entrance for $15/day or $25/day for two strollers.  You are free to use the strollers within both parks, but they may not leave the esplanade area.  So, you can't use it in Downtown Disney or take it back to your hotel.
Should I rent a stroller?
If you think your little one will need downtime, YES!  If you don't plan on bringing your own, renting a stroller can be the best $15 you'll spend at the resort.

If we could get my girls to nap, that meant we could spend a full day at the park.  Now that the older two are past napping, they relish the hours during the middle of the day when their sister sleeps as an opportunity to ride the roller coasters.

And how adorable are napping pictures at the park? I love this one from our Walt Disney World trip.

I prefer bringing my personal stroller, however, for a few reasons.  First, I deem ours more comfortable. Secondly, ours has more storage.  And let's be honest, even if my daughter really didn't need a stroller, I'd probably bring it anyway to help transport all the souvenirs and autograph books.
Do I have to fold my stroller on the trams?
Picture arriving at the resort.  Once you park within the Mickey & Friends Parking Structure, you'll need to take the elevator as strollers aren't permitted on the escalators.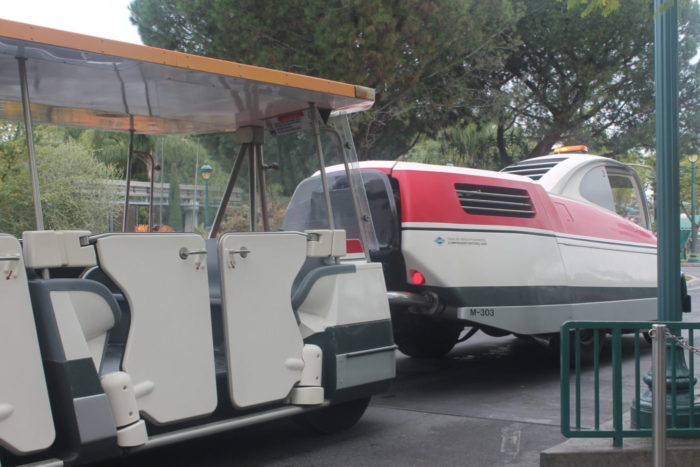 Once you pass through security, you'll need to remove your child from the stroller to ride on the tram.  If you don't want to fold it, head to the front of the tram lines.  There's a double wide compartment that will fit your stroller.  But again, if your child is sleeping, you'll need to take him or her out for safety purposes.
If you're able, walking from the parking structure is a good way to avoid stroller folding.  It's a 10-15 minute stroll from Mickey & Friends through Downtown Disney.
What if my stroller breaks?
There is some help available. We had a flat tire and were able to use a pump at the stroller rental.  If it's a major problem, you'll want to rent one.
Can I bring my double stroller?
With two kids under two, we depended on our double stroller.  The Disneyland Resort does not allow strollers larger than 36" by 52" nor wagons.
Be mindful of crowds with larger strollers.  We stopped bringing the trailer that hitched to our bicycles after a few visits.  It was too wide to navigate through crowds and felt more dangerous than convenient.
Where do I park my stroller?
Look for stroller parking signs outside attractions.  Chances are you'll see an ocean of other strollers.
Is my stuff safe?
With all of my trips to the Disneyland–too many to count–I've never had any trouble with anyone tampering with my stroller.  Actually, I've had the opposite and had a "Disney Drop," a sweet gesture among Disney fans who leave gifts for others.

With that said, I would not leave anything of value in your stroller while you are away.  Leave the diapers, take the camera.
Where'd my stroller go?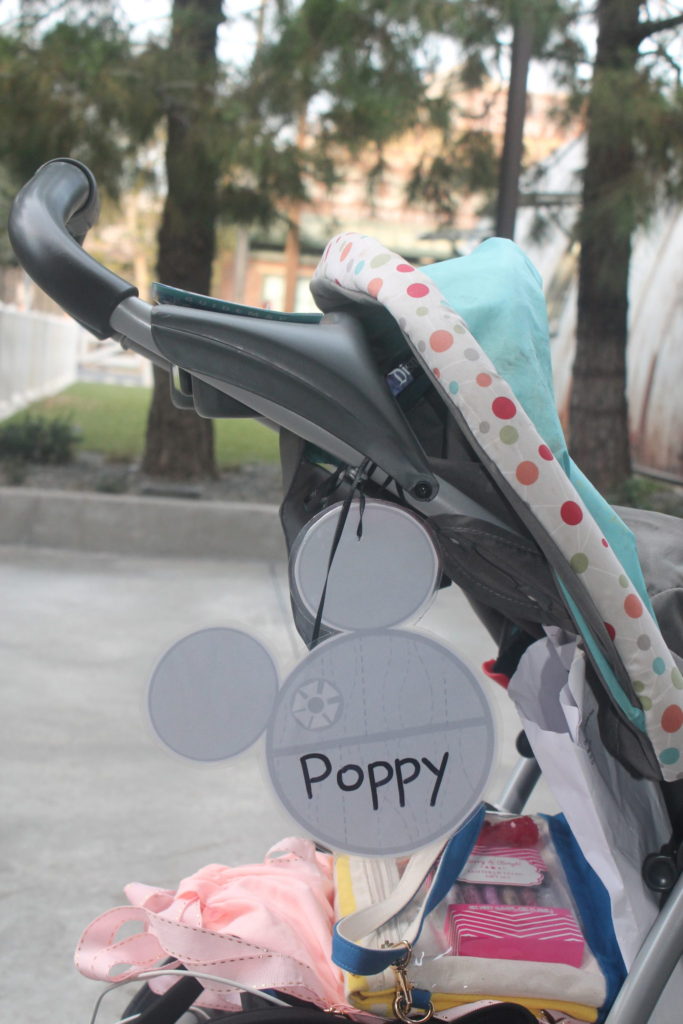 Periodically, strollers are moved by cast members to accommodate changes in traffic or to save space.  They won't go far, so keep your eyes peeled.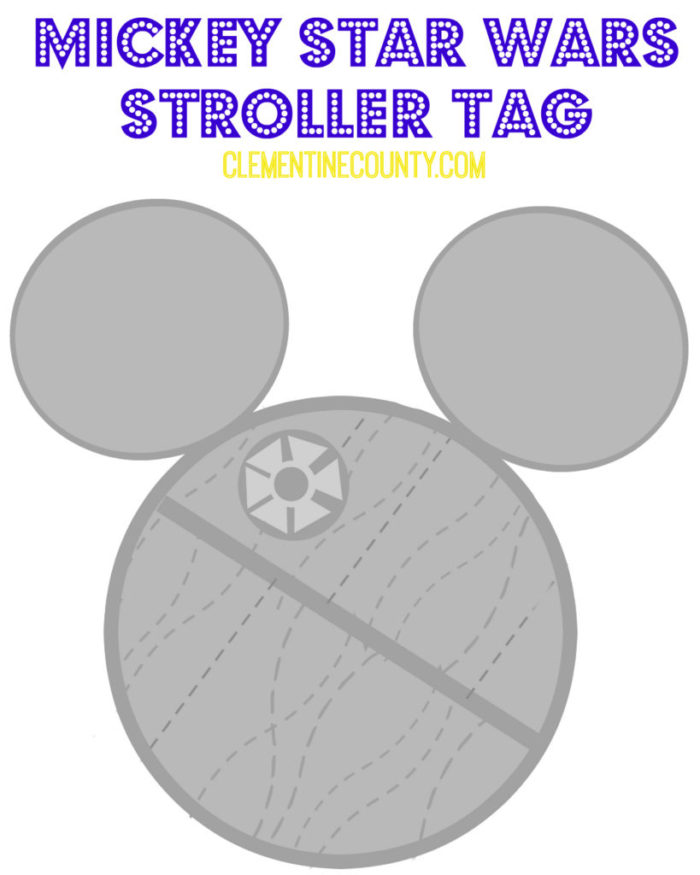 To help you keep track of which stroller is yours, I've made a Mickey Death Star Stroller Tag for your use.  Tell other park guests, "This is not the stroller you're looking for."
To Make Your Mickey Death Star Stroller Tag:
Print Star Wars Stroller Tag on cardstock or copy paper.
I opted to laminate mine for repeated trips to Disneyland.
Write your child's name or your family's last name.
Punch a hole with a hole punch & string with ribbon.
If you're looking for additional information regarding strollers at Disneyland, check out the FAQ page.

There are other magical ways to add some Disney fun to your stroller, like this Mickey-themed stroller. We've got ears…and wheels!
Do you have any stroller tips for the Disney parks? Share them in the comments!