Did I have children just so I had an excuse to throw fun birthday parties?  No, but it sure is a perk!  Sharing a throwback to my daughter's Tangled themed birthday party.  It was a magical day filled with fun treats, glittery decor, and a homemade tower pinata.
This post may contain affiliate links.  All thoughts and opinions are my own.
My daughter celebrated her fourth birthday with a Tangled birthday party.  With the popularity of Tangled: The Series in our house, and probably yours, it's likely to continue to be a popular theme.  And what's not to love?  Rapunzel has returned to her parents and her kingdom.  With Eugene (aka known as Flynn Rider) at her side, the duo are tackling the challenges of ruling Corona and going on some hair-raising adventures.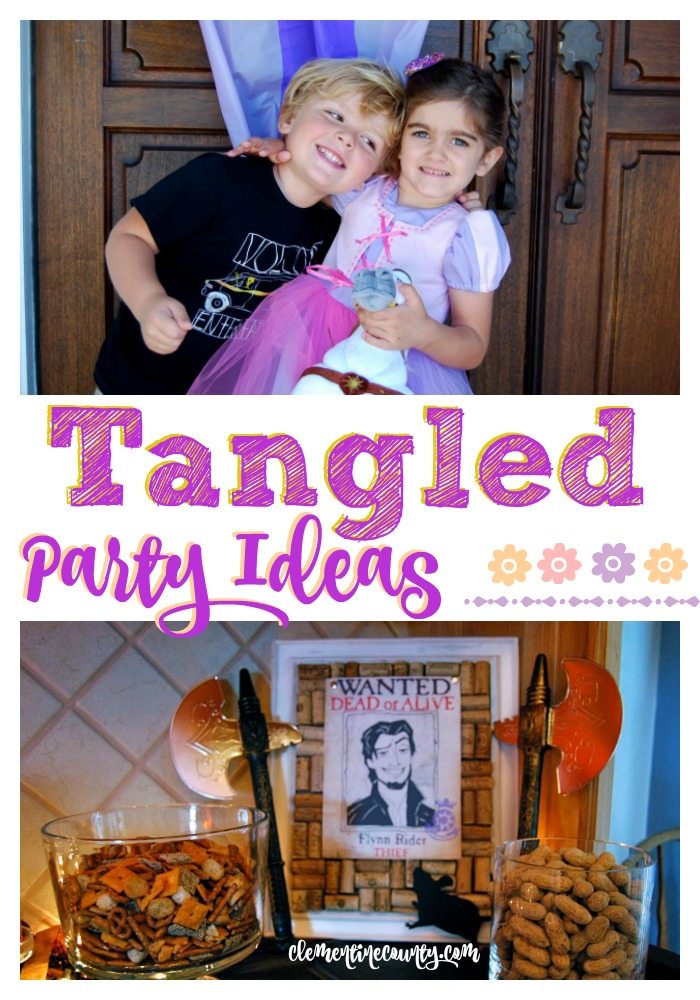 Activities & Games
The birthday girl is, of course, the star of the party.  But all that hair takes second place! To make the day extra special for all of our princesses, we made tons of homemade hair accessories like these Rolled Roses Hair Ties.  Other ways to tie in Rapunzel's hair include braiding yarn or strips of plastic tablecloths.  Hang them throughout your party space for an inexpensive project.
With Rapunzel being quite a prolific artist during her time in the tower, a great activity would be to include painting as part of your day.  Make a gigantic mural on butcher paper or provide individual canvases for guests.
Other fun ideas:
Pin the Nose on Flynn Rider // Pipe Cleaner Pascal raft // Wanted Poster Photo Booth Prop //
 Get Tangled in Crepe Paper //  Maximus Apple Toss
Food
The Snuggly Duckling is a great backdrop for Tangled party foods.  Ruffians and thugs can gobble up pub-themed snacks like Chex Mix and pretzels.  Set up a hot dog bar or serve fried chicken on these Frying Pan Plates.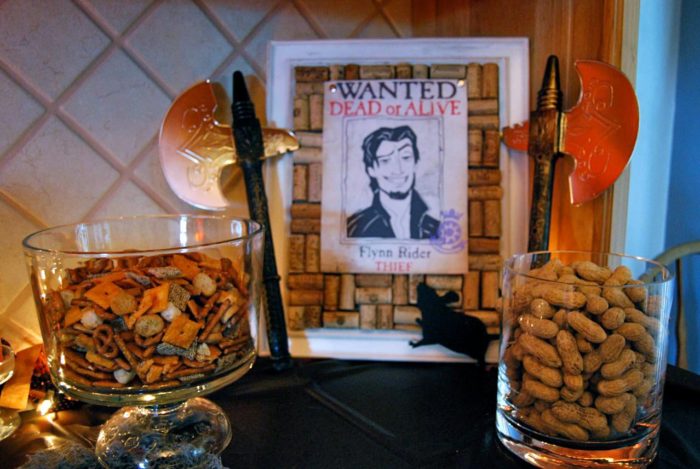 To add to the decor of the Snuggly Duckling, I decorated with printable wanted posters and cardstock rats.  The dollar store happened to have swords and viking hats in stock–a perfect fit!
After lunch foods at The Snuggly Duckling, treats to pay homage to the lost princess took center stage.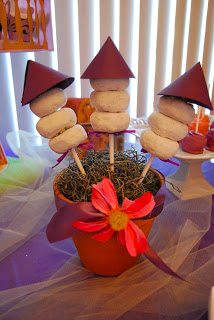 Donut Towers
To make Donut Towers, I made small circles (smaller than the donut) from white cardstock & punched a whole in the middle. Thread circle onto a white lollipop stick.  Under the cardstock circle, I tied a bow with purple ribbon.
Place three donuts atop the cardstock circle.
To make the dome tower, cut a larger circle from purple paper.  Cut a slit to the center of the circle.  Fold one end over the over until desired cone shape is formed.  Secure with hot glue to the stick.
Purple cake pops, braided pretzels, and crown-wrapped cupcakes also joined the celebration.  If you're looking for more food ideas, try these:
The Most Adorable Dessert Options // Donut Tower // Blue Jell-O Boats
Decor
To mimic fair Corona, we decorated with purple bunting with Rapunzel's signature sunburst design.  If you haven't met my children, you might not know that they really like glitter.  A lot!  So to add some glittery fun to the party, we glittered baby food jars to serve as votives.  These battery-operated tea lights are perfect for illuminating anything at a kid's party since there's no flame.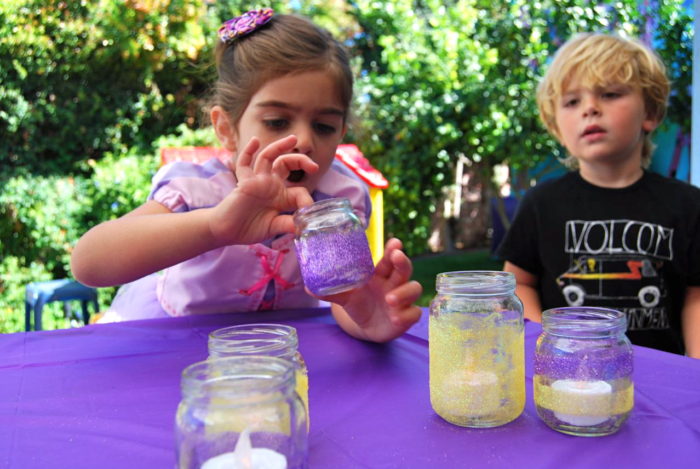 We also used plastic tablecloths to make DIY banners that mimic the ones we adore on the light poles at Disneyland.  All it took was a few supplies like  dollar store tablecoths and vines cut out with my Cricut.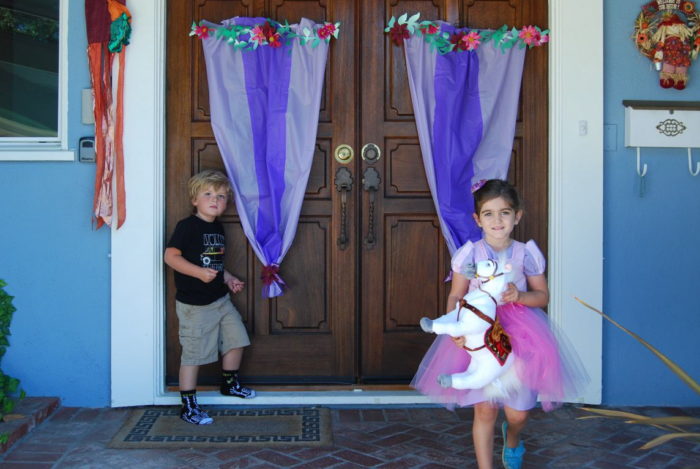 Looking for more DIY ideas? Try these:
Sunburst PomPom Craft // Free Printable Sun Flags // Sun Straws // Magical Glowing Flower
Party Favors
When you are done having the best day ever, share fun party favors with your guests.  If you're focusing on Rapunzel's artistic hobby, send home paint and paintbrushes.  Or if you're thinking more royal, try hair accessories and a crown.
Other inspiration:
Satchels & Swords Favors // Watercolor Paint Princess Labels // Pascal Party Blowers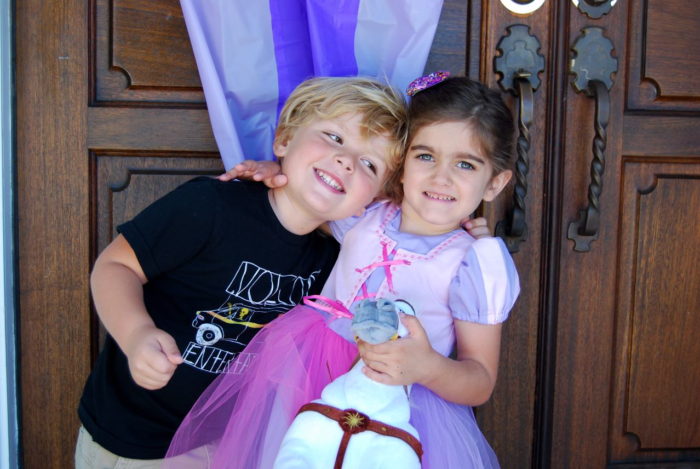 My little one had such a great time at her Tangled birthday party.  Hope you found some great inspiration from this throwback party post!