The holidays bring me with tremendous joy and a healthy appetite. Back for its second year, the Disneyland Resort offers the Festival of Holidays. Through food, entertainment, and activities, celebrate the world's holidays all with a magical touch.
I received complimentary admission to facilitate this review.  All thoughts and opinions are my own.
It's the merriest time of year, and there's nowhere that gets my heart more filled with the holiday spirit more than the Disneyland Resort.  When the garland goes on Main Street I know it's time for the holidays.  Those Disney imagineers sure know how to max out on the holiday spirit.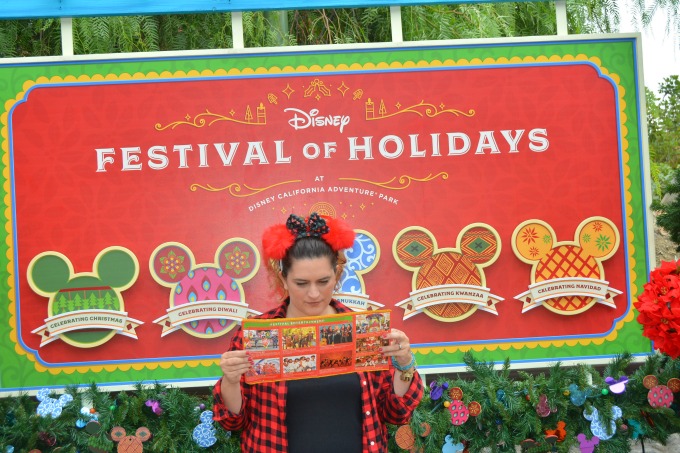 2017 welcomes the 2nd celebration of the Festival of Holidays at Disney's California Adventure.  This foodie's dream offers unique food and drink offerings from around the world in celebration of Christmas/Navidad, Hanukkah, Kwanzaa, and Dawali.  Imagine an international pot luck with everyone bringing their favorite seasonal dishes.  Each of the 12 food kiosks in the Festive Food Marketplace offers a variety of tasty treats, delicious dishes, or bubbly beverages.
Grab a Festival Guide and nibble along!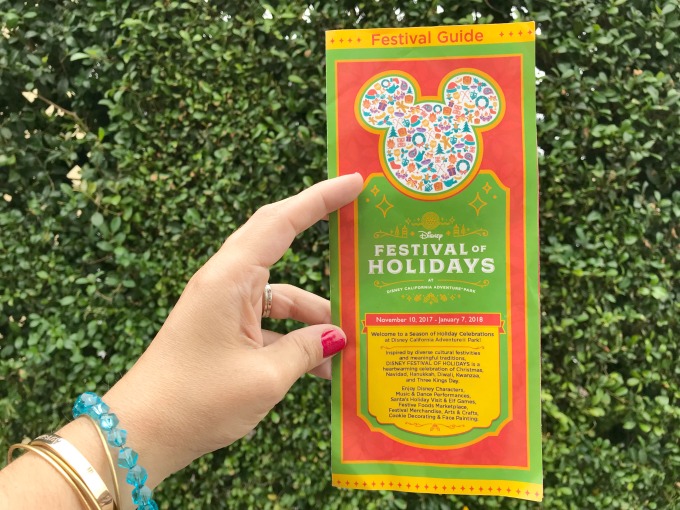 Food Offerings at Festival of Holidays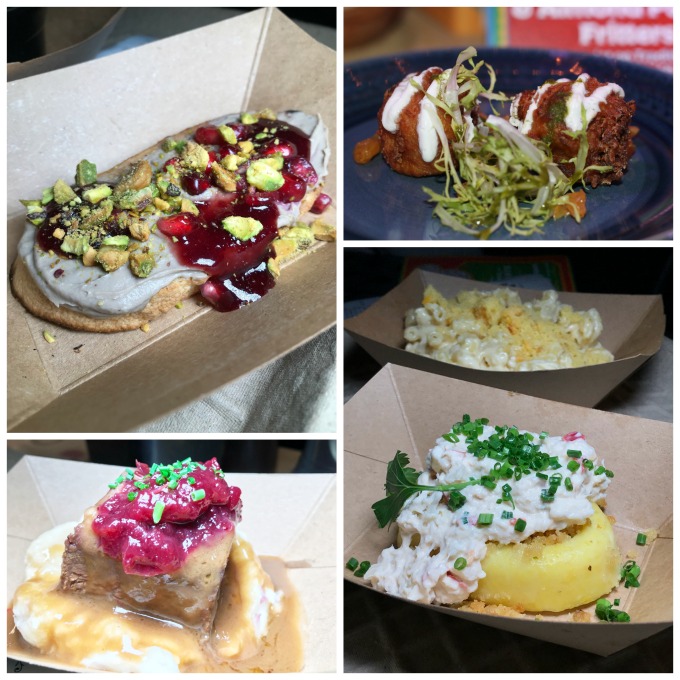 Chips, Breads & Holiday Spreads Snack on spreads like Chicken Liver Pâté on Toast with Cherry Jam and Pistachios ($5.50) or Chorizo Queso Fundido with House-made Tortilla Chips ($6.00)
Making Spirits Bright A booth for the grown-up Disney fans features wines and mimosas
Joy to the Sauce Seasonal favorites, topped with yummy sauces like the Seared Salmon Filet with Lemon Caper Sauce ($7.50) or Beef Short Rib with Smashed Potatoes and Gravy ($7.75)
Spicy Celebrations Say "Hola" to flavor with a Beef Corn Tamale a la Plancha with Spicy Rojo Sauce ($7.25) or a Pomegranate Margarita ($12.00)
Brews & Bites This Anaheim-er girl was happy to see Naturia Double IPA from Unsung Brewing Company ($9.75) alongside Bavarian Pretzel with Dijon Mustard ($5.00)
Holiday Duets Pairings are perfectly matched in dishes like Warm Polenta & Chilled Crab Salad ($7.50) or Macaroni & Cheese with Cornbread Crumbles ($7.25)
Classic Crocks & Casseroles This new booth offered my favorite dish of the night, Chana Masala with Garlic Naan Bread ($6.50).  The Green Bean & Mushroom Casserole with Crispy Onions ($5.75) is another classic holiday favorite.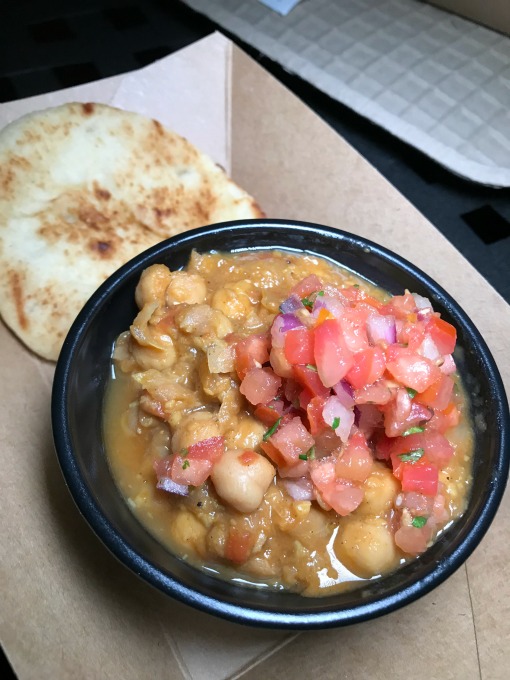 Blissfully Braised Slow-cooked dishes you'll gobble up quick like Braised Pork Belly Adobo with Garlic Fried Rice ($7.50) and highly-recommended Braised Lamb Cheeks with Mediterranean Cauliflower ($7.75)
A Twist on Tradition Put a twist on holiday favorites with new dishes like Reuben Potato Smash with Russian Dressing and Rye Toast Crumble ($6.75) and Butternut Squash and Almond Pakora Fritters ($6.00)
Winter Sliderland My husband's fav from last year, the Roasted Turkey Slider with Cranberry Sauce ($7.50), is back with other sliders like the Holiday Ham Slider with Pineapple Relish ($7.50)
Grandma's Recipes Going back to holidays past, try Sweet Potato Pie($4.50) or the Merry Cherry Pineapple Punch ($5.00)
Festive Holiday Extras Fill up with festive sides like Brussels Sprouts with Goat Cheese, Cranberries, and Bacon ($6.75) or Baked Cheesy Scalloped Potatoes ($6.50)
The offerings range in price from $4-8, and a full meal can be made with a couple of menu selections.  However, there are so many amazing choices that sampling with friends is a great way to get a little bit of everything.  I'm a vegetarian so I did call dibs on the vegetarian options, with my favorites being the Chana Masala and Butternut Squash Fritters.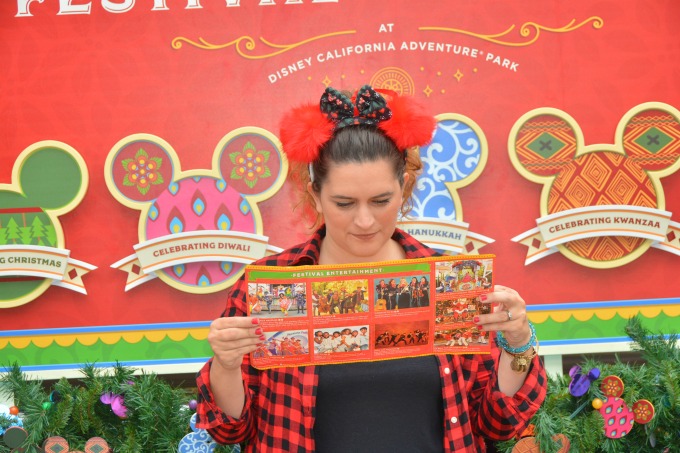 Entertainment at Festival of Holidays
Music
While enjoying the flavors of the holidays, you will also be treated to a unique entertainment schedule with musical talent such as the Grammy-award winning Mariachi Divas.  We had a great time swinging into the holidays with the Phat Cat Swingers.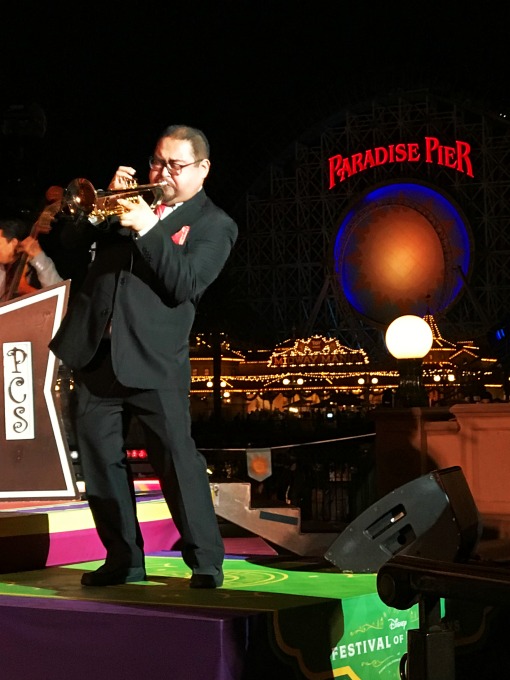 You will also enjoy the Mostly Kosher making the songs of Hanukkah brand-new with rock, hip hop, and other unique sounds.  The Blue 13 Dance Company bring a Bollywood style dance party to the streets of DCA.  Another favorite back for another year are the Holiday Toy Drummers.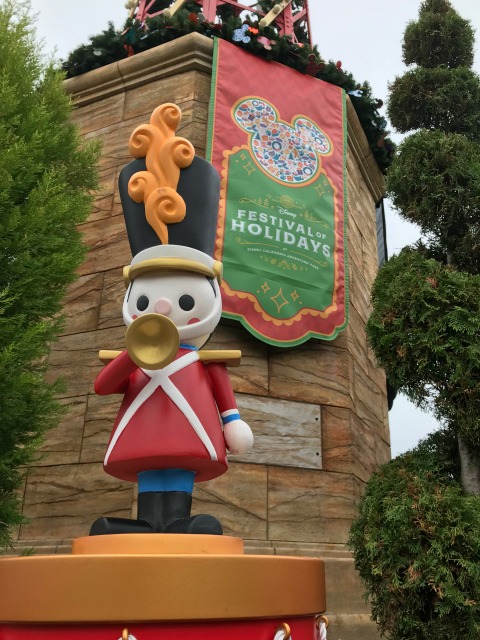 Crafts
For the younger park guests, check out the crafts & activities.  Each offers a fun craft and information regarding the holiday to serve as both an activity and a learning opportunity.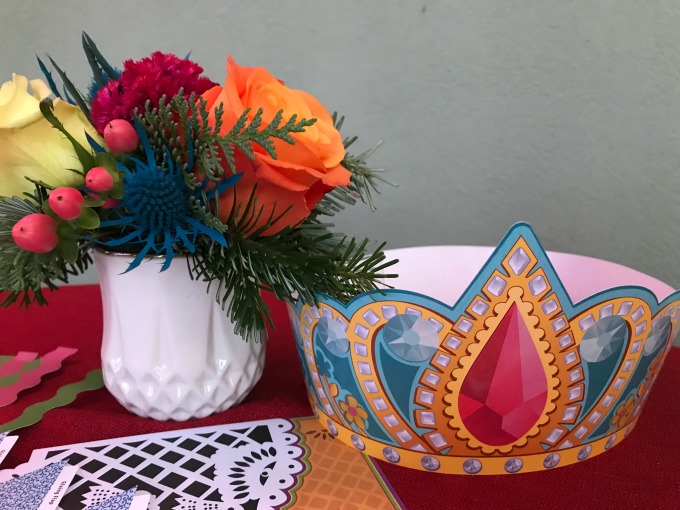 Disney !Viva Navidad! 
The Three Cabarellos are rolling into town in a unique and festive street party.  The trio grooves to the mariachi and samba sounds (and you will too).  With musicians, dancers, puppets, and a recognizable mouse or two, the !Viva Navidad! celebration is the holiday party not to miss this year.  Check it out in the live video.
As I sampled my way through the Festival of Holidays, I was filled with the spirit of the season.  It's become a holiday tradition in just two quick years!  Make sure you check out the Festival of Holidays and other holiday magic now through January 7, 2018.
Looking for more Disney fun?
Solo Disney Day  Can you visit the resort by yourself?  YES! Ideas for making a solo trip to Disney extra magical.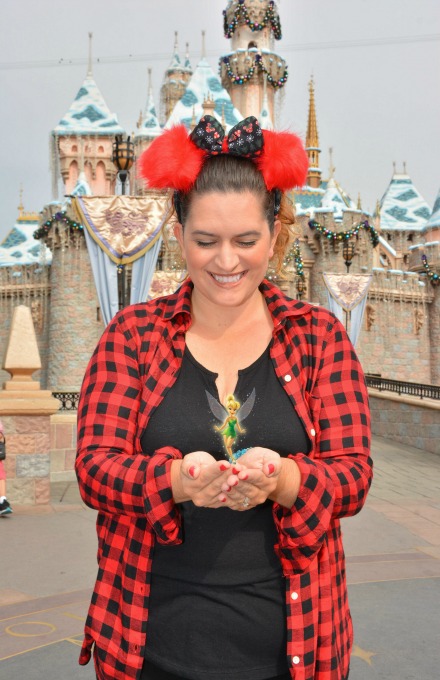 Holiday Traditions at the Grand Californian Hotel & Spa Don't forget to visit the Grand Californian Hotel & Spa during the holidays.  Free entertainment and gingerbread galore are one of my favorites!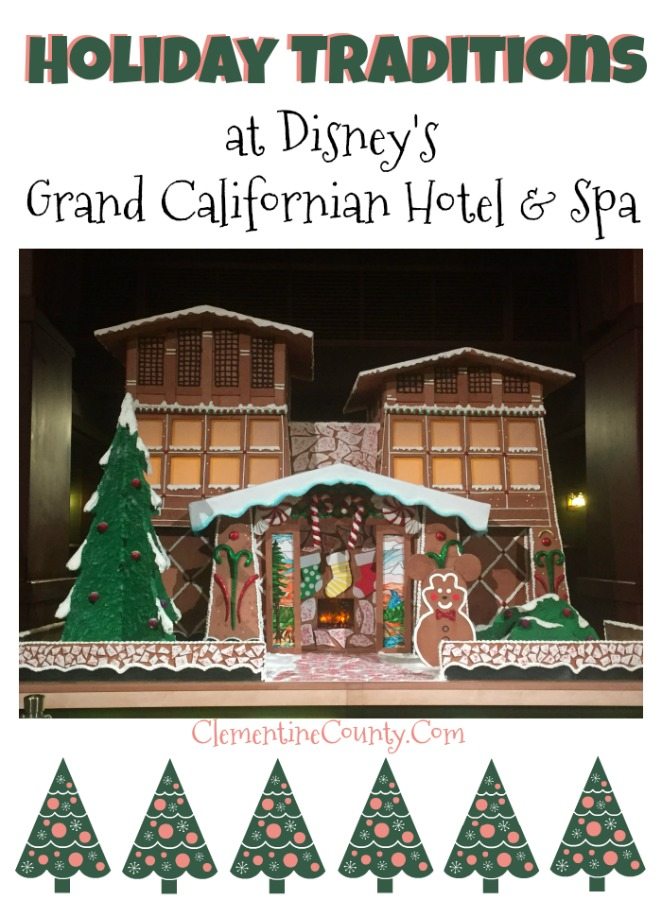 Have you visited the Festival of Holidays? Share your favorite dish!