This is Halloween, everybody make a scene.  Halloween is one of my favorite holidays, and each day we've been doing something Halloween-y as a family.  From watching Halloween movies to making a gingerbread haunted house, each day holds something spooktacular.
But this weekend, there's an extra special Halloween celebration as Tim Burton's The Nightmare Before Christmas returns for a limited engagement at Regal Theaters.
This post is not sponsored. All thoughts and opinions are my own.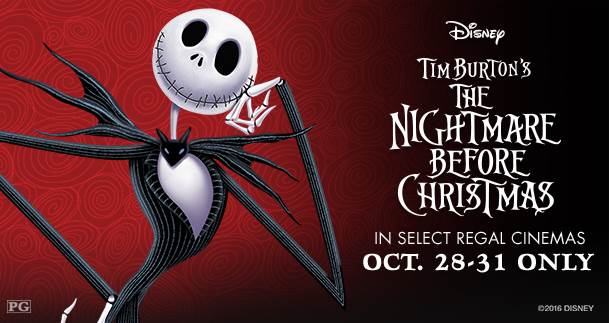 Jack Skellington, the Pumpkin King, and all of the Halloweentown townspeople can be seen at select Regal theaters throughout the nation this Halloween weekend.  You can celebrate with this special viewing Friday, October 28th through Monday, October 31st. Participating locations are listed below.
Participating theaters include locations in Alaska, Arkansas, Arizona, California, Colorado, Delaware, Florida, Georgia, Hawaii, Idaho, Illinois, Indiana, Kansas, Kentucky, Louisiana, Massachusetts, Maryland, Minnesota, Missouri, New Hampshire, New Jersey, New Mexico, Nevada, New York, North Carolina, Ohio, Oklahoma, Oregon, Pennsylvania, South Carolina, Tennessee, Texas, Virginia and Washington.
For tickets and information, visit: http://regmovi.es/tnbc2016.
"In this town we call home, everyone hail to the pumpkin song!"
If you're looking to bring some of the spooky fun home, the soundtrack is the quinnestial Halloween playlist.  "Instead of hearing screams, I swear, I hear music in the air."
Will you be Oogie Boogin' over to Regal Theaters?