Feed them, clothe them, make sure they've seen every classic Disney film. The job of parent can sound pretty simple when you boil it down to just the essentials. But I have such big dreams for my girls, and I want so much more for them than just the run-of-the-mill life.
To ensure they're well rounded, my husband and I are trying to expose our children to the arts. With our oldest being only 8 years old, there's a bit of training involved with this exposure.
I received complimentary admission into the Disneyland Resort as part of a Media Day. All thoughts and opinions are my own.
Aside from the obvious expectations as a parent, I also feel it's my responsibility to prepare them for a variety of situations. I'm honestly a really laid back parent, a luxury I'm afforded by really great kids who just "get it." So taking them to the theater for the first time was extremely fun and only took a little bit of preparation.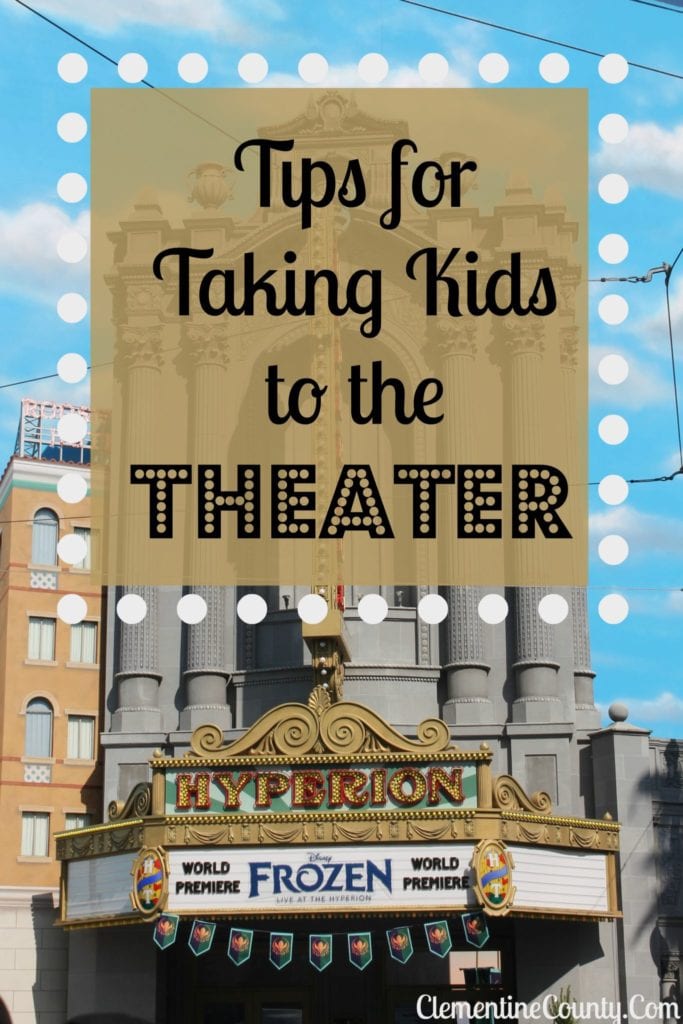 Tips for Taking Kids to the Theater
Discuss Appropriate Behavior
Whether you're seeing a live performance or even a movie, guests are expected to stay seated and remain relatively quiet.  Share with your kids that seeing a live performance means that the actors can see and hear you. It's okay to clap, to laugh, to cry.  However, hooting or hollering takes away from other patron's experience.
Grab The Best Seat in the House (sometimes that's the worst one)

The most desirable seats in the theater differ depending on your needs. For my family with three little ones, we need access to an exit. We opt for seats on an aisle near a door, just in case that whole behavior talk didn't sink in.
If you know your kids will be able to sit through the duration, consider things like possibility of an obstructed view.
Check for Rules Regarding Food & Drink
If it's not posted outside the theater, go ahead and ask. You might be able to enjoy refreshments in the lobby during intermission. Heck, maybe you can take them to your seats.
Discuss the Plot Ahead of Time
Watching a new movie with my kids cracks me up. "What's going to happen, Mom?" I guess I should take it as a compliment that my kids think I know everything and can predict the future. Prior to seeing a show, discuss the premise and major plot points. It will cut back on questions and help younger audiences follow along.
See the Right Show
For their first experience with theater, I took my kids to see Frozen Live at the Hyperion inside Disney's California Adventure.  I got to see it at the world premiere and knew my whole family would be swept away with the moving storyline, innovative technology, and touches of Disney magic.
The Hyperion Theater presents a Broadway-level performance in a retelling of Frozen.  Once inside, theater patrons are whisked away to Arendelle. The performance engages audiences, young and young-at-heart, by including the audience as part of the stage. Expect characters in your aisles, snow falling from the sky, and so many other surprises.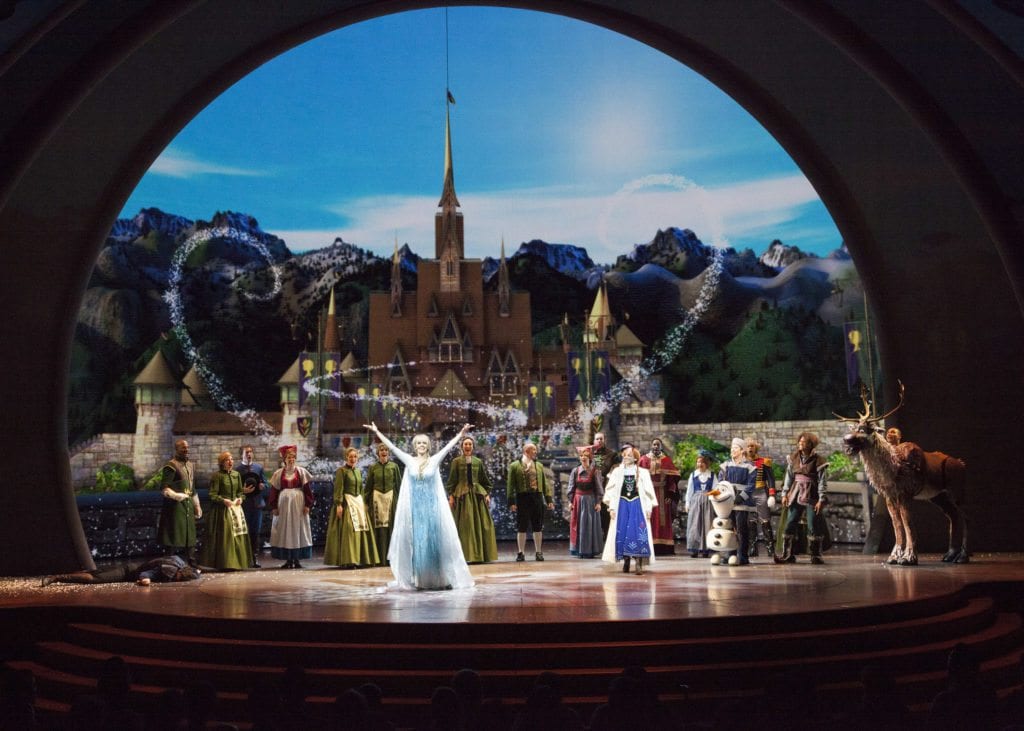 Since it is part of the Disney Resort, it was the perfect training ground for my little lovers of the arts. My bigger girls rocked the theater experience.  They were completely enthralled and sang along at a modest volume (it's Frozen, who can blame them???).
My two-year-old did okay, too. She happily pointed out Elsa each and every time she came on stage. That's a lot of times in the 45 minute duration of the show. Because it's a family-friendly environment, I would have no hesitation in bringing her back for an encore performance the next time we are at California Adventure.
Enrich the Fun
After seeing Frozen on stage, we met Anna & Elsa inside the Animation Academy. Being able to keep the energy alive made our theater experience even more memorable. Look for Meet the Cast opportunities.  You might also want to pick up books based on the plays you see or even movie versions.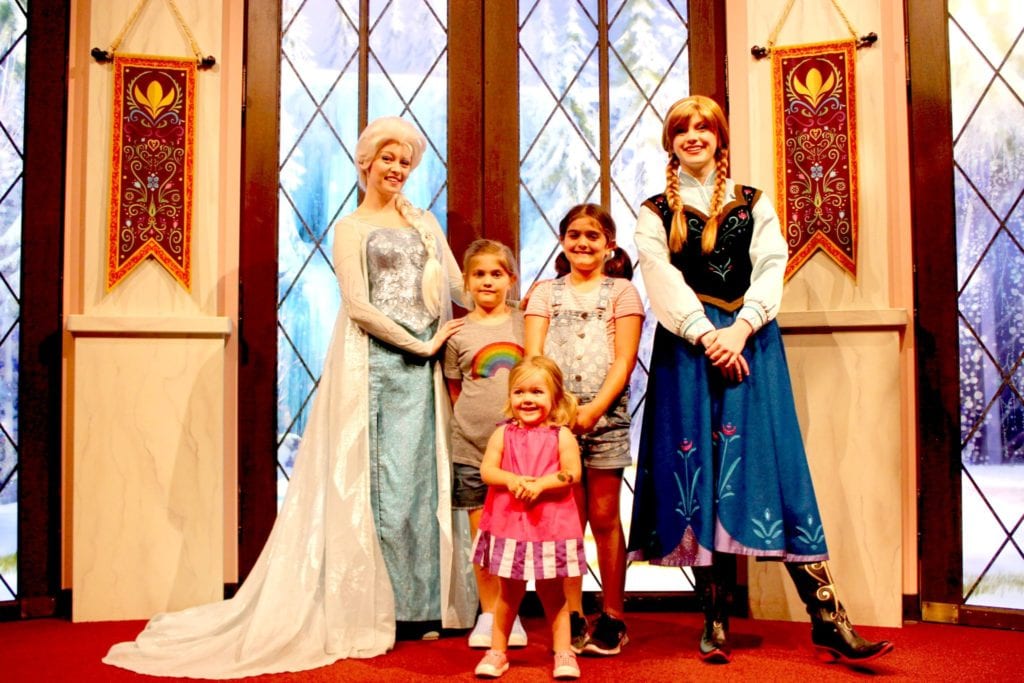 Thanks to the positive experience seeing Frozen Live at the Hyperion, my kids are hooked. They big girls are asking what other performances are coming to town, and hoping to find musical theater to join themselves. My job here as parent is done!