There are so many things I want to pass along to my children–a love for Harry Potter books, chocolate chip cookie baking hacks, and an understanding that they could make a difference in our world.  Over the weekend, my husband and I took our three children with us to participate in the Women's March in Los Angeles.
Many shared why they marched on social media using the hashtag #whyImarch, but today I wanted to share why we brought children to the march.
All thoughts and opinions are my own.
Our Children are Watching
Growing up, my parents' garage served as the neighborhood polling place. While chatting with my dad today, he brought this up as a insignificant thing he did just like he might host a holiday party. Clean out the garage, put up some booths.  What he didn't realize was we, my siblings and myself, were watching.
We watched the men and women volunteer their day from early morning to late nights, we watched the streams of neighbors come in to cast their ballots.  While my parents may not have realized they were providing a valuable lesson in civic duty, I grew up thinking my family was deeply committed to the political process. They literally opened up their home to politics.
Similarly, my children are watching. They came to the polls and waited in line with me.  Although a mail-in ballot would have been more time-effective, I felt witnessing me casting my vote was the closest thing I could do to replicate my own childhood experience of living at the polling place.  They watched me vote, they watched their neighbors do the same. They, hopefully, will always know they have the opportunity and the duty to be a part of the electoral process.
When the election results were in, I wondered how to tell them. How could I share the news that the candidate who so starkly opposed our view for the nation had been elected?  My children are watching, I told myself.  I will remain respectful of others' opinions, yet steadfast in my beliefs.
Dissent is Patriotic
It's a time of great division in our nation, a time with many different visions for America.  And although I respect we may have differing values, I will not allow my children to sit idly by while there are others struggling for equal rights.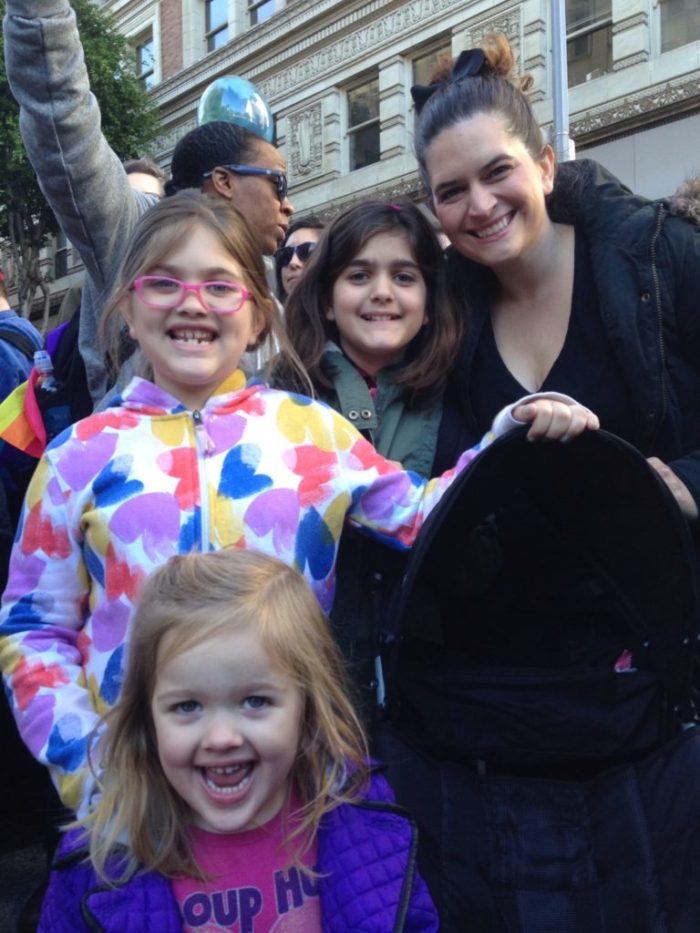 And so, we marched.  We arrived at Pershing Square an hour before the march was scheduled to begin. What we found was crowds so dense that no marching could be done.  10:00 AM, the scheduled start time, came and went.  And we stood there, surrounded by people of every background, every walk of life.  They were all equipped with signs focusing on their unique concerns.  Some focused on the President, but another read "You're so vain you probably think this march is about you."  I shut down any mention of orange skin tone or poor comb-over my children read on signage. Attacking physical appearance is not what we are about.
Although insanely crowded, the event was completely peaceful.  We joked we had never seen such accommodating LA drivers. As I shared pictures of our day on social media, I braced myself for messages of disapproval or of misunderstanding.  Instead I found support.
Just as participating in the election is our duty, dissent is also patriotic.  When you see injustice, do something about it. When you see misuse of power, say something.  When you witness the wiping away of the civil issues from the White House's website, march. Do not sit by. Do not go quietly. March.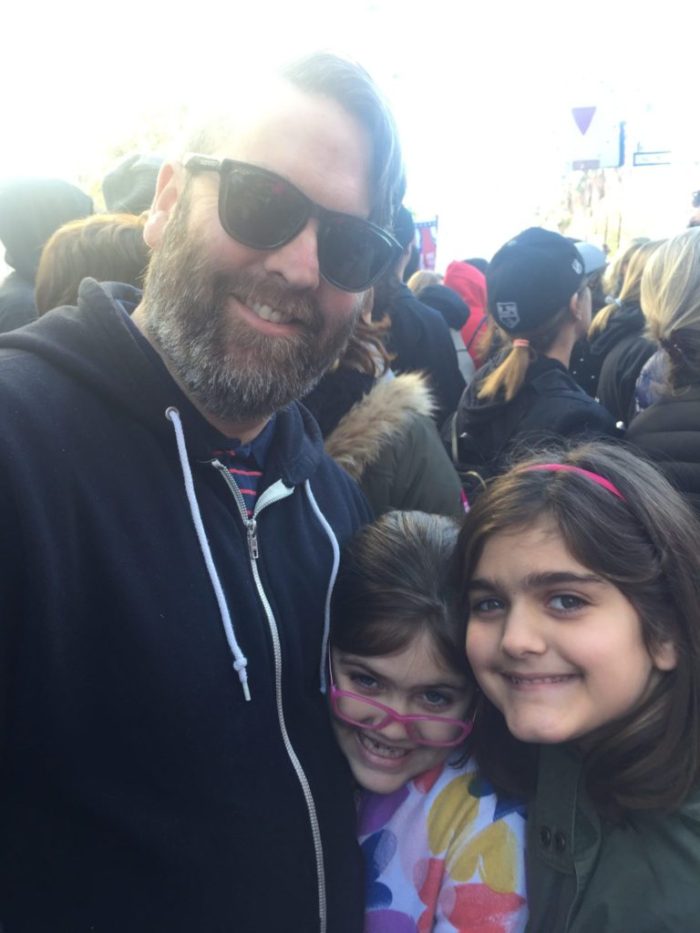 Open Their Eyes to Issues
With our three daughters, we speak pretty openly about life.  But at 2, 7, and 9 years old, there's a lot yet to be covered. In come the signs.  If you haven't seen the collections, the signs were on point and freaking hilarious. As we waited for the march to begin, I told my older daughters to read & find their favorite signs.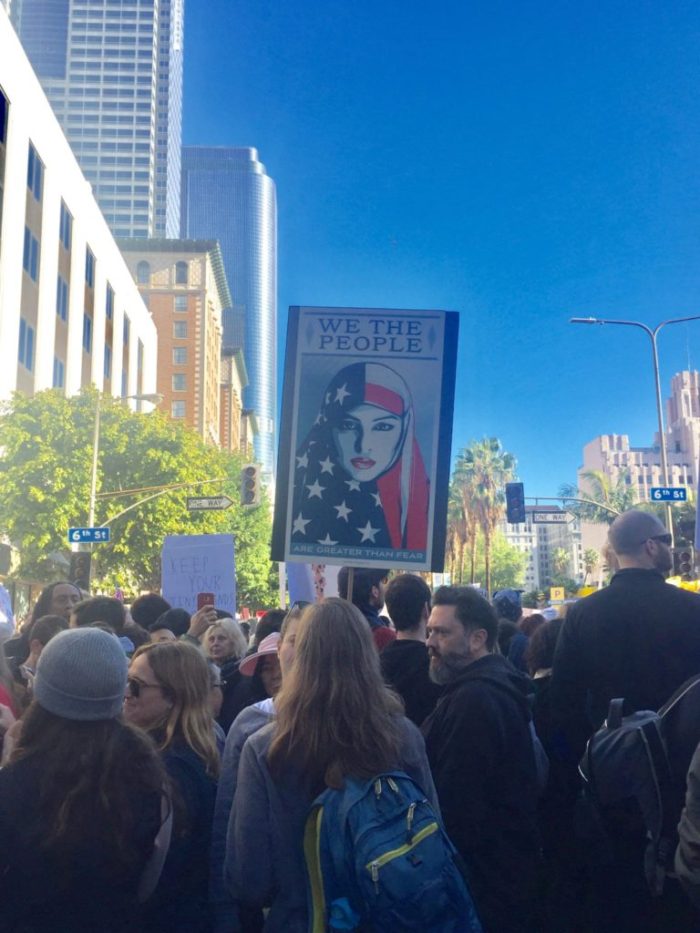 Doing so brought on conversations about bees on the endangered species list, the Black Lives Matter movement, and "What's with all the cats?"  We went into the appropriate level of depth for their ages.  In Pershing Square we found a chance to have their eyes opened a little more.
Be a Part of History
As I teach my way through my World War 2 unit, there are all these times my students ask why so many did nothing.  We discuss the years of struggles post World War 1, the limited exposure to differing ideas, the pressures to go along.  But we tell the stories also of those that dissented, that gave their lives or freedom to do the right thing.
We know going into the march that it would be a big deal.  We opted to go to Los Angeles rather than a closer march so that our children could see the masses.  But we had no idea.  No idea there would be so many joining together to work towards equality for women.  My eyes welled with tears seeing the multitude of the crowd.  We, as a family, were a part of history.
Let it be known for every second of their lives that during this moment of history, we stood together with hundreds of thousands. By marching we made history, we made a statement, and we made memories.
Whether you participated at one of the many marches across the globe or watched on from home, I'd love to know your reason.
Save