Lightning McQueen is racing back on the big screen in Disney Pixar's Cars 3.  To celebrate the latest release, I'm celebrating with a super easy Cars 3 Candy Bark recipe.
I received complimentary admission to a screening of Cars 3.  This post may contain affiliate links.  All thoughts and opinions are my own.
I was so thrilled to be able to return to the racing world with Lightning McQueen in Cars 3.  It's been over 10 years since rookie #95 took the track and the Piston Cup.  Now he's being outpaced by the next generation of racers, including Jackson Storm, who rely on the latest technology and design.  Can McQueen keep pace with these young cars?  With the help of new trainer Cruz Ramirez and some old racers, he might have a chance.
To celebrate the release of the new Disney Pixar film, my girls and I made some Cars 3 Candy Bark.  As a mama of three daughters, I know two things: girls like Cars and chocolate.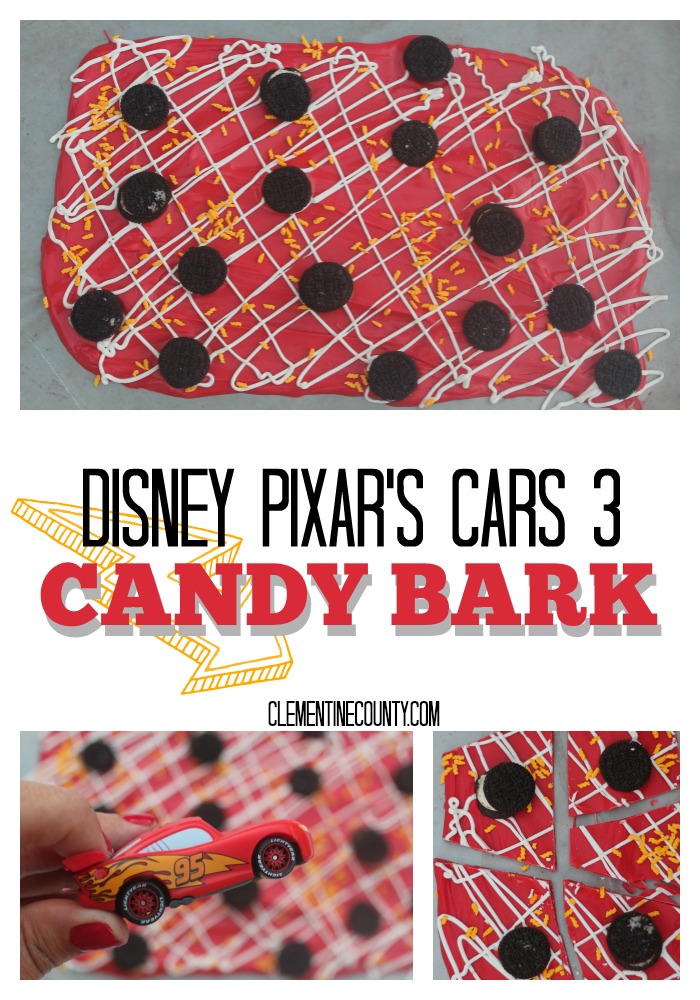 What You'll Need
I had purchased the lightning bolt sprinkles to make Harry Potter Pretzel Rods for my lil' Harry Potter obsessed Muggle.   Originally they came from Amazon, but I noticed they are currently unavailable.  If you can't find them, I'd choose yellow sprinkles.  They'll add the flash of color that Lightning McQueen wears.
How to Make Cars 3 Candy Bark
Line a cookie sheet with waxed paper.  Melt red candy melts according to package directions.  I normally microwave mine in short spurts, stirring in between.  Once the candy is melted, spread over waxed paper with a spatula.  My helpers tested me to see if can maintain the fun while baking by spreading chocolate suuuuper thin.  Ugh.  I told myself it'd be better to have more pieces anyway, but ideally 1/4 of an inch is ideal.
Next, melt the white candy melts.  We opted to make lines crossing the red chocolate.  Use a piping bag or even a Ziploc bag with the corner cut off.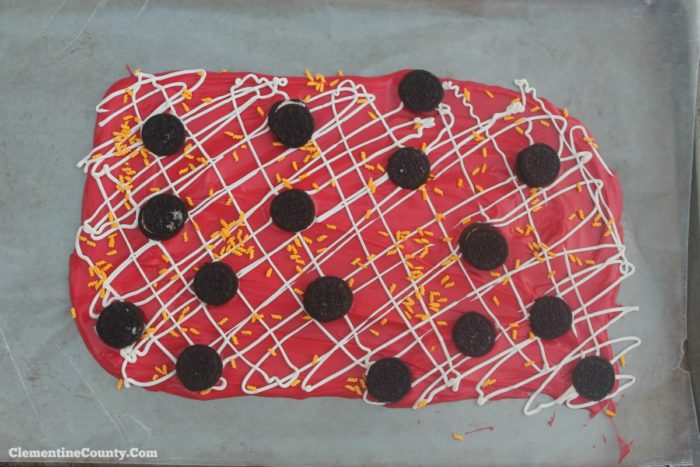 Immediately add sprinkles for Lightning McQueen's lightning bolt and Oreo cookies for the tires.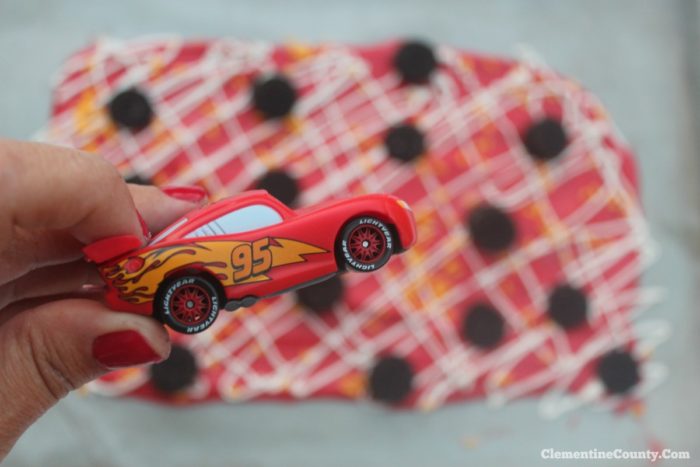 Once the candy has set, cut or break it into pieces.  You can store candy bark in an airtight containers, but I promise your kids will find and devour it.
My middle daughter and I have already seen Cars 3 and loved it.  As you'd expect from Disney movies there's a strong moral throughout, tied with humor perfect for every member of the family.  While you're waiting for your bark to set, check out this extended look "Lightning Strikes."
More Cars 3 Fun
If you're looking for some additional fun for a Cars 3 birthday party or the fast track to fun on a summer day, try these activity pages and games:
Cars 3 Finish the Race Board Game
Cars 3 Bulletin Board
Teacher friends, revvin' up for a new school year?  Check out my "Cruz'n into a New Year" bulletin board here.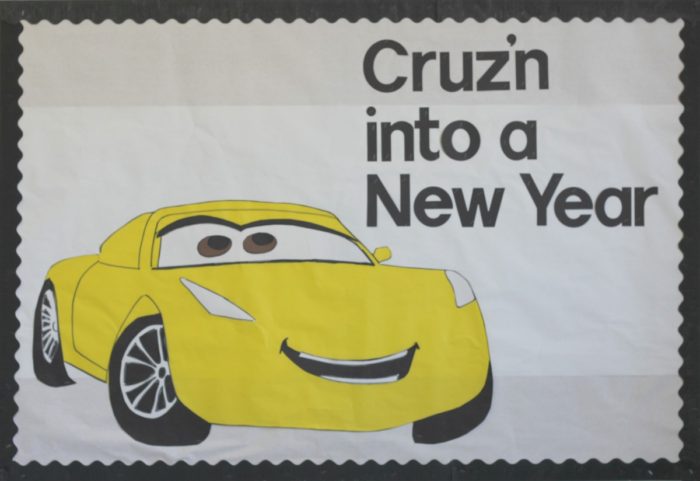 We are off to the drive-in (yes, they still exist) with our neighborhood this weekend to see Cars 3 again.  This super easy candy bark will be a fun treat to share with our friends while welcoming McQueen back to the top!
Cars 3 is now playing in theaters.  Have you seen it yet? Share your thoughts in the comments!