Are you ready for something totally a-Dory-ble? Here are Finding Dory rocks, perfect for your child's sand table or garden.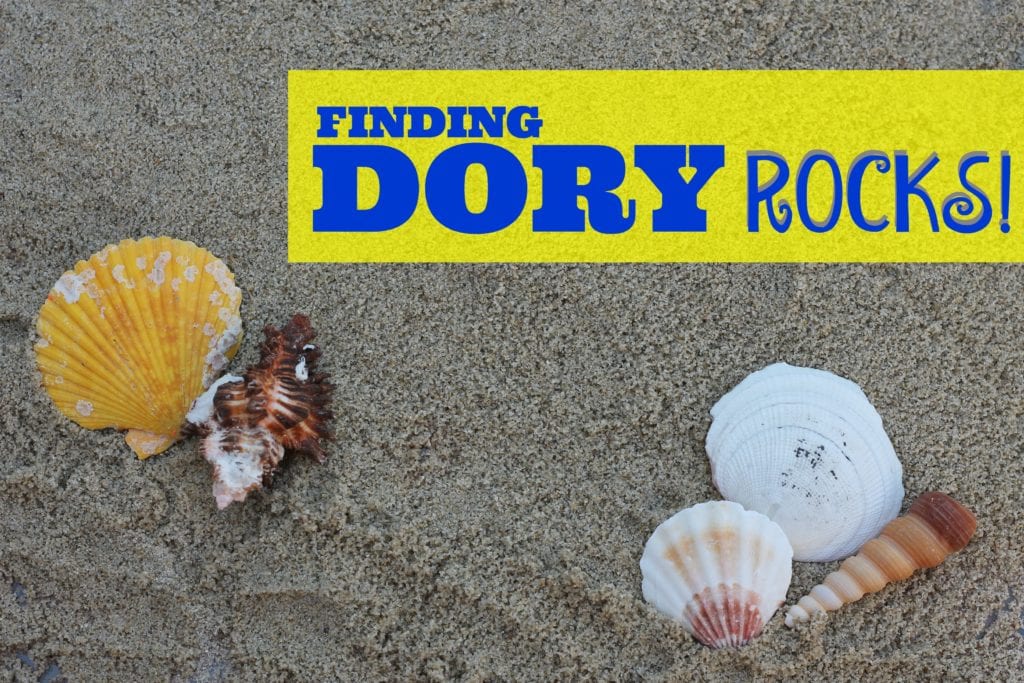 Swimming into theaters this Friday, June 17, 2016, is the latest release from Disney/Pixar, Finding Dory. The previous film followed clownfish Marlin as he desperately searched for his young son, Nemo (hence the title, Finding Nemo).  Along for the ride was a blue tang named Dory with short-term memory loss. Although she couldn't remember, Dory was unforgettable.
Flash forward, ohhh like 13 years, and we have a treat in store for us. I was able to sneak a peek at the first 33 minutes of the film while in Florida for the Disney Social Media Moms Celebration. From the first shot of Dory, I was hooked.
It was evident that not only did Disney/Pixar create another one-of-a-kind story, but they did so with strong messages of family and celebrating our differences. I honestly can't wait to see the remainder of the film this weekend.
It's probably pretty obvious that we're big ol' Disney nerds here in Clementine County. So I wanted to bring some of the characters into our home. Trouble is, our house is 97 years old and we're running short on wall space. A fun alternative, make Finding Dory Rocks.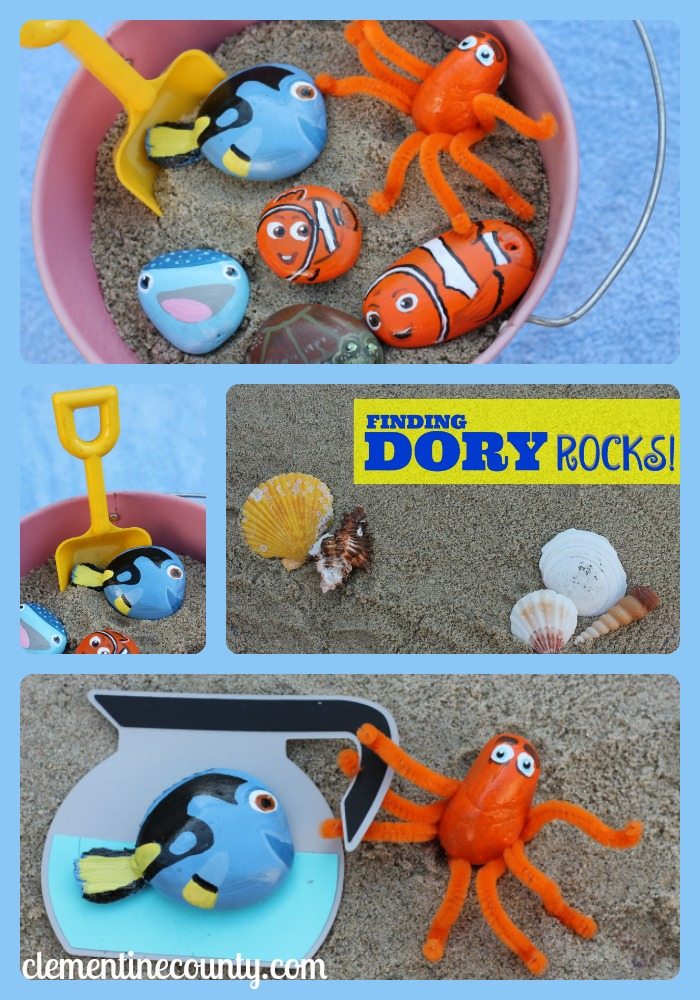 As is normally the case, I have more craft ideas than time. So for this particular craft, I turned to my talented mother-in-law. Using garden stones, she painted each to resemble the characters from the film.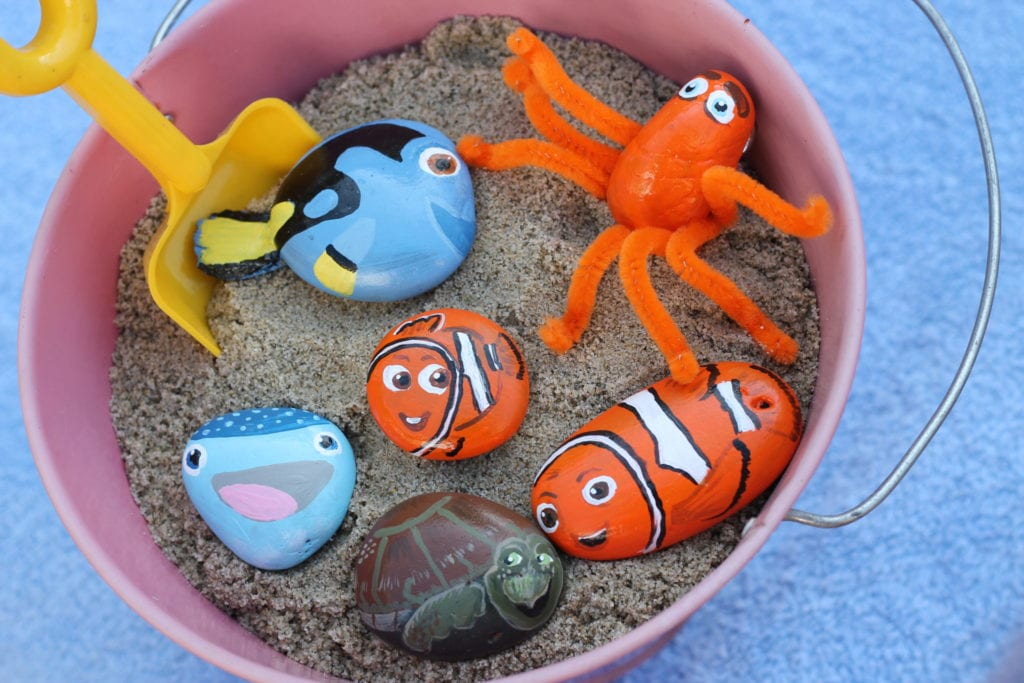 Some are familiar fins and faces, while others are brand new like Hank the octopus. Hank carrying Dory around in a coffee pot cracked me up, so I had to make one for the duo. You'll notice he's sporting some pipe-cleaner tentacles as well.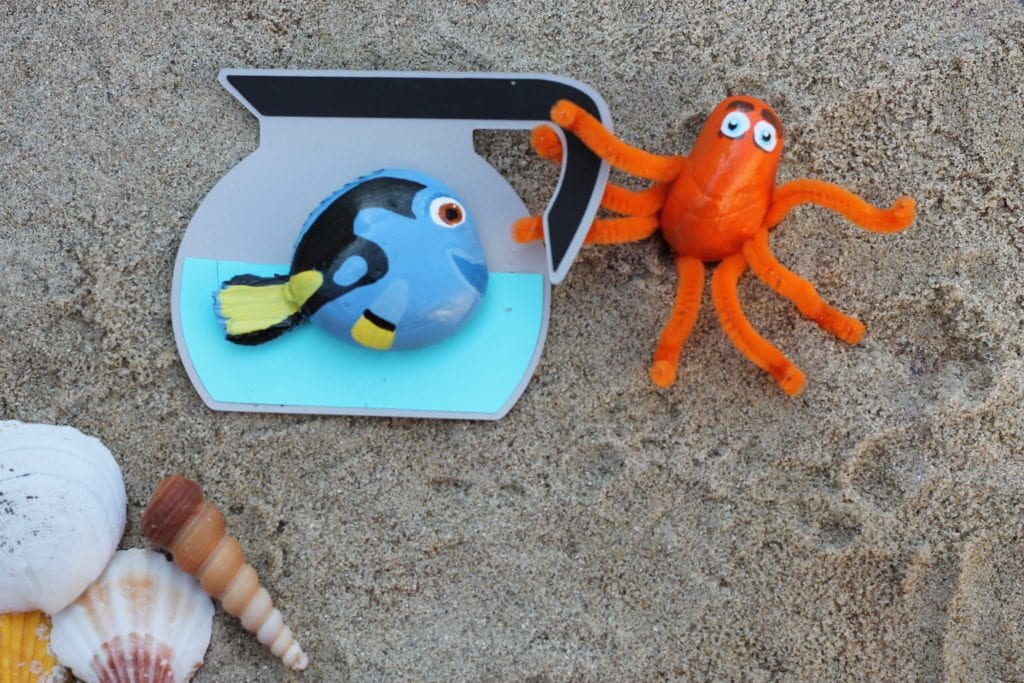 With the characters we remember we love and those we won't soon forget, we're up for hours of Finding Dory fun. These little stones are fun for imaginative story telling and plot recreation.
I would be wary of the tiny fish handlers playing unsupervised. Maybe it's just my kids, but my oldest went through a stuffing rocks in her mouth phases (think The Never Ending Story).
Dory, Nemo, and friends will be in theaters on Friday, June 7th, 2016. Will you be sea-ing them too?