Strike everything from your calendar. Spare yourself from disappointment.  August 12th is National Bowling Day!  To celebrate Bowlmor AMF, the  largest bowling entertainment company in the world, is offering a free game of bowling.  Keep reading to find out how to get your free game, plus make the outing fun for the entire family.
We received complimentary bowling to facilitate this review.  All thoughts and opinions are my own.
I promise I'll stop using bowling puns now, but first a little of my bowling history.  My first year at Cal State Fullerton, I hesitantly walked into the school gym the first day of the semester, walked right back out, and dropped the class.  I was intimidated, but needed a health class to graduate from college.  I was seriously thrilled when I found out that bowling would count towards the requirement. Surprisingly enough, I wasn't terrible at it.
That bowling class had me hooked on bowling.  Our family's recent trip to our local AMF hooked the kids.  The manager, Jonathan, as well as the entire staff, went above and beyond helping get us set up for some serious fun.  With kids ranging in age from 3-9, bowling was an awesome family outing.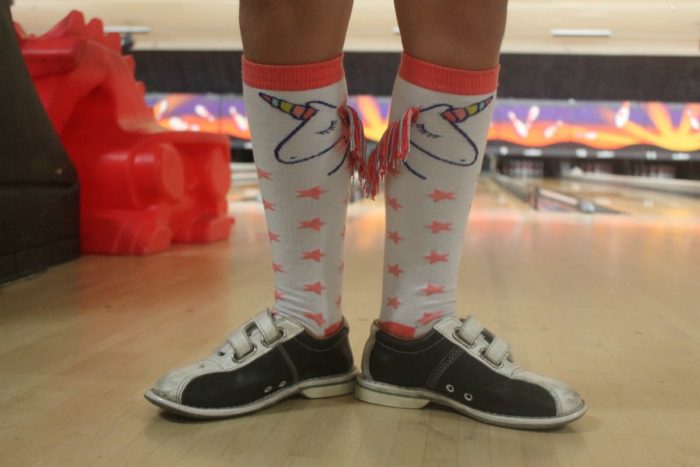 The kids were all able to participate, regardless of skill level.  They took turns.  There was a little bit of healthy competition…but let's be honest, I won.  We were able to stay fueled with yummy snacks like refillable drinks, fresh popcorn, and a signature menu with items like the Behemoth Burger and the Pizza Cake.
Tips for Bowling with Children
Choose the Right Ball
Bowling alleys carry lighter weight bowling balls, perfect for younger children.  If you can't find one, ask the employees to help you track one down.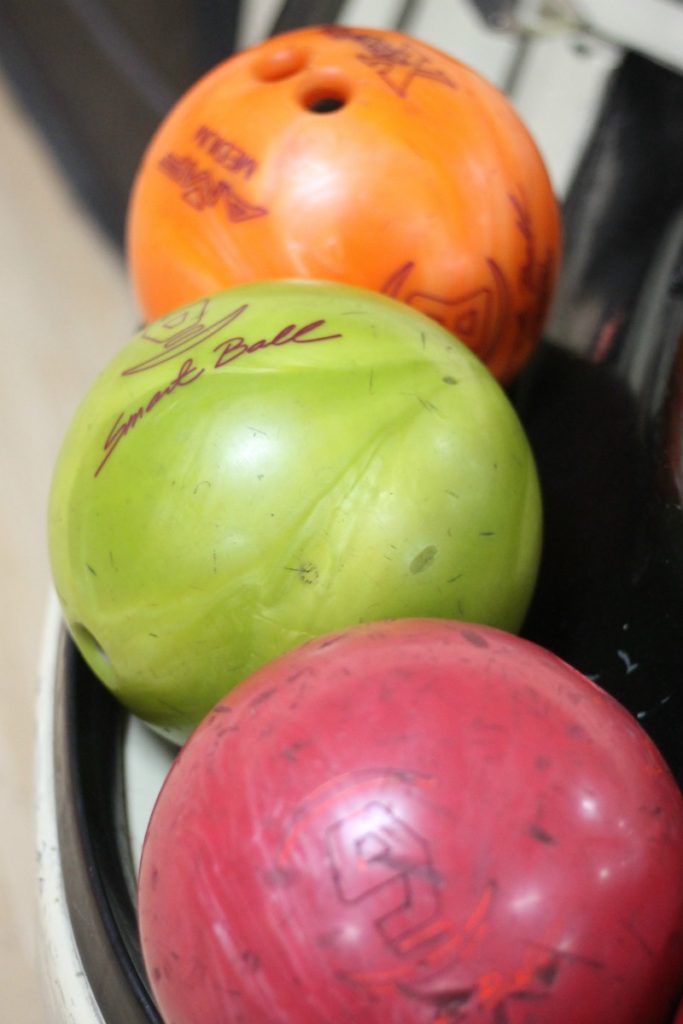 Use the Bumpers
For our family of 5, we opted for two lanes.  That gave us the flexibility to use bumpers on just one lane.  Not that I would need them, because I'm like totally almost pro.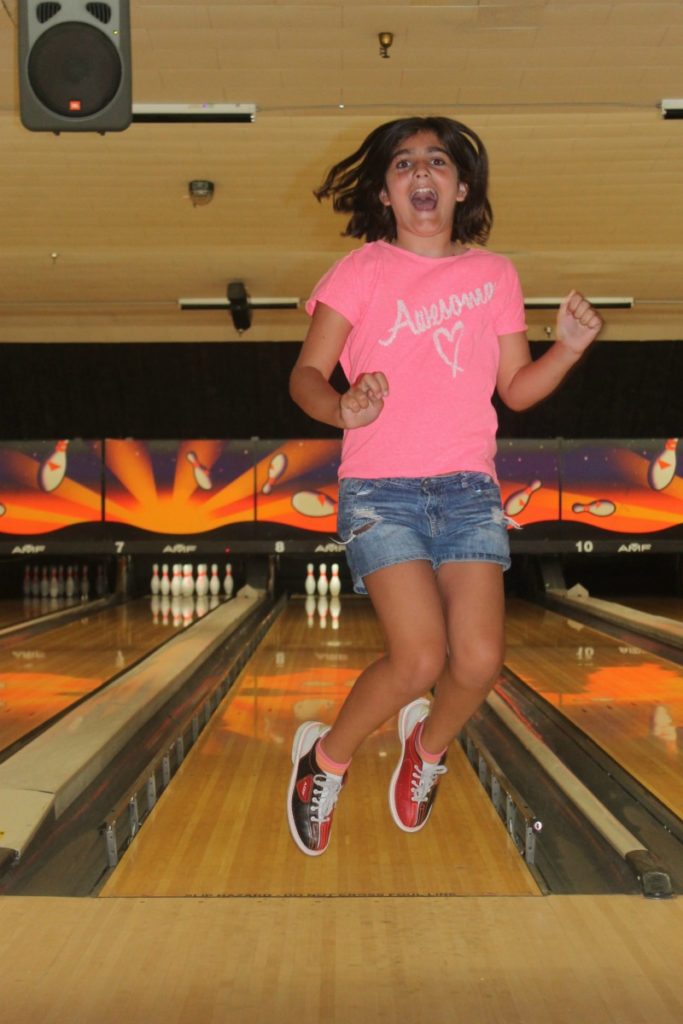 Request a ramp
Ramps allow younger bowlers to give their bowling balls a little oomph without having to throw it.  Bonus points for AMF for having an adorable dinosaur-themed ramp to assist my preschooler with bowling.  She used it as a seat while waiting her turn almost patiently.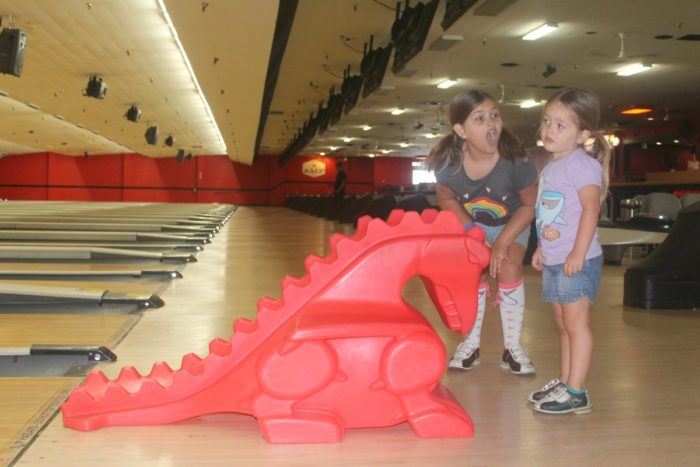 Celebrate Each Pin
Chant and cheer for each pin that falls.  My daughters showed off victory moves, regardless of how many points they were racking up.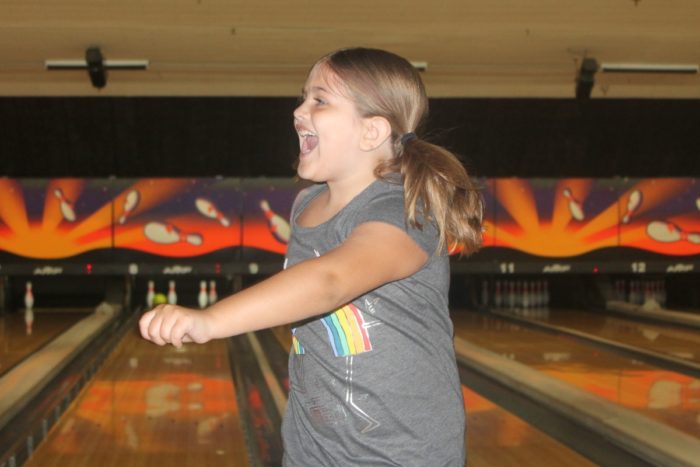 How to Get a Free Game of Bowling for National Bowling Day
To celebrate National Bowling Day on August 12th, Bowlmor AMF is launching the very first bowling emoji app — Bowlmojis.  Send some serious fun text messages with dancing pins, rainbow bowling balls, and celebratory trophies.  There are over 40 fun emojis included in the sticker pack.  The free app is currently available in the App Store for use on iMessage.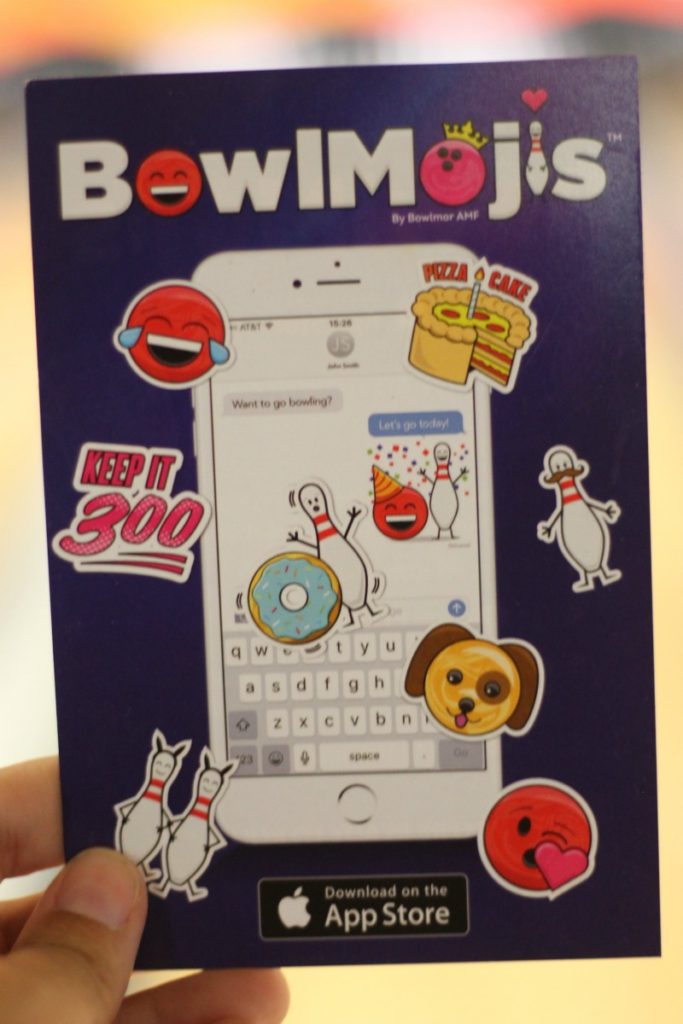 There are some seriously silly emojis like the vomiting bowling ball, plus some great options for each member of your family.  Send your sister "Strike' All Day" or ruffle some feathers on your competition by sending a bowling pin turkey.

All you have to do to earn your free game of bowling is show your Bowlmojis app at one of the participating locations.  There are over 300 centers nationwide!  To find your nearest location here.  Will you be bowling on National Bowling Day?