Yesterday we celebrated my husband's 40th birthday.  The weeks leading up to his birthday included chatting about what he wanted to do to welcome in the next decade and what he wanted for his birthday.  The top of his wish list was another piece of Disney art for our living room.  His rationale (not that I needed convincing) was what has had me laughing for weeks and the prompt for writing this post.  He responded by saying, "The Disney is so subtle in our living room."  Subtle is not quite how I would describe it.  But I'm showing you around our living room so you can decide, but also so I can help you figure out how to bring a little more Disney into your own décor.
All thoughts and opinions are my own.
We are both huge Disney fans and love filling our home with memories from the Happiest Place on Earth.  To do so, we have mixed all kinds of things: childhood momentos, collectibles, and some unique art pieces.  The focus for my suggestions is to make it feel like your home while still magical.
Art is an Investment
One of the first things we purchased together as a couple was a collection of framed prints for Disneyland's 50th anniversary.  The collection was able with just the prints, but we opted for the themed frames that match each of Disneyland's diverse lands.  These have followed us our whole marriage, and will always be displayed.  They're my favorite thing we've ever bought and irreplaceable.

To that end, they are irreplaceable.  There's a lot of Disney art out there.  When purchasing art as an investment, make sure you're checking the number of pieces in the run.  In ten years, will thousands still be available? My husband and I have searched Ebay and other places online to estimate a value of these 5 prints.  We have yet to find a set framed like ours up for sale.
It helps justify the cost of our Disney art addiction when you consider our kids will be cherishing these after we're gone.  And if they aren't being cherished, they can sell them to earn a significant profit.
Unique Vacation Memories
Living so close to the magic kingdom, it's our go-to for family fun but also date nights.  One of my favorite, favorite, favorite spots for date night is Trader Sam's Enchanted Tiki Bar.  It's a Jungle Cruise-themed kitschy bar that comes to life.  Order a drink named the Shipwreck and the framed boat picture shows a boat sinking.  The lighting, the bar tenders, and other patrons all react to the unique concoctions.  The tiki glasses that your drinks are served in are available for sale.  We have six right now, and keep checking back for more.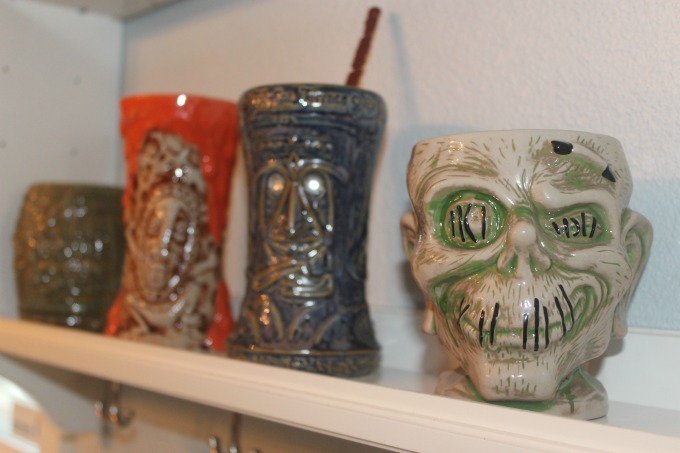 Another favorite vacation memory to display in your home are the iconic hand cut silhouettes from the Silhouette Studio on Main Street.  Such a fun keepsake of our girls!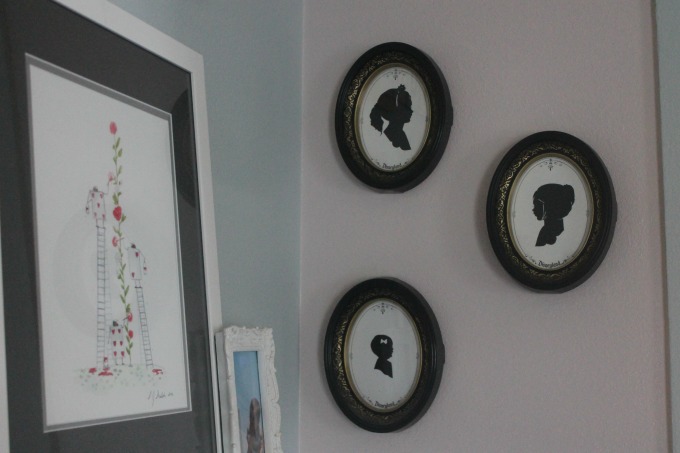 Pictures
When I said I wanted to frame pictures from our last WDW trip, I didn't exactly mean a picture of the castle.  But what can I say, we love Disney.  Use the Disney Photopass Photographers to capture your favorite vacation photos and display them when you get home.
I used Shutterfly to make photo books of our trips also.  They've got cute pre-designed Disney themed pages that will make it so easy.
Display Everyday Disney Decor
Free & Inexpensive Souvenirs from the Parks
Just as we have purchased pieces of art that are a little more costly, we also happily display the more every day items from our Disney vacations.
Some of the things we have displayed are:
A Cinderella popcorn bucket sits next to our cookbooks, waiting for a fairy godmother to deliver pumpkin spice popcorn.  We picked it up for free at a Disneyland Resort in the Community event.
Celebratory Disney pins.  Get your free birthday, anniversary, or "I'm celebrating…" pin from City Hall.
Park maps like in this Welcome Banner.
Toys
Because we share this space with three princesses, I want my daughters to have a stake in our home's aesthetic.  I nabbed a cheap wooden box from a swap meet and painted it to match an accent wall in our home.  The kids have taken responsibility for rotating the toys. We love Funko Pop Star Wars stuff like this Chewbacca.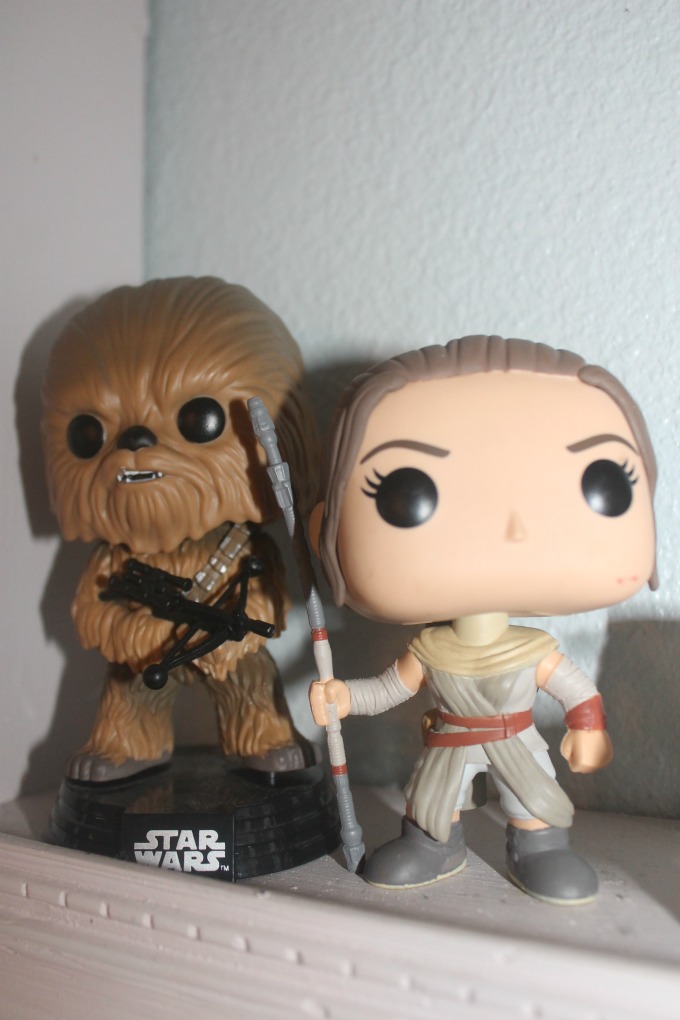 Disney Vinyl
I'm giving all the credit to Matt on this one.  He kept all of his childhood Disney vinyl.  Right now we've got an assortment featuring Pirates of the Caribbean and Jungle Book displayed using frames like these.  The frames make it super simple to change up the look of the room.  I've been grabbing more contemporary records like this We Love Disney vinyl that I received at the 2016 Disney Social Media Moms Celebration in Walt Disney World.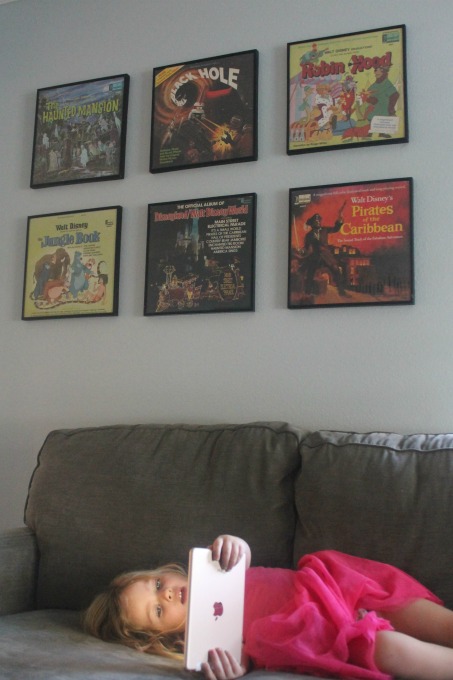 Comic Books
Just like the Disney vinyl, comic books are a super inexpensive way to add a little Disney flair to your décor with a sprinkling of nerd love sprinkled in.  Comic books cost just a few dollars, but the art is incredible.  Check out the Disney Kingdoms: Seekers of the Weird.  Just like the vinyl, you can frame your comics and swap them out for each season or mood.
Original Art
I kind of lucked out in the handmade art department.  My mother-in-law is a wonderful artist and obliges all of my "Now can you paint a family portrait, but we all want to be birds from the Enchanted Tiki Room" requests.  She made us an adorable Alice in Wonderland painting.  Actually, she made it for herself, framed it, and hung it in her house.  But somehow someone who shall remain nameless (Matt) ended up with it.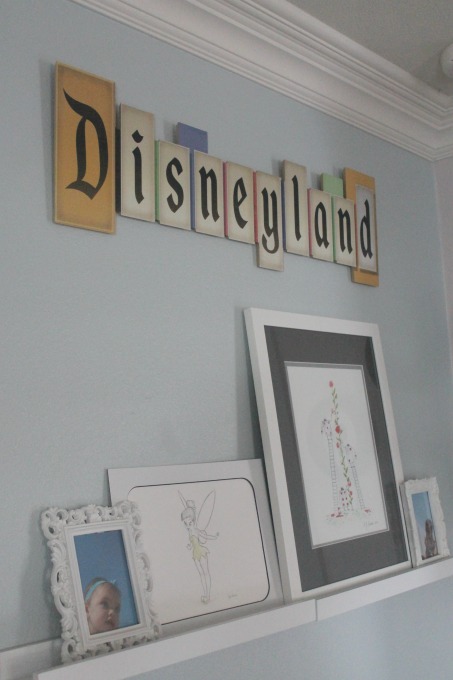 My kids also create a ton of art and we rotate it out on a super simple shelf I nabbed from Target.  I love that the girls have pixie dust in their blood.  Although their interests, favorite princesses, and movie selections are different than mine we all share a love for the mouse.
Swap Meet Finds
With Mickey Mouse being the "it mouse" for decades, there's a ton of Disney merchandise out there.  Check your local thrift store or swap meet for some unique, vintage pieces.  I adore our Mickey Mouse alarm clock that came from my mother-in-law's bedroom.  I'm hoping the Guardians of the Galaxy speaker will age as well!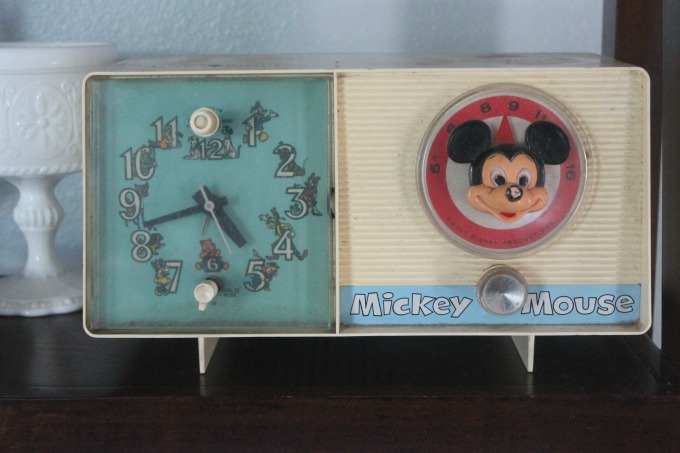 Non-Disney Disney Things
There are some things in our home that aren't actually commissioned Disney pieces, but have the right feel for our living room.  When my parents remodeled their bathroom, I made sure to grab the gold mirror that hung inside.  It's not Disney, but reminds me of the mirror belonging to the Evil Queen in Snow White and the Seven Dwarves.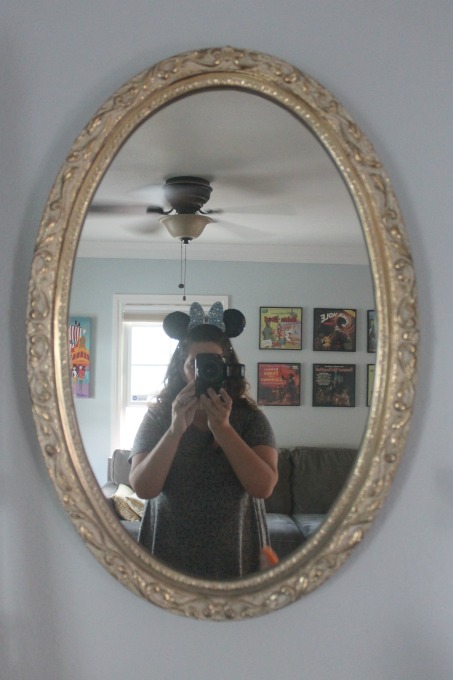 You can check out more of my Disney fun here.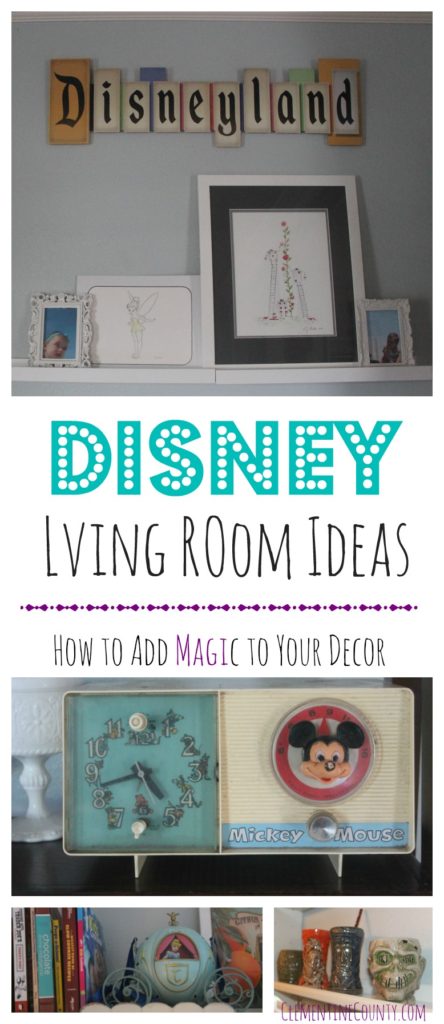 Tell me how you display your Disney in the comments!  I'd love to keep adding to our "subtle" living room!