I don't want to jinx anything, but it's finally starting to feel like fall here in Clementine County. And it's a good thing because I'm on a mission to enjoy all of my favorite fall recipes.  One of my favorite flavors all year long is pumpkin.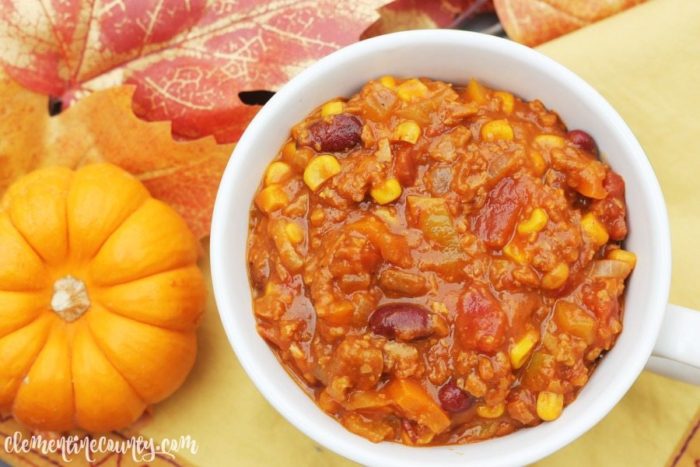 This pumpkin chili recipe is one of my favorite ways to celebrate the season!
This post is not sponsored. All thoughts and opinions are my own.
The original recipe comes from Trader Joe's which is fitting because that's where I shopped for ingredients.  But I did swap out the ground turkey to make it vegetarian friendly.  It's become a fall favorite and a recipe I look forward to all year.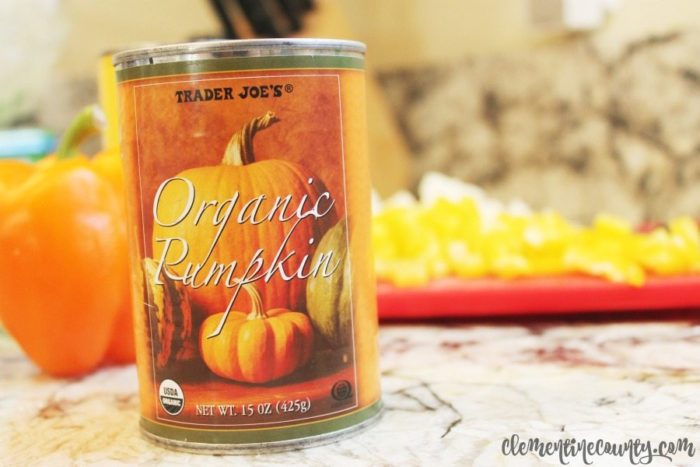 It's got sweetness from the pumpkin, and a little bit of heat from soy chorizo and cayenne pepper.  Soy chorizo comes in casing, like traditional chorizo.  I find it odd whenever meat substitutes are too close in appearance or packaging to actual meat. Weirds me out & makes me think some day I'll mix them up.  So I always get a little grossed out opening it.  But that's just me.  This soy version is vegan and gluten-free, making it a great staple to have in your fridge.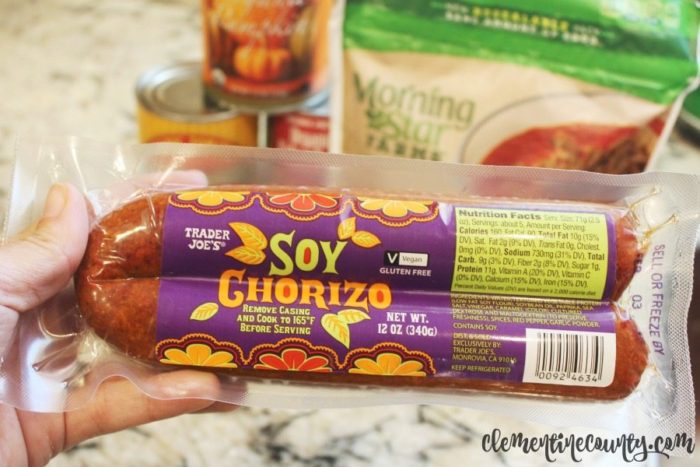 The Vegetarian Pumpkin Chili is a snap to make, largely because you can grab so many of the ingredients canned. Less chopping and a few spins of the can opener make for an easy meal to whip up.
Vegetarian Pumpkin Chili Recipe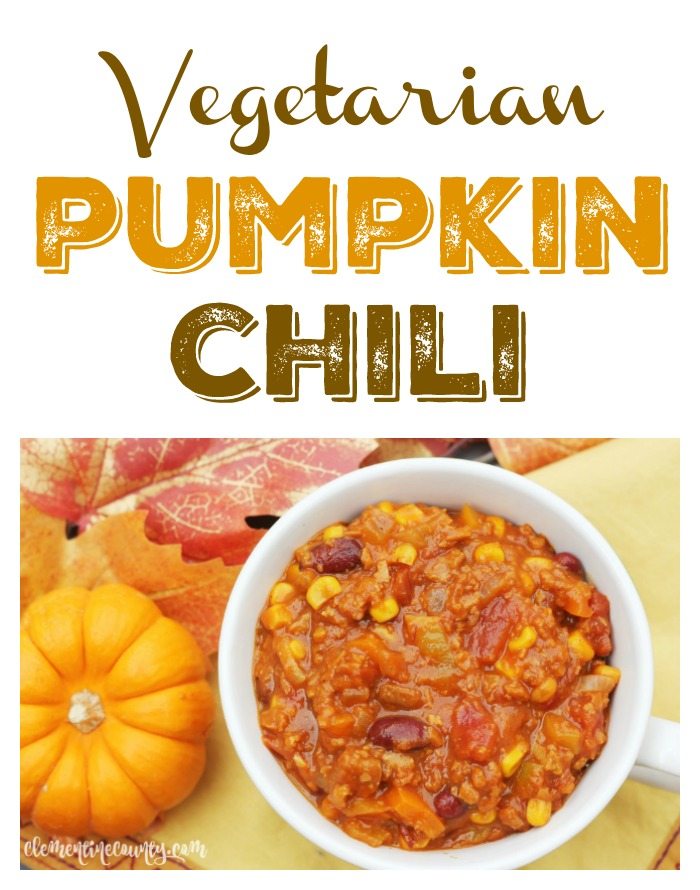 Ingredients:
1 tbsp olive oil
1/2 white onion, diced
2 cloves garlic, diced
1 pkg Soy Chorizo
1 can diced tomatoes
2 cans pumpkin
1 can kidney beans, drained
1/2 can corn, drained
1 bell pepper (orange or red), chopped
2 tsp sea salt
1 tsp cumin
1 tsp ground black pepper
1/4 tsp cayenne pepper
Preparation:
In large skillet, saute' onions and bell pepper in olive oil for 3-4 minutes. Add garlic & saute' for another minute. Transfer ingredients to large sauce pan.  Add in remaining ingredients.  Bring to a boil, with frequent stirring. Turn down heat & simmer for 20-30 minutes.
When serving, you've got tons of options for toppings. My husband likes sour cream on his, while I'll add avocado to anything and everything.
I tend to double recipes because weeknights are crazy.  Since I didn't have two packages of the Trader Joe's soy chorizo, I used the one I had at home and also used one package of Morningstar Meatless Crumbles.  The pumpkin chili makes for great leftovers, and could even be served on hamburger buns for a Pumpkin Sloppy Joe.
Vegetarian Pumpkin Chili is a quick and seasonal family favorite. What's on the menu at your house?