This post is not sponsored. I like supporting my neighborhood businesses.
Uber drivers, take the night off. I'm walking.
Next Saturday, we will raise our glasses in honor of a great Bavarian, a great Anaheimian. On Saturday, May 28th we will be honoring the 167th birthday of Friedrich Conrad. While it's true he may not have slain any dragons nor leaked the new Star Wars movie title, he did make notable contributions to the city of Anaheim. How, you may ask? He made beer.
While perusing the Anaheim Historical Society's website, I found this quote:
The Anaheim Gazette noted in 1890 that Conrad's beer "appears to be fully equal if not superior to the celebrated Anheuser beer of St. Louis.  Besides it is a stictly Orange County product and all who are in the habit of using beer should give it a trial if only to encourage home industries."

Photo: Anaheim Historical Society
Now, I am two things: first, I am supportive of my home industries and secondly, I am in the habit of using beer (in a totally appropriate mom-way). So in addition to celebrating the 167th birthday of the founder of Anaheim Brewery, Friedrich Conrad, I will be supporting my town.
If you also encourage home industries & use beer, you should come join in on the fun!  Here are all the details:
[eltd_highlight background_color="" color=""]Anaheim Brewery's Founder's Day[/eltd_highlight]
Location: Anaheim Brewery 336 S Anaheim Blvd, Anaheim, California 92805
Date: Saturday, May 28th, 2016
Time: 5:00-10:00 PM
Food: Sausage Masters will be on site
Drinks: Anaheim Brewery beer, of course!
Entertainment: Brother Yusef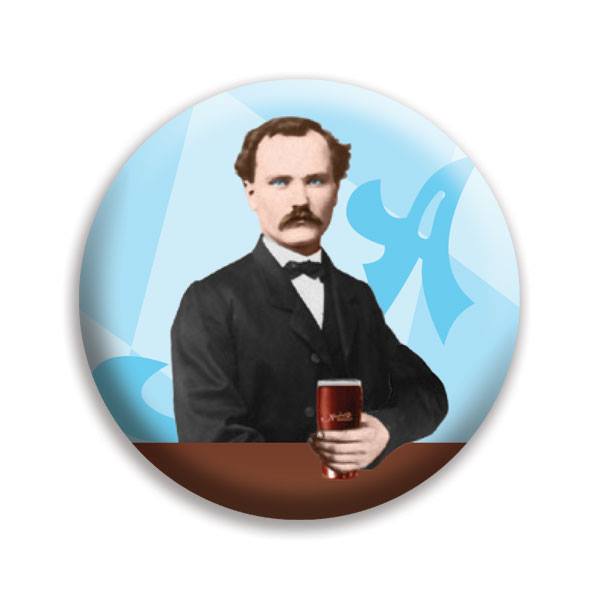 In addition, the brewery will be handing out 167 sets of commemorative pins. Free souvenirs & neighborly fun!
Will you be joining me at Founder's Day? Rad!