Something wicked this way comes.  Wickedly awesome, that is.  We were invited to share in the magical fun of Harry Potter in Concert.  While we viewed Harry Potter and the Prisoner of Azkaban, the Pacific Symphony performed the entire score.  It was a night any Harry Potter fan needs to experience.
I received complimentary tickets in exchange for this review.  Please read my disclosure policy for more information.
It's true we may be a family of Muggles, but Harry Potter is a big deal in our world.  My husband and I are both guilty of calling in sick to work to read on days the books were released.  Thankfully, our appreciation for the boy who lived has been wholeheartedly accepted by our oldest daughter.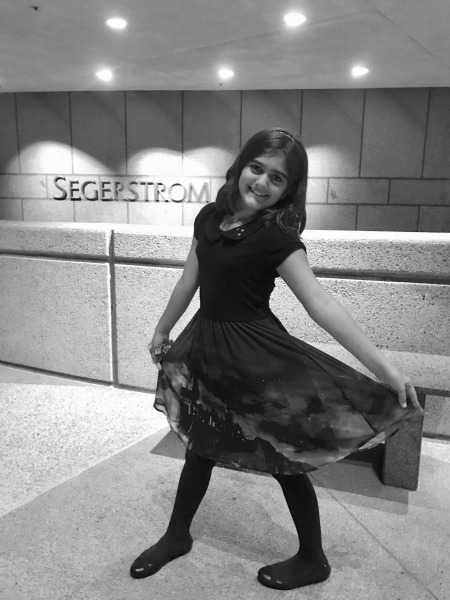 When she was 9 3/4, I started brainstorming how we should celebrate her 10th birthday.  No letter to Hogwarts was set to arrive, but I still wanted it to be a special day for her. That's when I discovered Harry Potter In Concert was returning to the Segerstrom Center for the Arts.
Harry Potter in Concert
Being such devoted Potterheads, we've seen each film numerous times.  Yet, seeing Harry Potter and the Prisoner of Azkaban in this unique format can only be described as magical.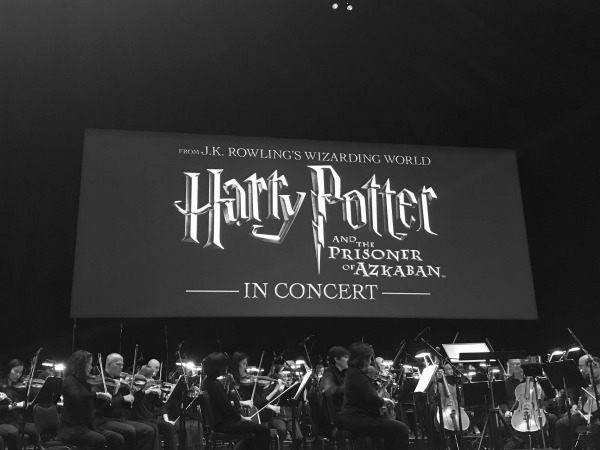 The symphony was preparing as we arrived at our seats.  The stage was bursting with 90 musicians and choir members, and the auditorium was bustling with Harry Potter fans.  Cloaks were not out of place, and many came sporting house colors.
As conductor Justin Freer took to the podium, he welcomed the full house with a Harry Potter in Concert tradition–calling for audience members to cheer for their Hogwarts house.  But the audience engagement didn't end there.  As each beloved or loathed character came onto the screen, the audience cheered & hissed.
Speaking of the screen, the entire film is displayed on a large 40-foot screen behind the musicians.  My attention shifted from screen to strings throughout the film's duration.  There were moments when I closed my eyes to soak up as much of the music as possible, transporting myself out of Costa Mesa and into a world created by JK Rowling using the soundtrack of John Williams as a vehicle.
Captions are displayed on screen, reminding me of my favorite quotes from Prisoner of Azkaban.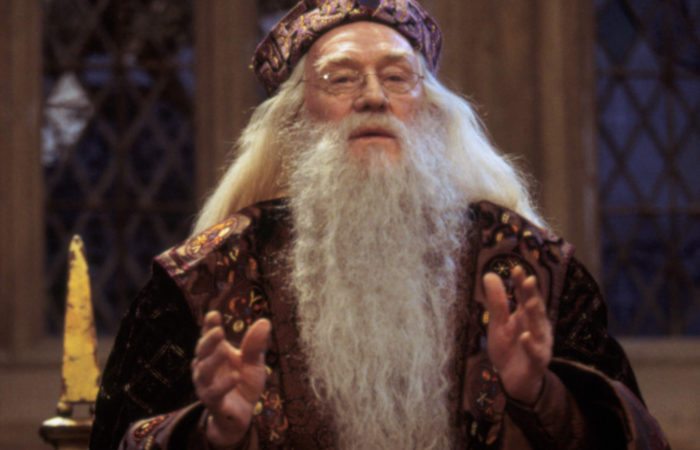 "Happiness can be found even in the darkest of times. If one only remembers to turn on the light."  That line from Albus Dumbledore gets me every time.  With another child who is hard of hearing  my initial thought was the captioning would be beneficial to her, but truth is I appreciated having it available also.  Whereas normally the score takes a back seat to the film, seeing Harry Potter in Concert had the music and the film share the stage.  Both took starring roles.
Interview with Justin Freer
Prior to experiencing Harry Potter in Concert, I had an opportunity to chat with conductor Justin Freer.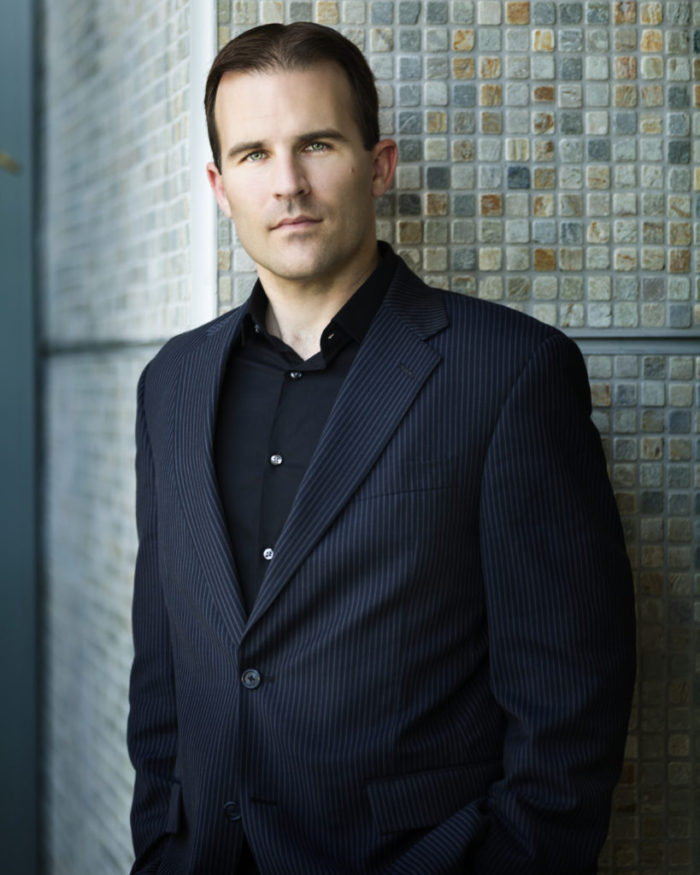 How does the combination of screening the film with listening to the symphony enhance the experience?
Mr. Freer credited John William's unforgettable score for the unique fresh and fun experience.   From the second you hear the bumm bumm, you know you've entered the wizarding world.
Does playing scores that are so iconic present any challenges?
In case of Harry Potter and the Prisoner of Azkaban, Mr. Freer shared there is a great deal of expectation from fans.  There comes a certain responsibility to keep the musical level at the highest quality.  To have that on stage in a viseral way is fun. It's rewarding at the end of the day.
This third film is unique in that it's a bit darker than the first two Harry Potter films. Does this presentation differ from your previous performances?
Having more closely analyzed the text and the film, I hadn't explored this film's unique score.  Justin Freer spoke of the music as a character in itself.  He pointed out it comes with a unique quality of sound.  For example, Harry Potter and the Prisoner of Azkaban has a lot of jazz, such as in the night bus scene.  There is a lot of fun chrome horns & other early renaissance music that brings unique character to film.   Music is a voice that is so unique to this film.
Have you found adults to be as entranced?  Is this something that appeals to everyone?
All ages find themselves absolutely immersed and in love with the stories JK Rowling gave us.  The music has always been such an important story telling device, even in silent films.  No matter what their age, audience members find themselves entranced with the music being at the forefront.
Can you describe the experience of seeing Harry Potter in Concert?
Mr. Freer spoke of the unique communal experience that can change how people react even having seen the movie before.  When you're surrounded by thousands of people, all deeply invested, it makes for an experience you have to see to believe. Now having seen the concert myself, I can confirm that is something so special for any Harry Potter fan.
Experience Harry Potter in Concert
The following video gives you a glimpse into the immersive world where the cultural phenomenon of Harry Potter shares the stage with the music of John Williams, performed by the symphony.

The Harry Potter Film Concert Series can be experienced across the world.  Click for performance dates and to join the mailing list.  My family of Muggles is so thrilled that there are still 5 films to experience.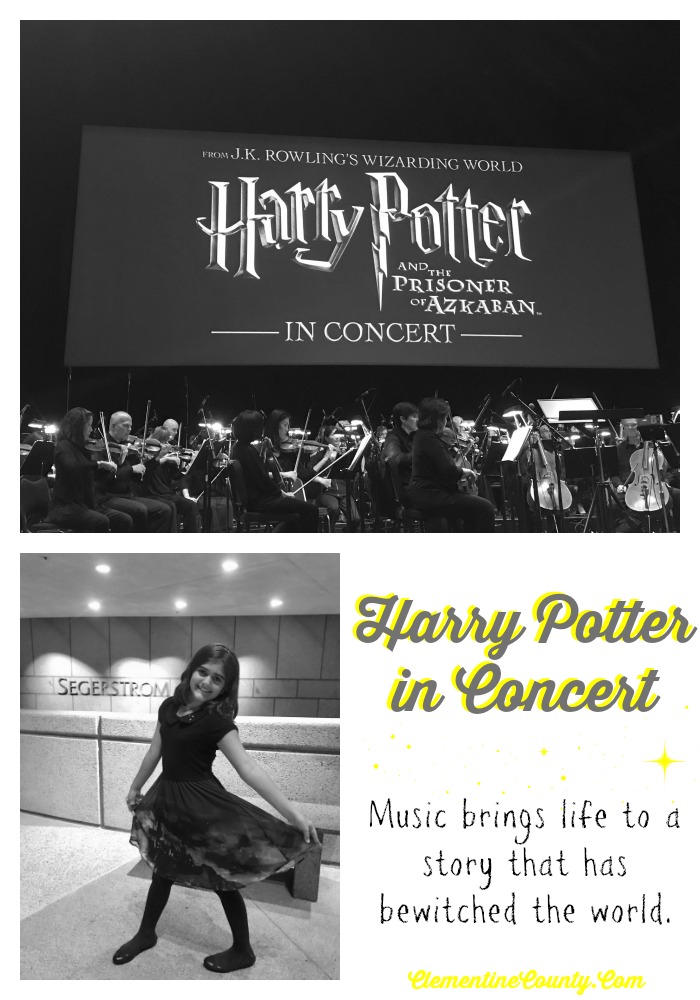 Harry Potter fans, will you be joining me in this magical experience?